The Railbird: Isaac Haxton Cleans Up at $400/800 NLHE on Full Tilt Poker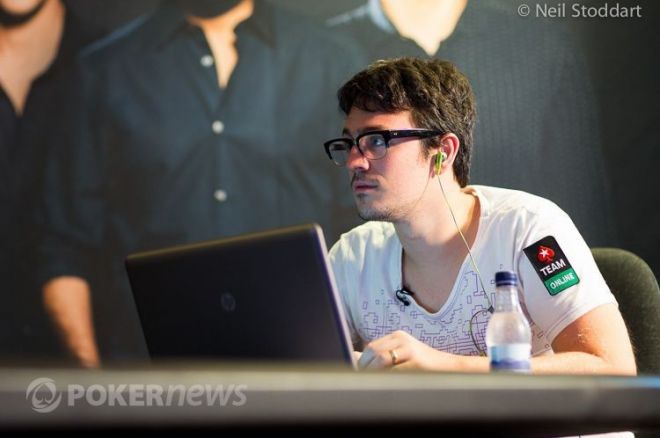 The pot-limit Omaha and no-limit hold'em tables on Full Tilt Poker attracted some major high-stakes action on Thursday, resulting in some big wins and big losses.
Hac "trex313" Dang ended the night with a hefty profit of $297,179, most of which came from a $350,000 winning session against "RagingHeart" in $300/$600 PLO. RagingHeart also lost big to "no_Ola" who finished as the day's second biggest winner with $268,700. RagingHeart had one of the biggest losing sessions of the day, finishing down $224,405.
RagingHeart was on track to be a winner for the night after securing a winning session in $500/$1,000 CAP PLO against Viktor "Isildur1" Blom. Blom initially took a $200,000 lead, but RagingHeart came back with a $600,000 rush, leaving Blom down $400,000 in just one hour of play.
Prior to playing Blom, RagingHeart was down $350,000 for the day after losing to Dang in $300/$600 PLO. Once he earned some money back against Blom, he proceeded to have a $700,000 day of profit from dominating the $500/$1,000 tables. In a later session, he lost huge at the $300/$600 PLO tables against Dang, no_Ola, and Ben "Bttech86" Tollerene. After quitting after 4 a.m. he completely reversed his $700,000 profit into a $700,000 loss for a $1.4 million swing.
After taking a break from playing RagingHeart, Blom returned for the evening sessions where he managed to win back the $400,000 lost to RagingHeart and left with $200,000 in profit in the $500/$1,000 CAP PLO ring games.
Dang began with a six-figure loss before running up an $800,000 heater largely contributed from RagingHeart in $300/$600 and $200/$400 limits and also in $500/$1,000. He began the evening session finishing $1 million upswing but in the later games lost C$400,000 at his last three $500/$1,000 CAP PLO tables, to end the day a $297,000 winner.
No_Ola started the day with a $400,000 downswing after losing to RagingHeart in a $300/$600 PLO heads-up match. He then moved over to the $500/$1,000 ring games where he closed in a six-figure win against RagingHeart at $300/$600 PLO. His upswing hit the $1.2 million mark before dropping at the end of his session. All-in-all no_Ola won nearly $700,000 for the week.
Isaac "luvtheWNBA" Haxton took advantage of some rare action on the $400/$800 no-limit hold'em tables. He posted his excitement on Twitter:
Can't remember the last time there was so much 200/400+ NL action online. Have barely slept last few days.

— Isaac Haxton (@ikepoker)
Haxton played four tables of $400/$800 and ended his session a $382,400 winner, scoring over $300,000 during one, five-hour session. In one of the biggest pots of the night, action folded to "Rhje" who raised $1,600 on the button. Haxton reraised to $7,200 from the small blind forcing out "Denoking" from the big blind. Rhje called and the flop showed
. Haxton led for $12,000 and Rhje called. The turn came
and Haxton barreled $33,200 and once again, Rhje called. The
completed the board and Haxton shoved all in for $174,279. Rhje called the all-in for less with $84,116 creating a $273,832 pot. Haxton took it down with
after catching an ace-high flush on the river.
For more on the high-stakes action, check out HighStakesDB.com.