World Series of Poker Player of the Year: Daniel Negreanu Holding Off Tom Schneider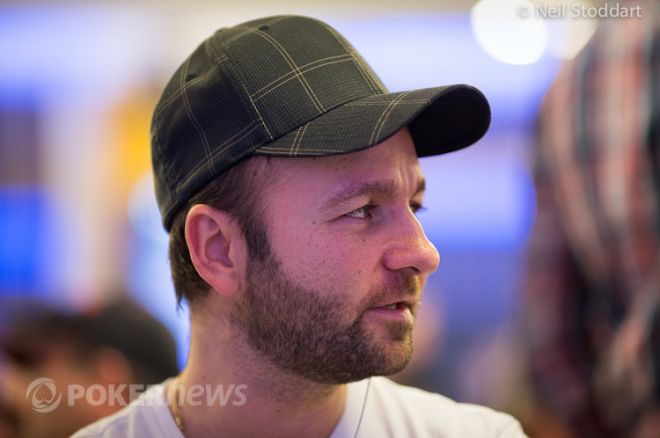 Nearly halfway through the 2013 World Series of Poker in Las Vegas, Daniel Negreanu still sits atop the WSOP Player of the Year leaderboard. Negreanu earned most of his POY points from his victory in the Main Event at WSOP Asia Pacific earlier this year, but he padded his lead with two more cashes during the past week. He finished 26th in Event #23: $2,500 Seven-Card Stud, and 49th in Event #27: $3,000 No Limit Hold'em (Mixed Max), and currently has 446.53 points. (Negreanu also finished 39th in the Event #32: No-Limit Hold'em / Six Handed, but that result has not yet been included in his POY points).
The biggest climber in the rankings over the past week was Tom Schneider, who wasn't even in the top ten a week ago but now sits in second place and trails Negreanu by less than 20 points. On Tuesday, Schneider won his second bracelet of the 2013 WSOP. Both his bracelets have come in H.O.R.S.E. events, and he has four other cashes, as well. With his ongoing run of success, he'll be considered a threat to win virtually any tournament he enters. When asked about his chances of winning Player of the Year, Schneider was confident in his results but was also aware that the POY rules might work against him. "If it were just here [the WSOP in Las Vegas], I would feel really good about it, but I don't know if I'm going to be doing any traveling. I have to really do something pretty big here." With six cashes and two victories, he's off to a great start.
Dan Kelly sits in third place on the POY leaderboard, up from fourth a week ago. Kelly is the only player in the top ten who hasn't won a bracelet this year, but he's threatening to take over the lead thanks to his remarkably consistent deep runs. He already has eight cashes at this year's WSOP, including two final tables. The young pro is taking his hot streak in stride, but is also well aware that his WSOP results are far from ordinary.
"I think my success can be attributed to both playing well and maybe having a bit of luck," Kelly told PokerNews. I feel really confident in my abilities and maybe there have been some spots that have definitely helped to push me deep in tournaments. In terms of cashing, this summer has probably been, so far, the best run I've ever had. I've won tournaments back to back (online) and I think that's harder to do. But live, I would consider this the best run I've ever had of my tournament career."
WSOP PLAYER OF THE YEAR TOP 10 (through 30 events)
| Place | Player | Points |
| --- | --- | --- |
| 1 | Daniel Negreanu | 446.53 |
| 2 | Tom Schneider | 427.88 |
| 3 | Dan Kelly | 344.70 |
| 4 | Benny Chen | 300 |
| 5 | Mark Radoja | 292.50 |
| 6 | Matthew Ashton | 289.75 |
| 7 | Matthew Waxman | 274.50 |
| 8 | Mike Matusow | 268.75 |
| 9 | Charles Sylvestre | 260.00 |
| 10 | Jason Duval | 256.25 |
There are over 30 events still to come at the WSOP in Las Vegas, and POY points will also be awarded for the seven tournaments at the World Series of Poker Europe in October, so there are still plenty of points yet to be won. Come back to PokerNews.com for weekly updates on the Player of the Year race, as Negreanu tries to extend his lead and Schneider, Kelly, and the rest of the field try to catch him.
Be sure to follow our Live Reporting page for continuing coverage of every event at the 2013 World Series of Poker, and follow PokerNews on Twitter for up-to-the-minute news.