Seidel, Frankenberger and Busquet Compete in Wall Street Poker Tournament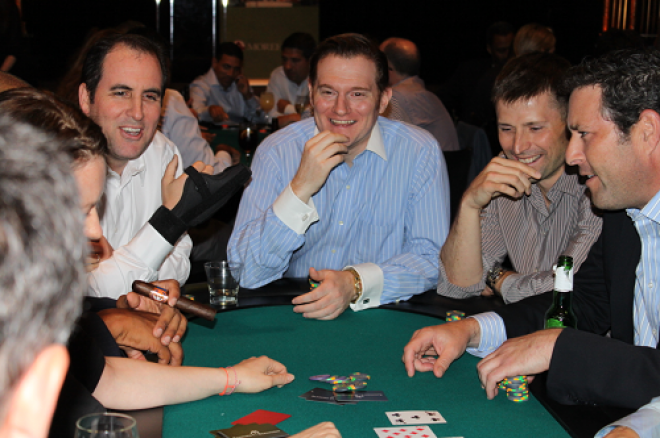 The 4th Annual "Take 'Em To School" charity poker tournament took place in New York City on Tuesday night. The event, held at Gotham Hall in Midtown Manhattan, attracted some of the biggest names on Wall Street, as well as a few athletes and well-known poker players.
Billionaires David Einhorn and Seth Klarman were among the Wall Street principals who hit the felt, and they were joined by famed New York athletes John Starks (former Knicks shooting guard) and Dwight Gooden (former Mets/Yankees pitcher). Bounties were places on the heads of the three poker pros in attendance: Olivier Busquet, Andy Frankenberger and Erik Seidel.
All proceeds from the $1,000 buy-in charity tournament went toward Education Reform Now, an organization committed to making sure all kids can access high-quality public education.
There were 250 players in the tournament when the first cards were dealt, and the last man standing after nearly six hours of play was Paul Britton, the chief executive officer of Capstone Holdings Group LLC. He was awarded a seat into the 2014 World Series of Poker Main Event.
"I was lucky, very lucky," Britton told Bloomberg. "I only play poker one night a year — and it's this tournament."
Also reaching the final table were Normal Lai (Omega Advisors), Ray Waterhouse (Magnitude Capital), David Marquart (First New York Securities), Raza Mujaba (Tricadia Capital), Oleg Nodelman, (EcoR1 Capital), Amber Sabat (Michael Sabat's wife) and John Sabat (SAC).
New York State Senator Jeff Klein also made the final table, finishing sixth. Klein is a major supporter of legalized online poker in the U.S. Earlier this year, he called for the introduction of interstate online poker in the state's 2013-14 budget proposal.
Frankenberger, a trader on Wall Street for 14 years before he began playing poker professionally, sat at the same table as Einhorn and Starks during the night — while wearing his two WSOP bracelets. Frankenberger reached the final five tables before being knocked out by HSBC's Jonathan Cohen. Frankenberger's
failed to hold up against Cohen's
.
"This is definitely one of the most well-run and well-attended events out there. I see a lot of familiar Wall Street faces here," Frankenberger told Bloomberg.
For more on the event, check out BusinessInsider.com.
Photo c/o Julia La Roche for Business Insider