2013 bwin WPT Merit Cyprus Classic Day 3: Alexey Rybin Leading with 14 Left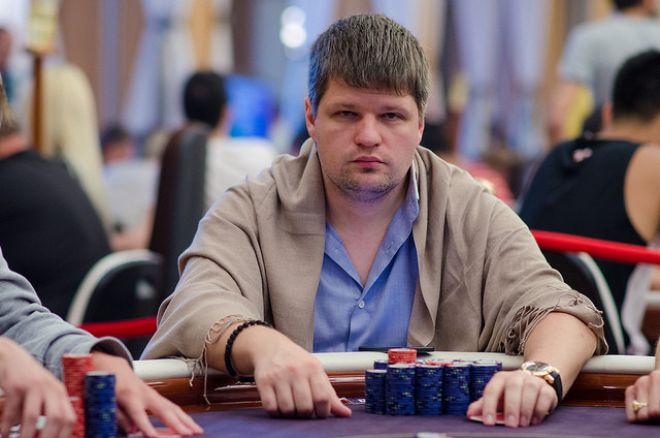 Day 3 of the 2013 bwin World Poker Tour Merit Cyprus Classic proved an antidote to the craziness that happened on Day 2. On Sunday, the field was massively reduced over just five levels. Despite an average stack of 60-70 big blinds, the field saw 70 percent of the players eliminated. For Monday, 31 players came back, but they were all still short of the money with only 27 set to be paid. Due to the looming money bubble, the tournament play was noticeably more cautious. Chips, which had previously been sprayed around the room like a racing driver's winning champagne, were tightly held onto with a parental affection.
With the small size of the field returning, just four levels were played on Day 3. Alexey Rybin was able to maintain his chip lead, finishing on top of the remaining 14 players heading into Tuesday's penultimate day. Rybin held the chip lead the entire day and never looked to give it up. The Russian's constant aggression and big-stack pressure proved to be the undoing of several players, including Asaf Avci who finished in 15th place when he ran the
into Rybin's
. Rybin finished the day with 1.736 million in chips — more than 500,000 more than Kayhan Tugrul in second place.
End-of-Day 3 Chip Counts
| Rank | Player | Chips |
| --- | --- | --- |
| 1 | Alexey Rybin | 1,736,000 |
| 2 | Kayhan Tugrul | 1,200,000 |
| 3 | Sergey Rybachenko | 1,006,000 |
| 4 | Andrei Nikonov | 959,000 |
| 5 | Bernard Samaha | 741,000 |
| 6 | Maximilian Droege | 618,000 |
| 7 | Jerfi Firatli | 422,000 |
| 8 | Albert Daher | 354,000 |
| 9 | Kfir Yamin | 310,000 |
| 10 | Alexandr Lakhov | 287,000 |
| 11 | Pierre Sayegh | 270,000 |
| 12 | Barış Topkaya | 122,000 |
| 13 | Oleg Suntsov | 120,000 |
| 14 | Natalya Nikitina | 114,000 |
Sergey Rybachenko, who has been playing a lot of Chinese poker after the tournament each night, finished in second place after a strong end to the day. Rybachenko picked up Doyle Brunson's named hand,
, and won a huge pot against Albert Daher right at the end of play. The Day 1b chip leader, Bernard Samaha, also made it through to Day 4. He bagged 741,000, which was good enough for fourth place overall.
Others to make it through are the talkative PartyPoker qualifier Maximilian Droege, who won a huge pot at the end of the day to finish with 618,000. At the bottom end of the leader board, former WPT Regional winner Natalya Nikitina finished as the short stack coming back with 114,000, while Oleg Suntsov, Droege's victim in that big final pot, has just 120,000.
At the beginning of the day, it looked as though the pace of exits were going to continue at the same speed as they left off the night before; it only took two minutes for the first all-in-and-call situation to occur. After having some of the short stacks quickly, it looked as though the hand-for-hand bubble could last a long time given the depth of the stacks. But like everything else in the tournament, our guess as to what was going to happen proved to be completely wrong.
Interested in playing on PartyPoker? Why wait? Click here, download the software, and start getting in on the action today!
Giancomo Fundaro, who won WPT Mazagan last November, proved to be the bubble boy. All in with the
on a flop of
against Baris Topkaya's
, Fundaro looked to be in good shape for a double up. The deck had other things in mind, though, as the
on the turn and the
provided Topkaya with the winner. Fundaro fell in 28th place and was the last player to head to the rail empty handed.
With money now guaranteed, there was a flurry of exits from several short stacks, including Manig Loeser who busted out in 23rd place. From that point, the exits flowed steadily and it didn't take too long for the field to be reduced to just two tables after Topkaya knocked out two players in one hand.
Tuesday's Day 4 will see the tournament start up at 1 p.m., with the plan to play down to the official WPT final table of six. Can Rybin continue to dominate this event? Or will one of his 13 opponents rise to the occasion and overtake him? You'll have to tune in with the PokerNews Live Reporting Team for all of the Day 4 coverage to find out!
Photo courtesy of the World Poker Tour.
Get all the latest PokerNews updates on your social media outlets. Follow us on Twitter and find us on both Facebook and Google+!