PokerNews Book Review: Secrets of Professional Tournament Poker Volume 3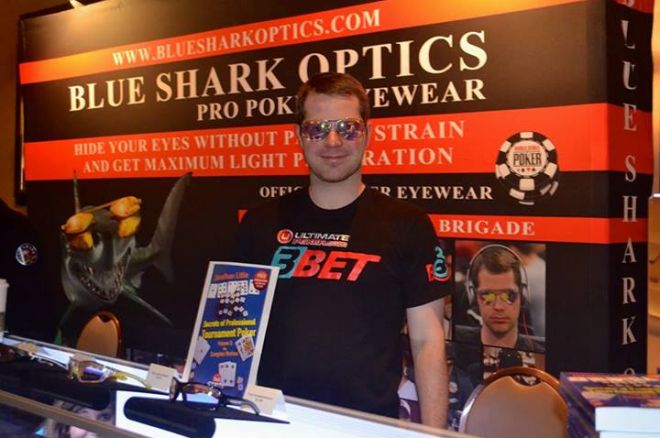 Finding quality poker strategy books is rare, especially in this day and age when it seems everything that can be written about poker has already been committed to print. That said, I have been impressed with both Secrets of Professional Tournament Poker Volume I and Secrets of Professional Tournament Poker Volume II, which were released by Jonathan Little in recent years. This year, Little released Secrets of Professional Tournament Poker Volume III: The Complete Workout, and based upon my favorable reviews of its predecessors, I was excited to give it a read.
Like the other volumes, Little has personally written every word in the SOPTPIII, which is great because he has an uncanny ability to transfer complex concepts and thoughts to paper in an uncomplicated manner. However, unlike the other volumes, which focused on tournament fundamentals and how to alter your game at each level of a tournament, Little focuses on specific hand examples he played in a $1,000 World Series of Poker event, a $2,500 WSOP event and the $25,000 World Poker Tour Championship – each designed to show you how Little plays various stack sizes in different structured tournaments.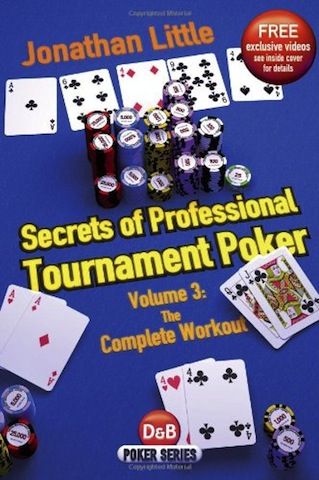 All told there are 150 hands examined in the book, each presenting a sort of "choose your own adventure" for the reader, who is tasked with multiple-choice questions that correspond to a scoring system. As Little puts it:
"Each question has up to four possible answers and each is awarded 0 to 10 points … However, it would be a mistake to assume that you have played a hand perfectly just because you chose the optimal line at each point. While you may choose the correct answer, you must consider carefully whether your reasons for choosing each play were good ones that they match up to the explanations given in the answer. Understanding the right reasons for particular plays is the key to improving at poker."
Here are some of the hand topics examined in SOPTPIII:
Bad flop with little equity
Valuetown
Facing a maniac
Middle pair in a big pot
Aggression from a tight player
Late position brawl
Blind battle against a tiny stack
Thievery
Dealing with an all in
Facing a cold four-bet
Obviously that is just a small sample, but trust me when I say Little covers the spectrum. Through his own experiences, Little tests the reader's knowledge on both spots they've encountered on a daily basis and ones they may only be in once in a blue moon. Whatever the case, Little takes you through it step by step and uses the Aristotle Scientific Method where he will define the subject matter, consider the difficulties involved and present his own solutions.
SOPTPIII can stand apart from the first two volumes, meaning you could buy it, test your skills and benefit from it. With that said, I believe it would be most beneficial when used in tandem with the other volumes. As a whole, the Secrets of Professional Tournament Poker series is the go-to authority on tournament poker. If I had to try to turn an amateur into a pro, these are the texts that I would utilize to get the job done.
Like the first two volumes, the book is reasonably priced at $27.95, which includes free access to Little's videos and a one-month membership to his training site, FloatTheTurn.com.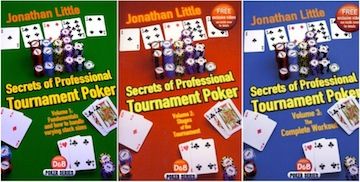 PokerNews had the chance to talk to Little about the latest installment in his groundbreaking tournament series:
PokerNews: Why did you decide to release the other Secrets of Professional Tournament Poker series and was it always intended to be three volumes?
Little: I initially wrote Volume 1 and Volume 2 at the same time. They were meant to be one book but it ended up being too large so the publisher made me cut it in half. I had a lot of people asking for more hand examples so I decided to make a third volume. Seeing how there are no final table hands in Volume 3, I imagine there will be a Volume 4 at some point.
How does Volume III fit in with your other Secrets of Professional Tournament Poker books? In other words, is it essential readers get this book if they've read the other two books?
I firmly believe Volume 1 and 2 should be read in order but if someone is looking for a bunch of hand quizzes, they can hop right in with Volume 3. However, to fully grasp all the concepts, I suggest everyone start with Volume 1.
How difficult is it to write a poker book? Do you find it rewarding?
For me, writing isn't too tough because I already know what I am going to write. I have spent countless hours at the table getting content and experience. Writing is very rewarding. It is awesome to constantly hear from my readers how my books have helped them progress as a poker player.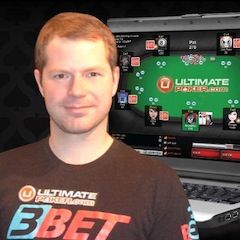 You've made healthier lifestyle choices in the last few years. Can you tell us a little bit about that and how it's affected your game? Is this talked about in your books at all?
When I started playing poker, I quickly went from being in decent shape to totally out of shape. A few years back, I caught a glimpse of myself in the mirror and realized I didn't want to die young and continue living an unhealthy lifestyle. I decided to get in shape and eat right. I lost around 40 pounds and recently ran a marathon, which were both goals I had. I plan on running the NYC marathon this year and to continue improving in every possible way. I talk a bit about this in Volume 2, which covers a lot of the things I do away at the table to improve your game. If you get in shape, you will find you can focus much better, especially when you play longer sessions. You will also find you generally have more energy and are happier.
We see the same cards on the cover of all three other Secrets of Professional Tournament Poker books. Is there special meaning to that hand? What's the story?
There is none. Sorry.
Do you have any other books in the works? If so, can you tell us a little about them?
I just finished writing a book called Positive Poker with Dr. Patricia Cardner. It is a book on poker psychology by an actual psychologist and not someone claiming to know what they are talking about. There is a huge void in that part of poker literature and with her help, I think we have filled it. That book will be out in the near future and can be pre-ordered on Amazon now.
I am also set to start working on Jonathan Little on Live Cash Games as soon as I am back in NYC. I will likely crank it out fairly quickly and it should be out sometime next year.
Have you ever considered a biographical book?
Not really. I don't think I'm that interesting, plus, I'm still young. I'm sure I'm going to have lots more fun in my life to report as I get older. I tend to write books as I get demand for them. No one has asked about my life yet.
To get your copy of Secrets of Professional Tournament Poker Volume III, visit our Poker Books section. You can also purchase your copies of Secrets of Professional Tournament Poker Volume I and Secrets of Professional Tournament Poker Volume II
Have you read any of the volumes of Secrets of Professional Tournament Poker by Jonathan Little? If so, give us your thoughts in the comments section below. In the meantime, be sure to follow us on Twitter and like us on Facebook.