Interview: WSOP Bracelet Winner Kristen Bicknell Chases Supernova Elite at PokerStars

Brett Collson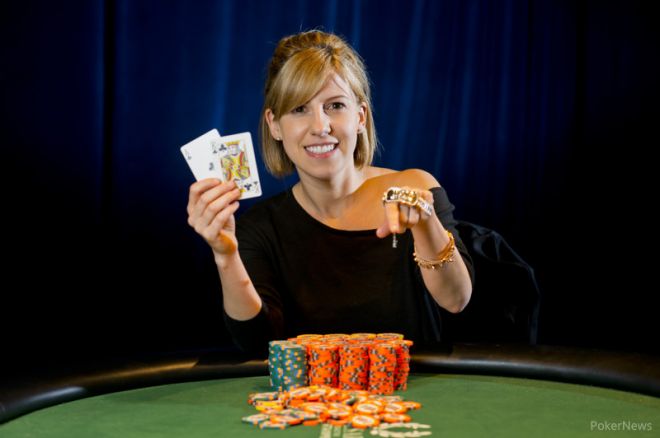 For online cash game grinders, there may not be a bigger accomplishment than reaching Supernova Elite status at PokerStars. It takes discipline, dedication and drive to accumulate 1 million VIP Player Points (VPPs) in a single year, and the rewards for doing so are massive.
Kristen Bicknell has reached Supernova Elite status each of the past three years. Known as "krissyb24" at PokerStars, Bicknell has been one of many mid-stakes grinders working hard at reaching the exclusive VIP level year after year.
Bicknell spends most of her time at the $1/2 and $2/4 cash game tables at PokerStars — playing as many as 24 tables at a time. In her blog she calls herself the "Ultimate Grinder," and deservedly so; for a $1/2 player it takes approximately 2.5 million hands per year to reach the Supernova Elite milestone.
Bicknell made poker headlines for the first time this summer when she won the 2013 World Series of Poker Ladies Championship, collecting her first gold bracelet and a payday worth $173,922. While she enjoyed her newfound fame from her success at the WSOP, Bicknell fell behind in her pursuit for Supernova Elite. But now that she's returned to her home in Canada, she's back on track and seeking the milestone for the fourth time.
We caught up with Bicknell to discuss her start in poker, her chase for PokerStars Supernova Elite, and more.
First off, I'd like to know more about how you got into poker. Can you discuss when you first started playing the game and how you discovered online poker?
I started playing poker during my first year of university, when one night some roommates introduced the game to me and my boyfriend, Adam — aka "Fishbones11." Me and Adam really enjoyed it, and played heads up for about 12 hours that night until the morning. We then hosted little home games and basically searched out any local games we could find. I even remember a spur of the moment midnight road trip to Turning Stone casino (about three hours away), it was the closest casino we could play at since we were only 18. We went there with only $500 combined, and the only game they even had running at that time was $1/2 limit, which we had never played before. The whole way down, I was driving, and Adam was reading aloud poker books. Pretty funny to look back at, but we were so infatuated with poker at that point.
We met some friends who told us about online poker. When I got back to school for my second year of university, it became much more convenient and profitable to play online, and that's when online poker started to become a large part of my life.
At what point did you realize you can beat the game and make a living full time? Were you parents and friends supportive of your decision?
I've never looked at poker as a career, but hope to always have it in my life as a hobby. I have made smart decisions with the money I have won from poker, and I'm just living it day by day. Because of that attitude, I have support from my parents with poker. I feel some friends who don't play poker look at me like it's a bit weird, but that's to be expected.
Did you get started playing MTTs? Sit-and-gos? Or did you focus mostly on cash games from the get-go?
I've bounced back and forth. I've put in a pretty decent volume of heads-up sit-and-gos, single table sit-and-gos, and MTTs over the past seven or so years. Since 2010, when I first achieved SNE, I have kept the majority of my focus on cash games.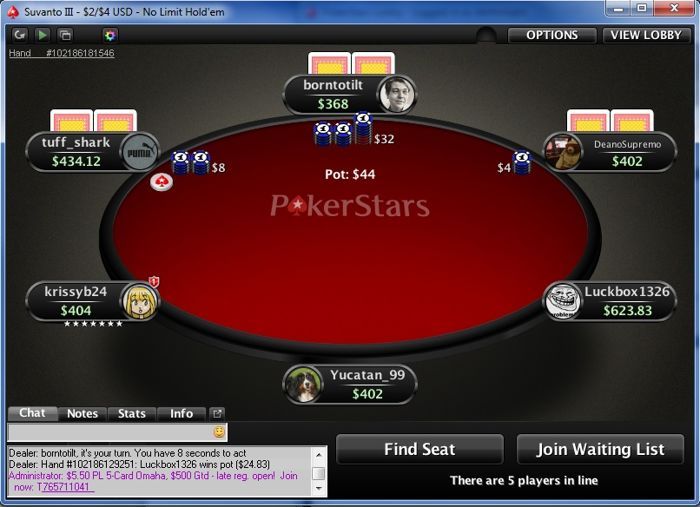 When did you decide that Supernova Elite on PokerStars was attainable?
It's kind of a degen moment for me, but PokerStars had some sort of promotion going on in 2009 where you could make X amount of dollars for X amount of VPPs. I thought it sounded pretty easy, so I jumped into some cash games to try and hit this bonus. At the same time, I was talking to a friend who had looked pretty seriously into the SNE program and was considering making a run for it. I was pretty frustrated with MTTs at this point, and it sounded like an interesting new challenge. Most of my friends thought I was crazy and would never be able to do it, especially because at that point I hardly played cash online, and was just jumping into 24-tabling. I took it very seriously in January, and February, and after having no problem with putting the volume in those two months, I knew I could do it.
What daily goals do you set for yourself to make sure you reach SNE status each year?
The first year I went for SNE, I was very strict with myself. I set playing times and breaks, and for the most part would stick to them. I would never get behind pace, and if I needed time off in the future, I would play extra before I took the time off. Sadly, I haven't been able to be that disciplined in the following years, so I just try and stay as close to SNE pace as I can. Typically, each morning I set either hand or VPP goals, and try my best to hit them. If anyone reading this is thinking about going for SNE, I would say the number one piece of advice I could give you is to always stay ahead of pace.
You wrote in your blog that you're going after Supernova Elite again this year. What is your status, and how does it compare to your progress in previous years?
I'm about half way to SNE this year. I've never been so far behind pace before at this point in the year, so it's going to be a challenge for me to make it. I have 500k VPPs, and pace is about 620k VPPs. I don't have as much motivation or excitement as I did the first year I went for it, and it seems that each year that goes by I slack off a bit more, forgetting how hard SNE is.
It looked like you had a great supporting group of friends railing you at the WSOP. Who do you talk poker with, and which players have helped you with your game the most?
I have met so many great friends in poker, and it was really nice to have a good group of them railing me at the WSOP. I talk poker the most with my boyfriend, Adam. He has helped me along the way tremendously. I have so many people that have helped me at different points with poker that I feel like it's small contributions from various people that have added up. I talk strategy daily on Skype, and am in a Skype strategy group with 30-plus players all playing similar games to me.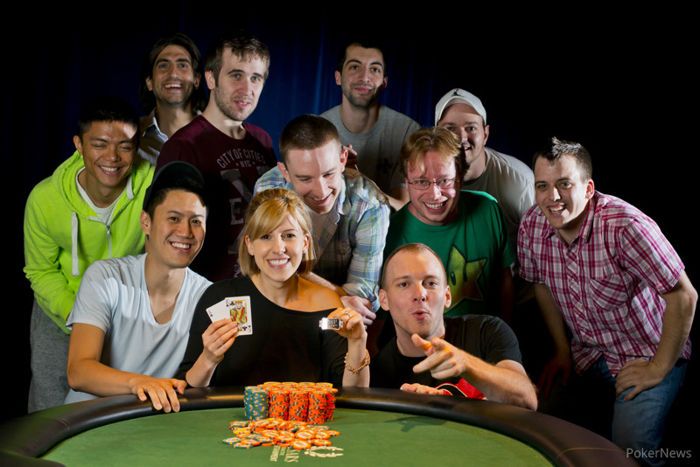 How do you balance poker with other things in your life? What other activities do you enjoy doing?
I'm not sure I can say I live a perfectly balanced life, but I think for a poker player I do a pretty good job. I'm very passionate about health, fitness, and nutrition. Being conscious and putting effort into those aspects of life provide a good back bone for health and balance. I love cooking, being outdoors, and sports. Currently, I'm very passionate about tennis. I also play golf, squash, softball, and love going to spinning classes.
Most mid-stakes online cash game players like yourself are out of the media spotlight. Do you like the attention you've been receiving after winning a bracelet, or do you prefer to stay under the radar?
I don't mind the attention I've been getting. I've been overwhelmed with support from friends, and fellow poker players. I have gotten good feedback about myself as a poker player, and it is nice to feel respected by my peers.
Is sponsorship something you're trying to attain? What would it mean to represent an online company such as PokerStars?
If the right opportunity came along as far as sponsorship, I would be interested. As a happy PokerStars customer, I'd be proud to represent them.
Now that you've been in the public eye, will we be seeing you on the tournament circuit more? Or are you focusing mostly on your online goals?
For 2013, I'm focusing on achieving SNE. Next year, I'm planning to play live cash a lot more. I'll probably also hit up most of the CPT events, WSOP, and maybe an EPT event too. I'll never go back to being solely an MTT grinder, so when I do travel it will be mainly for cash games, and then a couple tournaments each series.
Bicknell is frequently updating her progress toward Supernova Elite, so be sure to follow her blog through the end of the year. You can also check out her post-bracelet interview with Lynn Gilmartin right here at PokerNews.com.