Inside Gaming: Casino Surveillance, Expansion in Vancouver, and MGM's D.C. Plans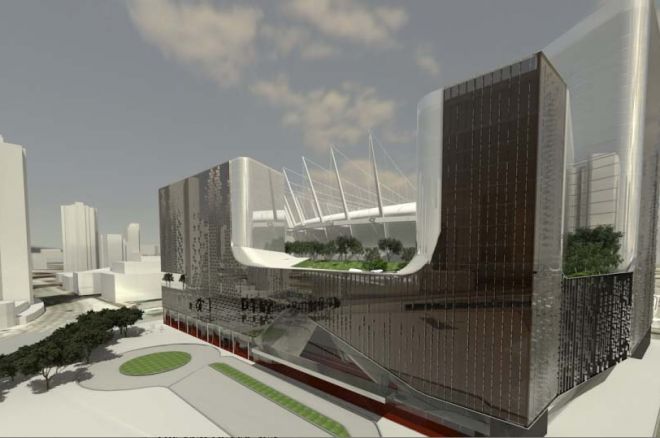 On this week's edition of Inside Gaming, we take a look at US casinos using intelligence to combat cheaters, possible upgrades at the Edgewater Casino in Vancouver, and plans released by MGM for a casino outside of Washington D.C.
Identifying Cheaters at Casinos
Casinos from the U.S. to Australia use an independent intelligence network to warn one another about cheaters. Mohegan Sun and neighboring rival Foxwoods Resort Casino even share information with one another, and while competitors rarely shared these things with one another in the past, an online network evolved through mutual self-interest.
"If something happens at Foxwoods at 1 o'clock," Joseph Lavin, director of the Mohegan Tribe told FoxNews. "We'll be aware of it no later than 2, 2:30. It won't take more than a day or so before that information goes to Atlantic City, goes to Pennsylvania, goes out to update New York."
It is difficult to calculate exactly how much revenue is lost to cheaters annually, but in a $10 billion industry, casino surveillance is paramount.
There are roughly 4,000 cameras at Mohegan Sun, focusing on both dealers and players. On a given day, they could be scouring hundreds of faces, some highlighted by other casinos and others by law enforcement agencies looking for money laundering. If the cameras identify a person flagged for possibly cheating, security officials say they will watch the person before taking any action.
On Sept. 15, Bruce Koloshi was arrested at Mohegan Sun, and he was recognized as someone marking cards with invisible ink. Koloshi was part of a security bulletin posted by officials in Louisiana, had cheating convictions in Iowa and Nevada, and was facing charges for marking cards at the L'Auberge Casino.
Koloshi, who was playing Mississippi Stud, marked cards with an invisible substance and wore contact lenses to see the ink. He was arrested and charged with cheating, conspiracy to commit larceny, and being a fugitive. His bond was set at $300,000.
Koloshi's warning was relayed by the Division of Gaming Enforcement in Delaware, where table games were introduced in 2010.
High-level casino cheats are rare, but Mohegan Sun officials say they frequently see card counters and other "advantage players" that aren't breaking the law, but have skills to bend the odds in their favor. Casinos restrict the play from card counters and advantage players, limiting their maximum bet or suggesting that they play a different game.
FoxNews has more.
Paragon Gaming Looking to Move Edgewater Casino
Paragon Gaming Corp. is looking to move Edgewater Casino in Vancouver, BC, proposing a $535-million redevelopment plan of BC Place using an entertainment-focused, urban resort concept.
Paragon unsuccessfully attempted to open a destination casino in 2011, when a grassroots campaign sprung up against a proposed 1,500-slot-machine, 150-table property.
Now, Paragon has no plans to expand gambling operations, but would relocate Edgewater at its existing size and expand around it. The new proposal includes 675,000 square feet of space for the casino, stores, conferences, and two Marriott-branded hotels with more than 550 rooms each.
"The previous project was a destination casino," Paragon vice-president John Cahill said Tuesday. "We've heard clearly from city council that that is not to be here."
Paragon president Scott Menke says the company is convinced in can succeed as a sport-entertainment district similar to L.A. Live, which plays host to the Staples Center, cinemas, theatres, restaurants, and hotels.
Rogers Arena, home of the NHL's Vancouver Canucks and formerly the NBA's Vancouver Grizzlies, is directly across the street from BC Place, which itself hosts the CFL's BC Lions and the MLS's Vancouver Whitecaps FC.
"Over a period of time, we've seen the great success that BC Place has," Menke told the Vancouver Sun. "When we were (last) going to city council, BC Place was remodeled yet."
Paragon has brought in Dundee Corp. and 360 Vox as financing partners, and the project includes a sleek new design by architectural firm IBI Group. The proposal has a glass-fronted structure, bookended by the two hotels.
IBI Group's Martin Bruckner says that the concept is to "evoke the natural mountain environment in its architectural design."
Paragon's intent is to completely construction by 2016, and development would take place at the same time the Rogers Arena would undergo a three-tower, $300-million mixed-used development.
The Vancouver Sun has more.
MGM Eyes the United States Capital
On Wednesday, MGM Resorts International presented a preliminary design for a proposed $800 million casino and resort at National Harbor in Price George's County, Maryland, which is just under 11 miles away from President Barack Obama's residence at 1600 Pennsylvania Avenue.
MGM is one of three companies bidding for a license to build the state's sixth casino, which will be located in a suburb of D.C. The other companies are Penn National Gaming, a casino and racetrack operator in Maryland, and Greenwood Racing, owner and operator of the No. 1 gaming property in Pennsylvania, Parx Casino.
The proposed casino will be above a pedestal terrace to combat the site's 90-foot elevation change, hiding a seven-story parking garage and including outdoor dining, fountains, and parks. Above the casino would be a glassy 18-story hotel tower with views of the National Mall in Washington.
MGM CEO Jim Murren calls the project visually striking and a a "gateway" into the state from Virginia.
"The design has to be perfect," Murren said during the presentation. "The location is perfect. … We wanted to give you a sense that we're in this to win this."
The state is expected to pick a winning bidder by the end of the year. Maryland's Video Lottery Facility Location Commission plans site visits and public meetings on Oct. 21, 23, and 25. Donald C. Fry, chairman of the commission and president of the Greater Baltimore Committee, said in a statement that the commission wants to "view the proposed location, observe the surrounding community, get a sense of the size and scope of the proposed facilities, to hear from the applicants, and to listen to the public support and public concerns."
Penn National and Greenwood have selected different sites in PG County. Penn National, which owns and operates Hollywood Casino Perryville, plans to build at Rosecraft Raceway, which it brought out of bankruptcy two years ago, and Greenwood would build a second Parx Casino (with a hotel and spa to the south on an Indian Head Highway property.
For more, check out the Baltimore Sun.
Photo courtesy of the Vancouver Sun.
Get all the latest PokerNews updates on your social media outlets. Follow us on Twitter and find us on both Facebook and Google+!