Inside Gaming: Maryland Live! Casino Opens 15,000-Square Foot Poker Room, and More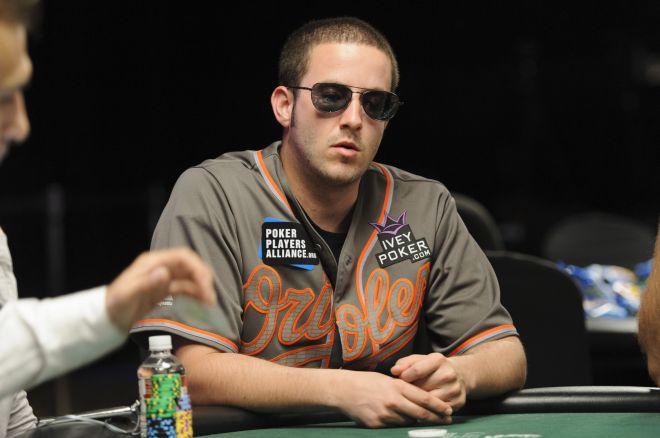 On this week's edition of Inside Gaming, we take a look at the newly opened Maryland Live! poker room, Mohegan Sun's deal with a town in Massachusetts, Churchill Downs' online gambling expansion, and Gordon Taylor's gambling allegations.
Poker Room in Maryland Opens
On Wednesday, Maryland Live! Casino opened a 24-hour, 52-table poker room at the Arundel Mills mall in Hanover, Md. By noon, the line to enter was hundreds of people long. By 1 p.m., with 160 players already seated, there were more than 1,000 people waiting to play.
The 15,000 square-foot, $20 million project could generate as much as $1 million per month in revenue, and will create jobs for those in the area.
"For us it means adding poker, which is a big piece of a puzzle we haven't been able to office for the first 18 months of the operation," Robert Norton, the president and general manager of the casino said. "It's additional revenue, additional customers, additional jobs, so it means a lot to us."
Many of the players on Wednesday claimed they play regularly at casinos other casinos in the region like Charles Town, Delaware Park, and Hollywood Casino.
The room is one of the largest on the East Coast, and offers modern amenities like phone chargers built into table legs along with standard comforts like masseuses and safety deposit boxes.
"We think the room will appeal to everybody from the casual player to the really serious professional poker player," said Joe Weinberg, managing partner for Maryland Live's owner, Cordish Cos. "We built it to be a real destination facility that will draw players from the area, the East Coast, and beyond."
The Washington Post sat down with 2012 World Series of Poker Main Event champion and Maryland native Greg Merson to talk about the room prior to its opening.
"It's pretty surreal," Merson said. "I've had to drive two-and-a-half hours to Atlantic City since I was 21. Yeah, there's also Charles Town, but to play big games, you would have to go to A.C."
Merson added that he is really impressed with the room itself.
"It has a feel that's really elite amongst poker rooms in the U.S.," Merson said. "I think there's going to be a pretty big explosion off the bat. There's a lot of demand here."
Merson added that, while he's discussed becoming an ambassador for the room, it doesn't seem likely in the immediate future because he travels so much outside of the U.S. to play online poker.
The Washington Post, Baltimore Sun, and ABC 7 have more.
Mohegan Sun's Proposed Deal in Massachusetts
On Thursday, the details of a host community agreement between Mohegan Sun and Palmer, Mass. officials were released. According to the agreement, the small town would receive roughly $3 million in upfront payments are more than $16 million in estimated yearly revenue if a casino complex was eventually approved and built.
The deal also includes about $23 million in infrastructure improvements, including an upgrade of the Massachusetts Turnpike interchange near the proposed sight.
The proposed casino resort project is worth nearly $1 billion, and would include two hotels, retail space, and a water park. Mohegan Sun is one of three developers competing for the Western Massachusetts resort casino license.
MGM Resorts has an agreement with Springfield for the license, and Hard Rock has one in West Springfield.
"Today begins our official campaign," Mitchell Etess, chief executive of the Mohegan Tribal Gaming Authority, told the Associated Press. "We don't think it's prudent to take anything for granted."
Etess says the project would be "truly transformative" for Palmer, a town of roughly 12,000 residents.
There are opponents of the Palmer plan, and they are led by the group Quaboag Valley Against Casinos. The group believes that a large casino resort would be a threat to the quiet, rural life in the town and the surrounding communities.
"It's a proposal that devalues my property as an abutter and I have no legal recourse," a member of the group said.
If any more details come forward regarding this or any other casino proposal in Massachusetts, Inside Gaming will have it for you.
The New Haven Register has more.
Churchill Online Gambling Expansion
According to the Courier-Journal, Churchill Downs Inc. is considering adding 50 new positions, which would pay an average of $100,000, in Louisville, Ky. as part of its effort to launch online gaming.
On Thursday, the company received approval from the Kentucky Economic Development Finance Authority for $1 million in tax incentives to add employees at its headquarters in North Hurstbourne Parkway.
The increase of employment is a part of a $4 million expansion.
Chairman and CEO Bob Evans said in a statement that the additional jobs are tied to Churchill's online gaming aspirations, as they continue to wait for further legal clarification from the federal government and/or individual states.
The new employees would be "simply part of that effort and expands the technology team we already have based in Lexington, Ky. And Mountain Vew, Calif.," Evans said.
Other than saying that the positions would be technology-based and tied with online gaming, Evans didn't reveal what the 50 new employees would actually do.
"You're going to see a lot of mainframe technology and software," said Daryl Snyder, Vice President of Greater Louisville Inc., the metro chamber of commerce.
The application says that the average hourly wage, including benefits, would be $81 per hour. Expand that by 40 hours a week and 52 weeks a year, the jobs would average $168,480 a year.
The Courier-Journal has more.
Get all the latest PokerNews updates on your social media outlets. Follow us on Twitter and find us on both Facebook and Google+!