Inside Gaming: Delaware's Gaming Bailout, MGM to Build Sports Arena on Vegas Strip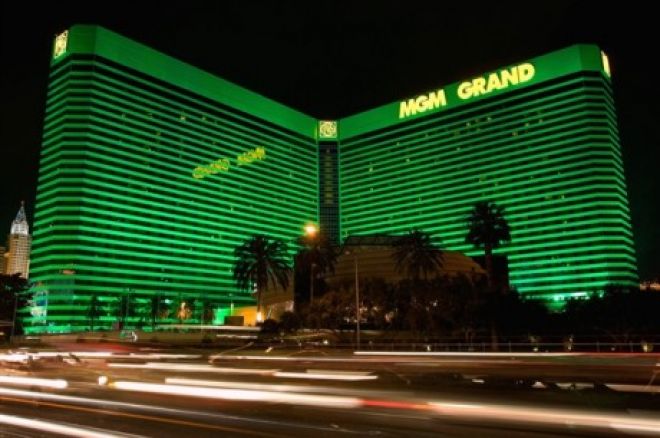 In this edition of Inside Gaming: Delaware is struggling to stay afloat with declining casino revenues, MGM Resorts International has chosen an architect to design a new stadium/arena on the Las Vegas strip, and Pinnacle has reached an acquisition deal with Ameristar Casinos Inc.
Delaware Granted $8 Million Bailout
Delaware gaming revenue went on a steady decline throughout 2012 and is projecting to drop even further as 2013 continues.
Slot revenue plunged, dropping about $47 million in just five months this year. With revenue continuing to slip, casino operators requested a reduction in slot machine taxes from 43.5 to 37%. Instead, operators were offered an $8 million bailout package that has been accepted and set to move forward.
"This is applying a Band-Aid to a bullet-shot wound," investment banker Jay Masurekar recently told Delaware Online. "Even if $8 million temporarily stems the bleeding, it doesn't address the oversupply of casinos in the mid-Atlantic states."
It was estimated that if a lower tax rate had been in effect for the year, it would have saved about $10.2 million in payments to the state. Even with the proposed $8 million one-time-payment, it seems inevitable that layoffs will still occur in the near future.
One of the biggest problems the state has faced is the increase in competition from mid-Atlantic states. Pennsylvania, which emerged in the gaming industry seven years ago, has increasingly built its way to the top of the trade, becoming the second highest grossing revenue state behind Nevada and ahead of New Jersey. Maryland has pulled some of Pennsylvania's customers after opening a small casino in Perryville, Maryland, becoming a competitor for Casino at Delaware Park. In addition, Maryland Live! In Hanover, Md. has taken from Dover Downs Hotel and Casino.
Since the opening of Maryland Live! in June of last year, Dover Downs' slots revenue has declined almost $13 million. So far in 2013, Dover Downs' slots revenue has fallen $22 million. In the first quarter, the company reported a net loss of $283,000.
For more, visit USAToday.com.
Las Vegas Boulevard to Be Home to MGM Arena
MGM Resorts International has proposed a $350 million project to build a 20,000-seat stadium between New York-New York and Monte Carlo.
MGM has partnered with Los Angeles AEG to build the sports and entertainment venue. Populous, an architectural firm that specializes in the design of sports facilities and convention center, won the bid for designing the proposed arena.
Its resume includes designing the Marlins Park baseball stadium in Miami, the 2014 Winter Olympic Stadium in Sochi, Russia; the 2014 Asian Games Stadium in Incheon, Korea; and Amway Center in Orlando, Florida.
The site is 12 acres and the arena is expected to cover about 5 acres of the property. Tim Romani, president of ICON Venue Group, the project management company that coordinated the architect selection process, says the $350 million project will include construction costs of $225 million to $250 million.
"This project is exciting. We've been working with AEG on developing an arena in Las Vegas since 2007," Romani said. "They finally landed with the best site and partnership. There's a buzz around this project."
The project is expected to take 22 months to build and has an opening date set for May 2016.
Chris Carver, Populous senior principal, said, "The new MGM-AEG arena in Las Vegas will provide the nation's pre-eminent entertainment destination with a world-class venue that will redefine amenities and premium offerings tailored to the demanding Las Vegas market."
MGM Resorts International chief executive Jim Murren said in a statement, "The combination of MGM and AEG, along with the excellent Las Vegas Strip location, is already driving interest from potential investors in this exciting new development."
Visit the Las Vegas Review-Journal for more information.
Pinnacle to Acquire Ameristar Casinos Inc.
On Thursday, Pinnacle Entertainment announced that the Mississippi Gaming Commission approved the company's proposed acquisition of Ameristar Casinos.
In a tentative agreement with the Federal Trade Commission, the acquisition will come at a $2.8 billion dollar price including any assumed debt.
The agreement comes weeks after the FTC blocked the deal after concerns were raised that a merger could hurt competition and subject some of its casinos to reduced payouts, particularly in St. Louis, Missouri, and Lake Charles, Louisiana.
Pinnacle and Ameristar both have properties in Missouri, and should the acquisition go through Pinnacle would have 58.4 percent control of the market including casinos on the Illinois side of Mississippi.
Pinnacle did express plans to sell the two Ameristar casino projects in Lake Charles and St. Louis, which potentially led to the agreement with the FTC.
In a statement released by Anthony Sanfilippo, chief executive officer of Pinnacle Entertainment, he said, "We are pleased with the progress we have made in addressing the Federal Trade Commission's administrative complaint and look forward to completing our proposed acquisition of Ameristar as soon as possible in the third quarter."
For more visit CalvinAyre.com
For all the latest gaming news from around the world, keep your browser locked to PokerNews.com. And be sure to follow us on Twitter, and find us both Facebook and Google+!