Inside Gaming: William Hill Nevada Hiccup, Ohio Closer to Casino, and More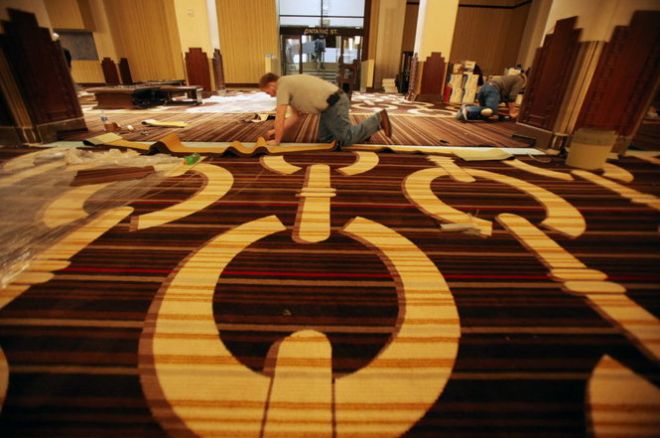 After spending $53 million on three Nevada sports books, William Hill expected finally to earn its gaming license next month, but state gaming officials further postponed William Hill's hearing to investigate the company's ties with two people convicted of financial crimes. Caesars and Rock Ohio's licensing process for their joint venture is going more smoothly. Keep reading to find out more.
William Hill's Nevada Gaming License on Hold
William Hill PLC was expecting a vote on its Nevada gaming license application in April, and then hoping for May, but when next month's agenda was published this week, the British bookmaker's name was once again nowhere to be found. State regulators postponed further discussion of the William Hill's license application to investigate the company's ties to two businessmen convicted of financial crimes. William Hill spent $53 million last year on three Las Vegas acquisitions with which to enter the U.S. sports betting market.
Winning a Nevada license is strategically important for William Hill, since it is a first step to gaining a license to operate an intrastate online poker site. The fate of the three deals, however, won't greatly affect the company's bottom line. Last year the company bought Club Cal Neva Satellite Race and Sports book division for $21 million, Brandywine Bookmaking LLC, operators of Lucky's sports books, for $14.25 million, and Leroy's Horse & Sports Place operators American Wagering Inc. for $18 million. The deals are contingent upon license approval. William Hill reported after-tax profit of $233.4 million on $1.81 billion in revenues last year.
The Nevada Gaming Commission is taking time to examine William Hill's head of strategy and corporate development and the founder of Israeli online gaming company Playtech, one of William Hill's joint venture partners. As head of strategy, Robin Chhabra was instrumental in William Hill's entry into the Nevada market. In 2010, Chhabra was convicted of having "passed confidential information" to a friend during his career as an equity analyst and fined £95,000 by the Financial Services Authority.
William Hill formed a joint venture with Playtech to create William Hill Online. Playtech's founder and minority owner, Teddy Sagi, has become a billionaire since spending nine months in prison in Israel in 1996 for fraud and bribery.
William Hill's CEO, Ralph Topping, said: "I've been through the licensing processes before but, I have to say, nothing as extensive as this. And it's not only at a corporate level that we're investigated and scrutinized, but at the personal level too. I haven't felt this closely assessed since I met my prospective father-in-law for the first time!" The company has not commented on their relationships with Chhabra or Sagi.
The Guardian and the Las Vegas Review-Journal cover the story from opposite sides of the pond.
Ohio Holds Hearing on License for State's First Casino, Horseshoe Casino Cleveland
The Caesars Entertainment and Rock Ohio partnership made its case for a gaming license to Ohio state regulators on Wednesday and Thursday. Company representatives showed the Ohio Casino Control Commission a progress report about construction of the Horseshoe Casino Cleveland, scheduled to open in May as the state's first full casino. Poker legend Lyle Berman will own 10 percent of the casino. The commission will make its final decision by May 2.
Gaming consultant Spectrum Gaming Group also presented its findings to the commission, reporting that it should grant licenses to Rock Ohio Caesars and its principals, including Berman and Cleveland Cavaliers majority owner Dan Gilbert. Spectrum recommended a hearing before granting a license to the Horseshoe Casino Cleveland's vice president of finances because he did not fully disclose "an incident regarding his accountant's license in North Carolina."
Spectrum also recommended that the commission continue to monitor Caesars' level of debt. Caesars will own 20 percent of the venture. Caesars spokeswoman Jan Jones said the company was working to improve its capital structure and added that some of Spectrum's statements about Caesars' debt were inaccurate.
Caesars and Rock Ohio began developing the Horseshoe as a joint venture after Ohio voted to allow casinos in 2009. The casino will have 100,000 square feet of gaming floor to hold 2,100 slot machines, 63 table games, and a poker room with 30 tables. The joint venture is constructing a second property in Cincinnati expected to open in spring 2013.
Read more about the commission hearing in The State Journal.
MGM Hires Lobbyists to Campaign for Casino Complexes in Toronto and New York City
MGM Resorts International is considering a move to Canada. The company hired lobbyists to convince Toronto lawmakers to grant MGM a gaming license. MGM is pitching them a $2 billion to $6 billion mega complex in the city that would include hotels, restaurants, spa facilities, and a convention center. Gambling, they say, will only make up 10 percent of the project.
"It's an amazing market, it's an amazing city," said Alan Feldman, MGM's senior VP of public affairs. "We'd be prepared to invest an awful lot in the development of the concept." He said that MGM is not interested in a small project such as adding on to the slot parlor at Toronto's Woodbine Racetrack.
MGM hired the lobbying firm Sussex Strategy Group on April 4, according to records, but details of the project only became public when several members of MGM's development staff visited Toronto this week. MGM won't be the only game in town. Other casino operators may being shopping their development proposals soon, and the Ontario Lottery and Gaming Corp. announced in April that it plans to open a casino in the Toronto area.
Back on the U.S. side of the border, MGM hired another consulting firm recently to lobby New York City Mayor Michael Bloomberg and the City Council to give MGM the go ahead for a second full-scale casino in New York City. MGM is paying Kasirer Consulting $15,000 a month to convince the city it can support another property in addition to Genting's Resorts World Casino that opened last year attached to the Aqueduct Racetrack in Queens. Genting has been lobbying the city to allow table games so it can expand into a full casino. The Malaysian-based casino developer made lots of friends at City Hall with a proposal to add a huge convention center to Resorts World.
"I think that the powers that be, both in the city and the state, realize that in addition to what Genting is talking about, there's still potential to do more," Feldman said. "So part of this is having a conversation about the size of the market."
Queens' Times Ledger has more on MGM's efforts in New York, and Toronto's The Globe and Mail covers MGM's Canadian project.
Follow PokerNews on Twitter for up-to-the-minute news.
*Photo courtesy of photos.Cleveland.com