Greg Merson, Chad Brown Among Those Attending 4th Annual All in For Wishes Event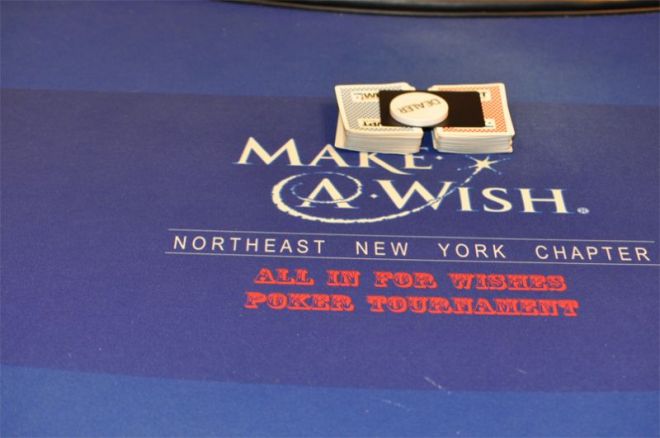 On Saturday, Oct. 12, the 4th Annual All in For Wishes will be held at the Empire State Plaza Convention Center in Albany, New York, benefitting the Make-A-Wish Foundation for Northeast New York. The charity event, which will feature a guaranteed $10,000 cash first-place prize, will be attended by 2012 World Series of Poker Main Event champ and Player of the Year Greg Merson; Team PokerStars Pro Chad Brown; and 2007 WSOP seventh-place finisher Lee Childs.
"The All in for Wishes charity poker tournament is the best-run, most-fun charity poker tournament I have ever been a part of," Childs told PokerNews. "I was fortunate enough to be involved in this tournament from its initial planning days. I have a special place in my heart for the Make-A-Wish Foundation. They bring happiness to children and make dreams come true. Think how great the world would be if more of us focused on just those two things!"
He went on to add: "I highly encourage anyone who is able to come to this event. It is getting bigger and bigger every year. Larger prize pools, more celebrity poker players and its also being held in a beautiful venue in downtown Albany. Most importantly, the profits are going to help kids. These kids have wishes and dreams. Let's all make some dreams come true, inspire the next generation and let them inspire us with their hope and smiles!"
Others who will be in attendance are WSOP bracelet winner Gary Styczynski; author of Life on Tilt, John Blowers; and 2010 Borgata Open champ Dan Spirer.
Merson and Brown will conduct a one hour, semi-private poker class for the first 20 players who reserved a slot. That training seminar, which costs $100 with proceeds going directly to Make-A-Wish of Northeast New York, will be held from 9:30 - 10:30 a.m. prior to the Main Event on Saturday.
The $200 buy-in tournament, which attracted 87 paid entries in 2012 to create a prize pool of $22,200, will feature a 10,000-chip starting stack and offer rebuys ($100 for 5,000 in chips or $200 for 10,000 in chips) for the first four levels. After Level 4, there will also be an add-on ($100 for 5,000 in chips or $140 for 10,000 in chips).
"From the poker perspective, the tournament structure is amazing," Childs concluded. "It's not a crapshoot like a lot of charity tournaments. There is a lot of play, as there should be when we are playing for a $10,000 first prize! I am also honored to get to learn from and play with pros like Greg Merson and Chad Brown. I have run training seminars at this event and this year I am excited to be training with those guys so that I can hopefully keep my mouth shut and learn from them. What an opportunity! In addition to the structure, there are so many awesome giveaways and this year they are even going to have a TV table. I hope to be playing on that final table, but if not, I am looking forward to doing commentary as well!"
For more information, visit the All in For Wishes website. You can also call 518-782-4673 or email KBroschinsky@neny.wish.org to obtain tickets.
Get all the latest PokerNews updates on your social media outlets. Follow us on Twitter and find us on both Facebook and Google+!