Catching Up with Mid-States Poker Tour Season 4 Player of the Year Pat Steele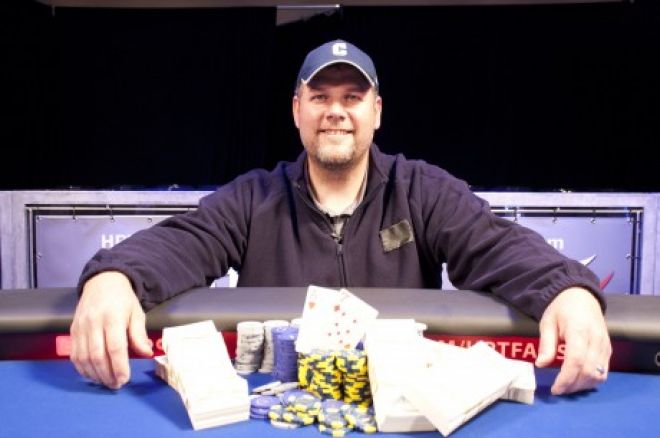 Before 2013, the name Pat Steele wasn't mentioned much in the poker world; however, thanks to a stellar performance by the family man from Chelsea, Michigan, it's now found its place in poker history. That's because Steele, who is married with three children, won the Mid-States Poker Tour (MSPT) Season 4 Player of the Year title — not to mention amassing $261,941 in winnings including a $155,636 win in the Heartland Poker Tour Soaring Eagle Main Event.
Here's a look at Steele's 2013 accomplishments:
| Date | Event | Place | Prize |
| --- | --- | --- | --- |
| March 7 | MSPT $1,100 FireKeepers Main Event | 4th | $18,364 |
| March 22 | MSPT $1,100 Ho-Chunk Main Event | 3rd | $27,773 |
| May 17 | HPT $1,650 Soaring Eagle Main Event | 1st | $155,636 |
| June 17 | Wynn Summer Classic $550 NLHE | 81st | $1,174 |
| July 6 | 2013 WSOP Main Event | 362nd | $28,063 |
| August 16 | HPT $1,650 Gary, Indiana Main Event | 41st | $3,505 |
| August 22 | MSPT $1,100 FireKeepers Main Event | 4th | $18,880 |
| November 8, 2013 | MSPT $1,100 Ho-Chunk Main Event | 34th | $1,472 |
| December 6 | MSPT $1,100 Canterbury Park Main Event | 10th | $7,074 |
Steele, who attended Northwood University in Midland, Michigan where he played Division II football, owns Steele Heating & Cooling, Inc. — a third-generation family business — but has been supplementing his income through poker. We recently caught up with the man to get his take on his successful year.
PokerNews: How does it feel like to win the MSPT POY for Season 4?
Steele: It is a great honor to be POY for a tour with so many talented players.
Was this a goal you had at the beginning of the season? If not, when did you decide to go for it?
My first MSPT event was at FireKeepers in March where I placed fourth. I wasn't sure if I just got lucky, so I wanted to play the next event in Wisconsin. I took third, which gave me the confidence to continue on the tour. When it came back to FireKeepers, I placed fourth again and took over the POY lead. That was when I decided I wanted to hold on to POY, and fend off all of the other great players on the tour.
Your poker results started in March of this year. Are you new to poker? Can you describe your history with the game a little bit?
I started playing poker when I was 12. I would use my allowance and play with my dad and his friends in our basement. I have played since that time, mostly cash games, with a few tournaments. It wasn't until the fourth-place finish at FireKeepers that I gained the confidence required to be competitive.
On top of being the MSPT POY, you also won an HPT title this year. What was it like to claim your first victory?
Winning my first title with the likes of Joe Cada and my close friend Tom Midena was a thrill. It was nice taking home the cash to my family.
You also made a deep run in the WSOP Main Event. Was that a positive experience?
It was a great experience to play with some of the big name professionals like Phil Hellmuth and Shaun Deeb, who I played with on Day 1. It was also fun to play in the biggest poker tournament in the world.
I understand you and Brett Kuznia were battling for the POY title at the last MSPT stop at Canterbury Park in Minneapolis. Can you describe that scenario a little bit?
I was able to get to know Brett a little better from the previous couple of tournaments. He is a great person and a great player. He said it was going to come down to a crazy finish, and that it did! When I busted out in 10th place, I knew that Brett needed a third-place finish or better. He was second in chips when I left to head home, so I thought for sure he would win POY. On the long drive home, I was shocked to find out that he busted seventh, and I won POY.
What do you like about the MSPT? What does the tour have that other tours may not?
I really like the fact that the MSPT offers a good mix of professional and amateur players. It also has a good structure with good prize pools.
What's next for you as far as poker is concerned? What are your plans for 2014?
I would like to continue to follow the MSPT, HPT and WSOP.
In November, the MSPT released the 2014 season schedule, along with an announcement that PokerNews will be working with the tour to provide live reporting coverage of the events. To view the entire MSPT schedule and learn more about the tour, click here to head over to MSPTpoker.com.
*Photos courtesy of hptpoker.com.
Get all the latest PokerNews updates on your social media outlets. Follow us on Twitter and find us on both Facebook and Google+!