Top 10 Stories of 2012: #7, Greg Raymer Wins Four Heartland Poker Tour Titles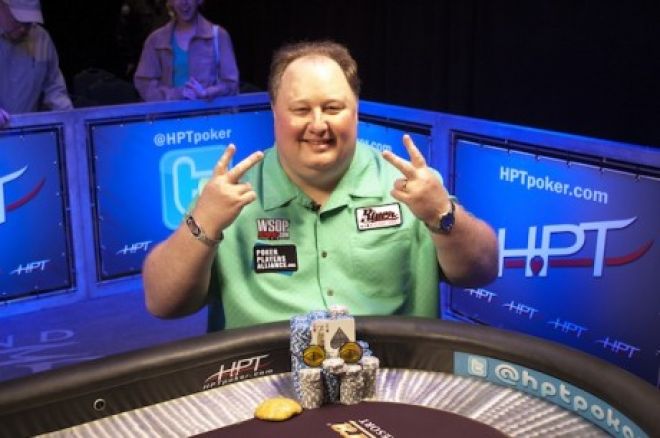 Everyone knows Greg "Fossilman" Raymer from winning the 2004 World Series of Poker Main Event during the height of the poker boom. The very next year, he made another deep run in the Main Event, ultimately finished in 25th place, and cemented his place in poker history. The story could have ended there, but it did not. Instead, one of the industry's most respected poker ambassadors jumped back into the spotlight this year by winning a remarkable four titles on the Heartland Poker Tour (HPT) — a feat that has earned him PokerNews' No. 7 Story of the Year.
To put that in perspective, the HPT held 16 events in 2012, meaning Raymer won 25% of them for $371,967 in winnings; furthermore, no other player had ever won two events in a single season (Minnesota's Jeremy Dresch is the only other player to win multiple titles, winning one in 2009 and another in 2010). This year marked a transformation for the HPT as it was acquired by Pinnacle Entertainment after Federated Sports + Gaming Inc., which owned the Epic Poker League, filed for bankruptcy. It was a big shift, and despite uncertainty, the HPT proceeded as planned.
"The first win in Albuquerque, the HPT was just coming out of the [FS+G] bankruptcy stuff and had been purchased by Pinnacle. That event had been on the schedule months earlier, but given the uncertainties with the bankruptcy proceeding," Raymer explained. "I think in their minds Albuquerque was kind of cancelled. Jen Mastrud, who runs the HPT now, called me up after they had a meeting [to hold the event] and was like, 'Ok, we're doing this event and Pinnacle is going to put a guarantee on the prize pool for Route 66. We wanted to get at least one well-known poker pro to come. Can you make it?' If I hadn't gotten that phone call, I'm sure I wouldn't have been there, and then things worked out even better because in addition to getting a free trip I won the money. It was kind of the same thing [later]."
The two events Raymer spoke of were his first two wins — HPT Route 66 Casino in Albuquerque, New Mexico and HPT River City Casino in St. Louis, Missouri. The former, which took place back in July, attracted 131 players and saw Raymer walk away with $71,875, while the latter, which happened in September, drew 336 runners and awarded Fossilman a $121,973 first-place prize.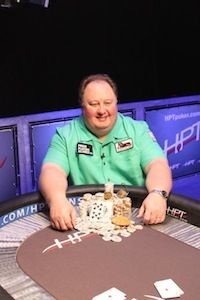 As if that wasn't impressive enough, Raymer traveled to Altoona, Iowa less than a month later for the HPT Prairie Meadows, which attracted 185 entries. Amazingly, Raymer won that one, too, after defeating Chad Lawson in heads-up play to capture the $72,089 top prize and a seat into the 2012 HPT Championship Open, which was held in November in Florence, Indiana at the Belterra Casino Resort. That tournament attracted 283 players, and once again, Raymer walked away with the title and $106,030 in prize money after beating well-respected circuit grinder Jacob Bazeley in heads-up play.
Needless to say, it was an unprecedented accomplishment, and one could not help but wonder if it meant more to Raymer than winning the 2004 WSOP Main Event, when he defeated a field of 2,576 for $5,000,000.
"Statistically, it's probably a lot tougher to win the four HPTs, just because nobody's done that or anything close to that. Two [HPTs] was the record previously, whereas every year someone wins the Main Event," Raymer said when asked by PokerNews about his accomplishments. "Having said that, if you give me a choice as to what I'd like to do in 2013, I'd take the Main Event, and I'd probably take that if the total money was more comparable just because that is the world championship. I'm not taking anything away from the HPT to say that, it'd be the same answer if you wanted to substitute anything else."
Not only did the four HPT thrust Raymer back into the poker spotlight, they gave the HPT some welcomed publicity. Here's what HPT's Director of Operations Jen Mastrud told PokerNews about Raymer's accomplishments:
"There is no champion more gracious than Greg Raymer. The players he eliminated praised him for the way he conducted himself throughout the tournament. He's been incredibly kind to all of the players, the tournament staff, and the HPT crew. He represents poker well. All of us at HPT are proud to be on his poker résumé. Those of us with a front row seat to Greg Raymer's unbelievable run are in awe. After eight years in the business, we appreciate how remarkable this is.

"The publicity came at a time when we were already enjoying some run good of our own. Numbers are up, our casino partners are happy, and expansion plans are in the works. Watching Raymer accomplish the impossible added to the excitement and momentum we were already feeling in the second half of the year. Each win was as meaningful to Greg as it would be for any other player. He fought hard for these titles. He was elated with each win like any player would be. His parents supported him on the rail like countless champions before him. When these episodes air in the coming weeks, our national audience will see that no win is mundane or expected, even for a world champion."
With such success and praise from the HPT, one can't help but wonder if Raymer might become the face of the organization; after all, no one exemplifies the "average man" better than Raymer.
"What would be of potential interest to me is if Pinnacle would say, 'Hey, we want to pay you to represent our entire chain of casinos,'" Raymer said when asked by PokerNews if such an opportunity interests him. "You would think Pinnacle, like many other brick-and-mortar chains, is looking at their options for online poker when the laws make that possible for a corporation that's located in the U.S. So if they're going to do a launch at some point, they could also have me be the face of their site the same way the existing online sites have celebrity poker players represent their brand."
Here's a closer look at Raymer's four HPT wins:
| Date | Tournament | Location | Entrants | Place | Prize |
| --- | --- | --- | --- | --- | --- |
| July 27 | HPT Route 66 Casino | Albuquerque, New Mexico | 131 | 1st | $71,875 |
| September 28 | HPT River City Casino | St. Louis, Missouri | 336 | 1st | $121,973 |
| October 19 | HPT Prairie Meadows | Altoona, Iowa | 185 | 1st | $72,089 |
| November 16 | HPT Belterra Casino Resort | Florence, Indiana | 283 | 1st | $106,030 |
Additionally, Raymer's performance earned him the HPT Player of the Year title, which comes with six Main Event buy-ins of $1,650 or less and hotel accommodations for the 2013 season.
"I'd have to throw that equity away if I didn't want to go play HPTs," Raymer said regarding the free buy-ins when asked if he'd be attending HPTs in 2013. "So even if I'm not teaching a seminar or anything else, would I rather travel to an HPT with a free buy-in or go to some other tournament and pay full price?"
In other words, you can expect Raymer to seek out his fifth HPT title in 2013.
PokerNews Top 10 Stories of 2012:
#8, Marvin Rettenmaier Wins Back-To-Back WPTs and Much More
#9, Baumann and Hille Bubble WSOP Main Event Final Table
#10, Phil Ivey Returns in a Big Way
Get all the latest PokerNews updates on your social media outlets. Follow us on Twitter and find us both Facebook and Google+!
Executive Editor US, PokerNews Podcast co-host & 2013 WSOP Bracelet Winner.