Top 10 Stories of 2012: #3, Howard Lederer Breaks Year-Long Silence in the Lederer Files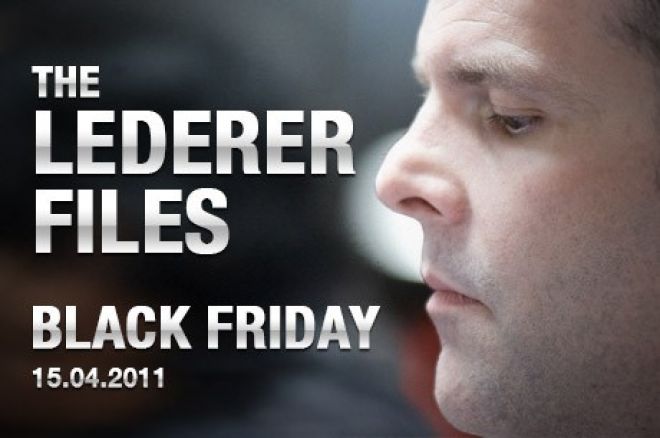 "I just think now is the time for the poker public to get some answers to questions that they deserve to have answered," — Howard Lederer
On Saturday, September 8, 2012, PokerNews sat down with Howard Lederer for an exclusive interview subsequently known as The Lederer Files. The seven-hour video interview was the first granted by Lederer, who had maintained silence ever since Full Tilt Poker was indicted on April 15, 2011, also known as Black Friday. Despite being met with mixed reactions, the interview was the most sought-after in the industry for a year and a half, and that is why The Lederer Files is our No. 3 story of the year.
"During my initial conversation with Lederer, I made it clear that if he was looking for an outlet to make this easy on him in return for the opportunity to run a story, then we were not interested." PokerNews' Chief Operating Officer Matthew Parvis explained in an introduction to The Lederer Files. "This was a non-issue, as Lederer mentioned he was willing to sit down at length, and answer all questions I had as candidly as he could."
As Parvis elaborated, preparing for such a monumental interview was no easy task: "Over the course of the next week, I went through as much information as I could in relation to Full Tilt Poker's rise and fall, Lederer's relationship with the company, and the indictments and complaints from the Department of Justice. I scoured online poker forums to learn what was most important to the community, in addition to trying to speak to people relevant to the story, most of who declined to speak or comment… The entire team and I worked as hard as we could to get answers to the questions we knew the poker community would ultimately be most interested in having asked, including topics such as payment processing, segregation of player and operating accounts, Ray Bitar, Phil Ivey, player loans, Black Friday, and the eventual forfeiture of Full Tilt Poker assets to PokerStars."
The finished product was released over a four days in September as follows (Click on each to be taken to the video):
There was a lot of information revealed in the interview, all of which did not fit in the seven-part video interview; as such, PokerNews also released a two-part article series titled Recapping the Lederer Files, which not only reviewed the material in the video, but offered additional information as well.
While The Lederer Files unleashed a flood of information, the feedback was mixed. Many were eager to hear what Lederer had to say, but others were neither satisfied with the answers nor with what was asked for that matter.
"The feedback and criticism have all been fair," Parvis reflected in The Lederer Files: The Process and Opinions. "After watching the interviews and trying to be impartial, I agree with a lot of what's been written and think there are plenty of spots where I could have been tougher or followed up more in depth. That being said, I don't think following up hard in certain spots would have changed the overall outcome of the piece or provided any additional insight. It certainly may have with some sections, but all in all, I felt it was important to cover as much as possible and not sit there and hammer on why he claims 'he didn't know,' or that 'it wasn't in his area of expertise.'"
Regardless of the feedback, the Lederer Files represented Lederer's return to the poker world. In the months since the renowned interview was released, Lederer gave a second interview to the TwoPlusTwo PokerCast where co-hosts Adam Schwartz and Mike Johnson where able to follow-up on what he said in The Lederer Files and more; furthermore, Lederer has been spotted playing high-stakes poker in Las Vegas, returned to tournament poker, and most recently settled his civil case with the Southern District of New York.
What comes next for Lederer in the Post-Black-Friday saga remains to be seen, but one thing is for sure — it began when he finally broke his silence in The Lederer Files.
PokerNews Top 10 Stories of 2012:
#4, The Big One for One Drop
#5a, Greg Merson Wins the WSOP Main Event and POY Award
#5b, Dan Smith Dominates
#7, Greg Raymer Wins Four Heartland Poker Tour Titles
#8, Marvin Rettenmaier Wins Back-To-Back WPTs and Much More
#9, Baumann and Hille Bubble WSOP Main Event Final Table
#10, Phil Ivey Returns in a Big Way
Get all the latest PokerNews updates on your social media outlets. Follow us on Twitter and find us both Facebook and Google+!
Executive Editor US, PokerNews Podcast co-host & 2013 WSOP Bracelet Winner.