The Nightly Turbo: New Full Tilt Poker Rewards, Lederer Plays High Stakes, and More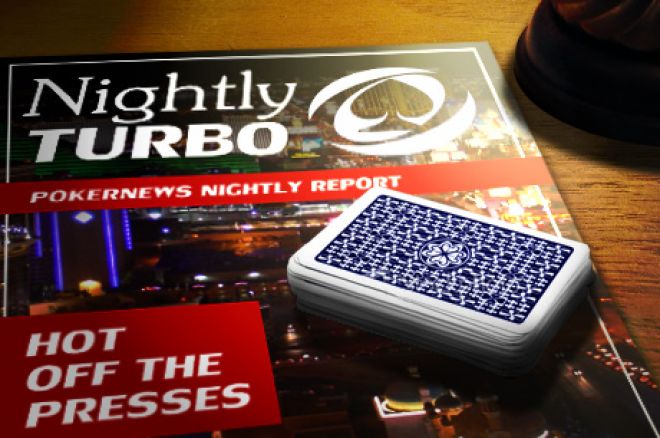 Another day, another big story involving Full Tilt Poker. In this edition of the Nightly Turbo, we're covering the new rewards program coming to FTP, Howard Lederer rejoining the high-stakes cash games in Las Vegas, and more.
In Case You Missed It
Ludovic Lacay took down the 2012 European Poker Tour Sanremo Main Event on Thursday. Take a look at his path to victory in our EPT Sanremo recap.
How was the high-stakes action at the PokerStars tables this week? Read the Online Railbird Report to find out the week's biggest winners and losers.
Despite what's happened in the first five weeks of the NFL season, it's important to stick to your guns when looking at the Week 6 betting lines. Rich Ryan explains in the latest Pigskin Diaries.
Staking is a very common practice among high-stakes poker players. Donnie Peters recently caught up with Jason Mercier to get an inside look at the world of backing.
Did you miss anything from the past week? Don't worry, we've got you covered. Lynn Gilmartin and Sarah Grant break down all the big stories in the PokerNews Weekly.
Full Tilt Poker Changes Rewards Program
With the relaunch of Full Tilt Poker less than one month away, Poker Room Manager Shyam Markus has unveiled information about a change in the site's rewards program.
In a thread at TwoPlusTwo.com, Markus said Full Tilt Poker had begun working on a new rewards system well before PokerStars had purchased the company in July. The new system will combine aspects of Iron Man, Black Card, and affiliate-paid rakeback that the site used for years. It is expected to be introduced some time after the site reopens on Nov. 6.
"By the time the PokerStars deal came along, most of the major work on this new program was done, and it was just a matter of deciding whether or not to go with it," Markus explained. "This was not a trivial decision, but in the end we decided that the benefits of having a unified program were worth the change. So when we relaunch on November 6th it will be without Iron Man, Black Card, or affiliate-paid rakeback.
"We aren't quite ready to give all of the details of the new rewards program, but the general idea is that it will be available to everyone, and the main benefit of the program is weekly cash payments that are based on the number of Full Tilt Points earned that week. The program tops out at paying $2.50 for every 100 Full Tilt Points earned (which works out to 25 percent)."
Markus added that it will be a rewarding transition for Iron Man and Black Card players, saying, "long-term players of both promotions will likely get a leg-up in the new program from the start."
For more information on the new rewards system, read the post at TwoPlusTwo.com.
The Return of Howard
When former Full Tilt Poker executive Howard Lederer sat down with PokerNews for The Lederer Files last month, he told Matthew Parvis that he planned on returning to the poker tables after a 16-month absence. "I've been a poker player for 30 years," Lederer said about his imminent comeback.
Well, about a month later, he did make his return.
Following reports that Lederer had made appearances at Bellagio and Aria poker rooms this week, high-stakes regular "Crazy" Mike Thorpe tweeted a picture of Lederer playing in Bobby's Room with the likes of Eli Elezra, Doyle Brunson, David Oppenheim, Huck Seed and Nick Schulman on Thursday. The group was reportedly playing $400/$800 mixed games in the private room while watching the vice presidential debate on television.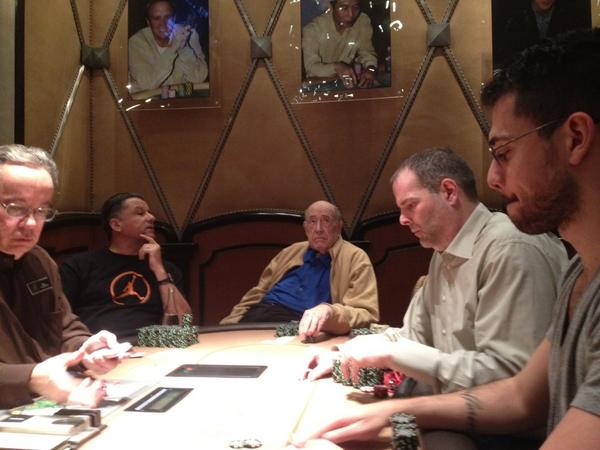 As you'd imagine, the reaction from the poker community has been hostile toward Lederer, who could be on the hook for more than $40 million in assets traceable to illegal activities while he was involved with Full Tilt Poker. While he's sitting down at the largest cash games in Las Vegas, FTP customers in the U.S. are still waiting to be reimbursed by the Department of Justice.
Making Amends?
Over the past month, Senators Dean Heller and Harry Reid have bickered over a bill that would permit regulated federal online poker in the U.S. Heller has accused Reid of attempting to push the bill through Congress preemptively while Heller and Sen. John Kyl were trying to coax Republican leaders into clearing the way for Internet poker legalization.
On Thursday, though, Heller said he is confident he and Reid will be able to move the bill through Congress after the upcoming election. Heller told the Las Vegas Review-Journal that the squabble with Reid was due to their opposing political allegiances. Heller, a republican, is running for a Nevada Senate seat against Democrat Shelley Berkley, whom Reid is backing.
"I have no doubt when this race is over, Senator Reid and I will sit down and say, 'OK, we got this behind us now, let's work together and get this done,'" Heller told the Las Vegas Review-Journal. "And I have no doubt that it needs to get done by the end of the year. And I fully support working with Senator Reid in making that happen."
The bill would seek to legalize online poker and establish a framework for it to be regulated on the federal level. Heller believes there is enough support in Congress to approve Internet poker because it is a game of skill, unlike other casino games where gamblers play against the house.
The Las Vegas Review-Journal has more.
That Winning Feeling
On Thursday, Ludovic Lacay won the Season 9 European Poker Tour Sanremo Main Event, adding his name to an elite list of winners that includes Team PokerStars Pros Jason Mercier and Liv Boeree. How does it feel to be crowned champion in Sanremo? Mercier and Boeree sat down and reminisced.
That's All From San Remo!
After EPT Sanremo wrapped up Thursday, Sarah Grant took a look back at the week's highlights and revealed some footage that didn't make the cutting room floor.
Follow PokerNews on Twitter for up-to-the-minute news.