The Weekly Turbo: Duthie Leaves PokerStars and EPT, Phil Ivey's FTP Salary, and More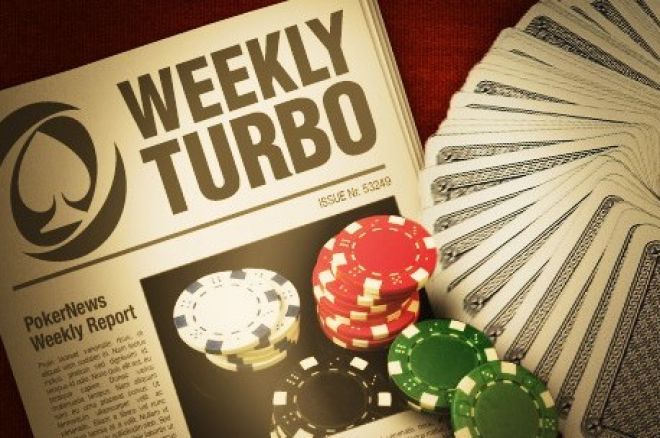 Miss any of the top poker news stories this week? We're here to get you caught up on everything from John Duthie's departure from PokerStars and the EPT to Phil Ivey's monthly salary at Full Tilt Poker, and so much more.
Business News
John Duthie Parts Ways with PokerStars, EPT
John Duthie, perhaps best known as the creator of the European Poker Tour, resigned as CEO of the EPT and elected not to renew his contract with Team PokerStars at the end of December.
Duthie announced his departure from PokerStars on TwoPlusTwo on Monday, and a representative at PokerStars confirmed the news to PokerNews on Tuesday morning.
On Wednesday, Duthie announced that he has given up his role as CEO of the EPT. Duthie explained in a thread at TwoPlusTwo that he is excited to take on new challenges, especially with the U.S. preparing to open an online poker market in 2012.
"It is time to move on and to leave the EPT in the capable hands of the existing management team," Duthie said. "It has been a fascinating and challenging seven years and I have watched the EPT grow phenomenally in that time, thanks to the support of the players and the professionalism of a great team on the ground."
Read more about Duthie's split with PokerStars at PokerNews.com.
Phil Ivey's Monthly Paycheck
A new document filed by the ex-wife of Phil Ivey reveals that the eight-time World Series of Poker bracelet winner received approximately $920,000 a month from Tiltware before Full Tilt Poker ceased operations last year.
Luciaetta Ivey has expressed her unhappiness with the couple's 2009 divorce settlement since she discovered that Phil Ivey had contributed donations to the judge assigned to their case. Luciaetta claims that there may have been favoritism involved in the original judgment.
According to court documents, Luciaetta Ivey received about $180,000 a month as taxable alimony from Phil's Tiltware payment, while Phil kept the remaining $740,000. Luciaetta claims the spousal support payments stopped in April 2011, around the same time Full Tilt Poker's operations in the U.S. were frozen by the Department of Justice.
Phil Ivey filed a response in December showing that alimony for Luciaetta was taken from money Phil received from Tiltware. However, if the payments from Tiltware ended, Luciaetta's alimony would cease, according to the response from Phil Ivey's attorneys.
We have more on this developing story at PokerNews.com.
Maria Ho Gets Contract Extension
Poker pro Maria Ho has parlayed her 2011 success on the felts into a contract extension with the WinStar World Casino. Ho, who compiled more than $650,000 in live tournament earnings last year, will team up with Greg Raymer to act as a celebrity spokesperson for the WinStar property in Thackerville, Oklahoma.
As part of the deal, Ho will participate in The River Series, which guarantees $3 million plus in prize money, and make multiple appearances at the WinStar World Casino throughout 2012. She will also be featured in commercial spots for The River Series and represent the property in tournaments around the globe.
You can find more information about WinStar World Casino poker room at www.winstarworldcasino.com.
Nevada Casinos Suffer Another Disastrous Fiscal Year
On Friday, a report by Nevada gaming regulators revealed that Nevada's highest-grossing casinos recorded a net loss of almost $4 billion in the fiscal year ending June 30, 2011.
The Nevada Gaming Control Board reported that a total of $3.99 billion was lost between 256 casinos across the states, all of which had to gross $1 million or more in gaming revenue to be classified as one of the highest-grossing casinos. That represents a 12.5 percent drop from 2010's fiscal year, when the 256 highest-grossing properties lost $3.4 billion on total revenues of almost $20.9 billion.
Las Vegas Strip casinos reported a net loss of $2.2 billion on revenues of $14.4 billion. Total revenue is the money spent by patrons on gaming, rooms, food, beverage, and other attractions.
Read more at the Las Vegas Review-Journal.
Legislation News
Spain Delays Regulated Online Gambling Market
The new regulated online gambling market in Spain has been delayed six months to allow regulators time to review license applications. The setback will allow Spanish gamblers to continue playing on international sites until June 30, 2012.
Spain introduced a new gaming law in February 2011 with hopes of adopting a licensing system by the end of the year, but the process stalled in December. Poker-Red reported that 61 operators submitted applications before the Dec. 14, 2011 deadline, including Groupe Bernard Tapie, which is in the process of purchasing the assets of Full Tilt Poker.
The official list of applicants has yet to be revealed, but PokerStars, bwin.party, 888 and Ladbrokes all showed interest in the market.
For more, check out the Spanish Association of Online Gamblers website (Google Translate is your friend).
PokerStars Approved for Real-Money Poker in Belgium
According to a report by iGamingBusiness.com, the Belgian Gaming Commission approved three operators for real-money poker and will block all other unauthorized sites from providing games to residents inside the country. Going forward, Belgian poker players can play online at PokerStars.be, Partouche.be and Casino777.be. Four casino websites and two sportsbooks were also given licenses.
Among the blacklisted sites were PartyPoker and iPoker, two of the three largest online poker operators in the world. The two sites are still allowing Belgians to play on their networks, calling the new laws "unenforceable."
Unlike regulations set in other European nations like France and Italy, the Belgian player pool is not segregated, meaning online poker players won't be restricted to playing against others located within the country. Belgians on PokerStars and Casino777 will play on the international sites, and Partouche players will be permitted to play on the site operated within the French regulated market.
Read more at PokerNews.com.
New Jersey Governor Not Ready for Online Gambling — Yet
An attempt to push an online gaming bill through the New Jersey legislature by next week hit a roadblock on Wednesday because the state constitution may require that the issue be voted on by state residents. The bill was scheduled to be heard in Assembly and Senate committees on Thursday, but it will have to wait until after the legislature reconvenes on Tuesday, Jan. 10.
New Jersey state Sen. Raymond Lesniak was trying to push the online gaming bill to Gov. Chris Christie's desk before the current session ends on Jan. 9, 2012. Christie recently voiced his support for intrastate online gambling but questioned this week whether voters had the final say on the online gaming issue.
"Speaking with Governor Christie, I've agreed to reintroduce Internet gaming in the next legislative session, and I expect that we can get it through the legislature and signed by the Governor within the first few weeks of the new session," Sen. Raymond Lesniak said in a statement.
Gov. Christie vetoed a similar bill in 2011, but his position changed when the Department of Justice reversed its stance on the Wire Act of 1961 last month.
Read more at www.NJ.com.
France Forces ISPs to Block Unlicensed Gambling Sites
According to a decree published by the French government on Jan. 1, all French Internet service providers (ISPs) must block gamblers from playing on any operators not licensed by the Autorité de Régulation Des Jeux en Ligne (ARJEL).
Effective immediately, all service providers must filter access to certain domains in order to prevent French residents from gambling on blacklisted sites. Several major online poker rooms hold licenses with the ARJEL, including PokerStars, PartyPoker, iPoker, 888, and Everest Poker.
Similar regulations were recently implemented by the Belgian Gaming Commission, which approved PokerStars and two other online poker sites for an operating license. All unauthorized sites, such as PartyPoker and the iPoker Network, will be blocked despite their belief that the new law is "unenforceable."
Read the full story here at PokerNews.com.
M Resort Exec Opposes Online Poker
M Resort President Anthony Marnell III told Nevada Newsmakers last week he agrees with Las Vegas Sands CEO Sheldon Adelson's opposition to online poker because he fears that operators won't be able to prevent underage minors from gambling.
"I just can't see a scenario where you can truly secure that from young children," Marnell said on Dec. 28. "Once it becomes legalized, it's taking it too far. I think you start to create addictive behaviors in the home that we can't see as operators. We have problem gambling initiatives on the casino floor."
Marnell's comments raise suspicion that his real concern is falling behind Caesars and MGM in preparing for a new online poker market. The two gambling giants have already joined forces with various operators to have a platform in place as soon as online poker is given the green light.
Read more at PokerNews.com.
Online Poker News
PokerStars Changes VIP Model for 2012
If you've noticed anything different at PokerStars' ring games since the turn of the new year, it's likely because the site made some changes to its VIP Program on Jan. 1.
Late last week, PokerStars announced that it was changing its VPP program from the "dealt" method to the "weighted contribution" method, which significantly changes how VIP points are allocated at a ring game table. With the new system, players who contribute a lot of money to pots will receive a larger portion of the VPPs than tighter players will.
The previous "dealt" method awarded VPPs to everyone dealt into a hand, regardless of whether they contributed any money to the pot. Now, players who don't put any money into the pot won't receive any part of the VPP distribution.
Get more information about the new program at PokerNews.com.
Ex-Girlfriend of Jonathan Duhamel Appears in Court
Bianca Rojas-Latraverse, the ex-girlfriend of 2010 World Series of Poker Main Event champ Jonathan Duhamel, appeared in Longueuil, Quebec, court for a bail hearing on Wednesday. Rojas-Latraverse will reportedly plead not guilty to five charges stemming from her alleged involvement in the invasion of Duhamel's home on Dec. 21, 2011.
Longueuil police Det. Jean François Lapolice testified Wednesday that, according to a witness, Rojas-Latraverse had been planning for three weeks to rob Duhamel. The witness told Lapolice that she received texts from Rojas-Latraverse seven hours before the robbery. One of the alleged texts said, "Everything is planned. We even have a driver if I choke."
Lapolice also testified that Duhamel said he was certain his former girlfriend was involved in the robbery.
The bail hearing resumed on Thursday. Check out PokerNews.com for more on the story.
Randy Lew to Attempt Guinness World Record
Team PokerStars Online's Randy "nanonoko" Lew has been dubbed the fastest poker player in the world by many of his peers. On Sunday, Jan. 8, he'll get a chance to prove it.
During the festivities at the PokerStars Caribbean Adventure, Lew will attempt a Guinness World Record for the most online poker hands played in eight hours (while remaining profitable). Up until now, Lew and several others have been limited to playing a maximum of 24 cash game tables at once at PokerStars, but for this record attempt, the site will be increasing the tables limit.
The online community will be able to follow Randy's progress at nanonoko.com, which will be launched on Sunday exclusively for the world-record attempt. The event will run from 1 p.m. EST until 9 p.m. EST, and anyone in the Bahamas can watch live from the Battleship area in the main tournament room at the PCA.
In the meantime, you can find all the updates from the PCA at PokerNews.com.
Are you following PokerNews on Twitter? Like us on Facebook while you're at it, and sign up for the newsletter. You know you want to.