Kou Vang Looks to Dominate Season 5 of the Mid-States Poker Tour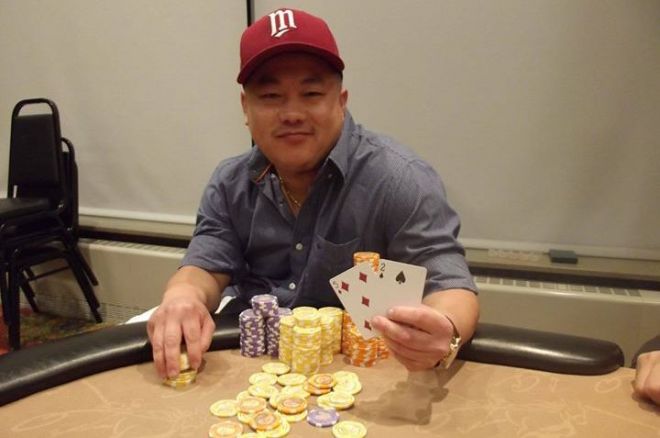 From March 1-9, the Mid-States Poker Tour (MSPT) will continue its fifth season by visiting the Majestic Star Casino in Gary, IN for the very first time. One man who is planning to be there is Kou Vang, who recently finished runner-up in the MSPT Belle of Baton Rouge for $21,032.
The 31-year-old family man from Maplewood, MN has been a full-time poker player for the better part of a decade, and in that time he's developed a reputation as one of the Midwest's most feared players; in fact, he recently won the award for "Most Intimidating" at the Minnesota Poker Awards.
Vang, a regular on the MSPT, won the Dec. 2011 stop at Canterbury Park for $64,645, and he barely missed out on becoming the third player to win two titles last week in Louisiana. All told, Vang has $533,962 in live tournament earnings including first in the 2010 Fall Poker Classic $1,000 Championship Event for $78,421; a win in the 2008 World Series of Poker Circuit Council Bluffs $1,500 No-Limit Hold'em for $51,383; runner-up in the 2013 Running Aces Tournament of Champions $2,500 No-Limit Hold'em for $50,846; and first in the Midwest Poker Classic $2,500 High Roller for $32,500.
Vang has established himself as a force to be reckoned with in the Midwest, and now he's set his sights on the rest of the country. PokerNews recently spoke to Vang about his poker origins, family life, and of course, the MSPT.
PokerNews: First and foremost, can you tell us a little about yourself?
Vang: I'm one of the guys that immediately fell in love with poker during the Moneymaker poker boom. After high school, I enrolled into the military, and after that I attended my local community college thinking I wanted to be a police officer with my military background.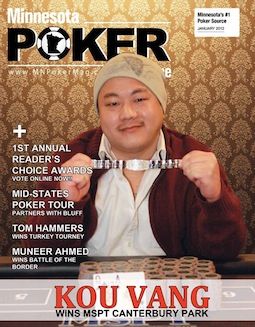 During my first semester in college, I found a job telemarketing for a mortgage firm, and after a few months they promoted me to loan originator. Mortgage rates had just hit an all-time low and there was plenty of money to be made. I opened my own mortgage company in 2003 catering to people in my own community. The mortgage business was going well, and I was making a decent living. That was right around the time ESPN started showing the Chris Moneymaker episodes on TV.
My buddies and I were hooked. Our home game went from playing dealer's choice and an Asian form of three-card poker to strictly hold'em. There were roughly 20 of us, and we played $5-$10 buy-in tournaments. We all got accounts on partypoker and trained on there during the weekdays to face off on the weekend, but after a year or so our game died out and eventually everyone started to quit one by one. I was pretty much the only one left, and in Jan. of 2005 I decided to sell the mortgage company and grind online for a living.
Do you play poker full time now or do you have another job?
As of right now, yes, I still play poker as my primary source of income, however I have a few small family businesses on the side with my parents since I'm not able to play online as much as I used to before Black Friday. The live grind can be tough, sometimes through a period of long stretches to get a significant score.
Is it hard being a poker pro and a family man? How do you find balance?
For the first three years of my career, I was married with no kids and my wife had a really well-paying job. That really took the burden off me during the learning stages/trials and turbulent times of aggressive high-variance online poker. But yes, now my situation has changed quite a bit. We now have three kids and my wife is a stay-at-home mother. I play five days a week and take either Friday or Saturday off as personal family day just hanging out with the kids. I also try to take my wife to a restaurant of her choice once a week, her watching three kids seven days out of the week is no small task. Just a little bit of "away time" can go a long way.
Back in 2008, you won a World Series of Poker Circuit gold ring. What did that win mean to you?
The Circuit ring win was huge for me at the time. My wife and I just had our first baby, and I had to abandon them for 10 days as I was building a roll for my first WSOP summer series. I also wanted a ring for my first-born, and I was really happy I'm able to accomplish that.
You also won a MSPT title back in 2011 at Canterbury Park. Can you tell us a little about that win and what it meant to you?
The MSPT title was great, and it was probably my most significant win on a recognition level as far as the Minnesota poker scene. I had to beat out a lot of great Minnesota players along the way. I love how there were no chops allowed at the final table, I think that really brought the best out of everyone there. Luckily, I was able to defeat one of the local favorites and most popular player around.
Likewise, you've had a lot of success at Canterbury Park, including your career-high score of $78,421 when you won the 2010 Fall Poker Classic $1,000 Championship Event. Is Canterbury Park your home casino? Why do you think you do so well there?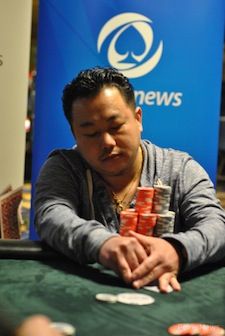 Yes, Canterbury Park is my home casino, and that win may be the most memorable one of my career thus far. I tend to do very well playing close to home. No traveling expense, no bad dieting, no homesick feeling, no missing the wife and kids. I feel most relaxed and balanced when I'm playing close to home. I just had a really nice year playing at Running Aces, which is my local and favorite cardroom.
You have one score on your résumé that sticks out, which was a 15th-place finish on an Asian Poker Tour in Macau back in 2008. What's the story behind your visit to Macau?
Yes, that 15th-place finish burns more than anything I can remember in my career. In 2008, I won a $12,000 package playing on Bodog. That allowed me to play in any event I wanted to around the world. I chose the Asian Poker Tour in Macau. It was a $5,000 buy-in, $1.5 million guarantee with $500,000 to first place. After Day 1, I finished among the top chip leaders, and on Day 2 I totally abused the bubble and was the chip leader the entire day. On the stone cold bubble, I six-bet
offsuit and made this kid fold queens face up. I never took the pedal off the entire day. I busted to the same kid, thinking he was folding again, but he had aces. Good game. I have never hated $15,000 so much in my life.
You won a "Most Intimidating" award at the Minnesota Poker Awards earlier this year. Why do you think you received such a title and how do you feel about it?
Anytime you get recognized by your peers for the work you have put in, it feels good. What a lot of people don't know is that I came from an online background and the online game is a more naturally-aggressive game. Any time someone plays aggressive and seems to have a monster every other hand, people tend to hate playing against that. I feel really privileged for this award, since I heard I beat my buddy John "johnnygstaks" Hayes by one vote. He is the true definition of online aggressiveness.
What's next for you as far as poker is concerned? We understand you'll be playing many of the MSPTs on the Season 5 schedule, is that true?
I'm gonna be taking it pretty easy this year as far as traveling for poker. As I've mentioned earlier, I have three kids now and I hate being on the road for a long period of time, but that won't stop me from playing my favorite poker tour as far as value and structure. Daddy still has to feed those kids!
I usually only show up for the Main Events and that is two to three days away from home at most. This way I don't feel homesick and I'm focused. I think there are a total of 20 MSPT events this year with about eight or nine events just in my backyard. I'm gonna try to make 17-18 of them altogether.
Do you have any goals such as winning a second title or perhaps MSPT Player of the Year?
Playing this many events, I definitely expect to finish at the top of the leaderboard by the end of the year. It will be very difficult, there are many great players that travel this circuit and many young guns with raw talent that may play just as many events as me, if not more, but overall I do plan on housing title number two. As far as goals, I do plan to be at the very top at year's end.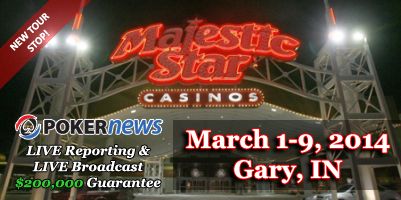 Finally, what is it about the MSPT that keeps you coming back?
What keeps me coming back is the overall friendly environment the MSPT carries with them everywhere they go. It's like one big happy family traveling together doing something they love, and Bryan Mileski does a great job assuring everyone of a great time and a well-run tournament.
The team pros they have added throughout the years is also a great collection of poker minds and a great asset to novices looking to get serious into traveling poker. The structure is phenomenal, and I heard they are in the process of even making it better.
To follow Vang's progress on the MSPT Season 5, be sure to follow PokerNews Live Reporting from each stop in our Live Reporting section. For more on the MSPT, visit msptpoker.com.
*Photos courtesy of Minnesota Poker Magazine.
Get all the latest PokerNews updates on your social media outlets. Follow us on Twitter and find us on both Facebook and Google+!