From Russia with Love: Yakovenko Overcomes Brain Trauma and Aspires to Conquer Poker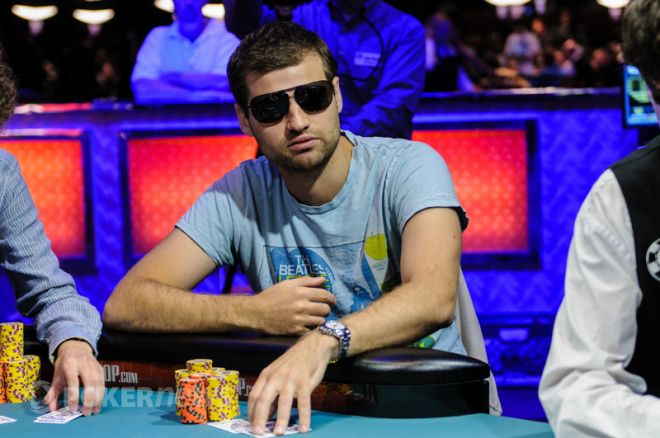 At the 2012 World Series of Poker, Nikolai Yakovenko threw a full water bottle at a PokerNews reporter during the $50,000 Poker Players Championship. I know this because that reporter was me, and that water bottle hit me squarely in the back.
I remember that moment vividly. I turned, met Yakovenko's gaze, and realized he did this because I was standing between him and a television set airing the NBA championship game. "What an asshole," I thought and left it at that, though I must admit I took some perverse pleasure when he was the victim of perhaps the most controversial hand in the history of the $50,000 Poker Players' Championship.
Ironically, Yakovenko and I are now friends despite the fact that I'm 99% sure he doesn't recall the water bottle incident. I was able to forge this friendship with the "Crazy Russian" for a couple of reasons. The first is because he has become PokerNews' resident open-face Chinese poker expert, and the other is because I discovered there was more to this water-bottle throwing culprit than meets the eye.
From Chernogolovka to Maryland
Born in 1984, Yakovenko grew up in the academic town of Chernogolovka, Russia, which sits a few miles outside of Moscow. His parents were two of the country's most-promising physicists, who actually met on Ukrainian Republic's physics Olympiad team.
"Naturally, I ended up as a gambler," Yakovenko explained.
He also explained that he developed an early disdain for authority, which persists to this day.
"At age four, I refused to go to Russian детский сад (kindergarten), because they told me when to sleep, and what to eat," said Yakovenko. "So me and my mum made deal. I got to stay home all day and to roam our sleepy academic town's surrounding forest during the summer by myself, as long as I did my lessons before she got home from her job, preparing very important Soviet computer chips, that I'm sure the West was very envious of."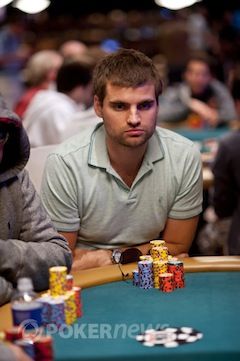 By the time his teenage years rolled around, Yakovenko and his family had immigrated to the United States and settled in Maryland. He attended the same high school Daniel "Jungleman" Cates would later attend, and since he hated the experience, Yakovenko spent most of his time playing chess, basketball, and taking college-level math classes.
Yakovenko excelled academically, and at the age of 16 he left high school to attend the University of Maryland full-time. It was there that Yakovenko was introduced to poker.
"I probably played poker in the dorms on my first week. I was terrible, and I also had no cash, so didn't play that often," he explained. "By my junior year, my full-ride scholarship paid me a stipend, and I was playing long nights of $40 hold'em freeze-outs and various wildcard games in an off-campus apartment, using those Sacagawea dollar coins that were supposed to replace the dollar bill."
After Chris Moneymaker notched his legendary win at the 2003 World Series of Poker, Yakovenko graduated to a buddy's frat game.
"The game was loose but tough, and I was a consistent loser. I never saw a flush draw or an
that I didn't want to go all in with," said Yakovenko. "Eventually I learned to fold once in a while, and by the time I hit 19 years old, I started taking weekend trips to the Taj Mahal in Atlantic City — the Deltas had prepared me well."
Even as his college friends moved on from poker — the freshman-dorm friend who introduced him to poker is now an emergency-room doctor in Columbia, Missouri — Yakovenko continued to seek out new games including underground casinos that catered to Maryland students like Greg Merson and Tony Gregg.
"Ever since then, poker has been a part of my life," Yakovenko said. "I never played online much, since I had a good job, as a ranking engineer at Google, which required me to look at a screen all day. Besides, I like people and I like socializing. So the underground clubs in New York were a great hobby to take me outside of my work life. For a while these clubs were common, and effectively I became a regular."
Yakovenko went broke several times early on, but thanks to his promising position at Google he always stayed in action. Eventually he began to beat the games, and before long he left the Googleplex.
"I had a lot more uninterrupted time to devote to poker," Yakovenko reminisced. "After starting out with a terrible understanding of the short-stacked game, I became a pretty good tournament player. Especially when it comes to stud, draw, Omaha, and any other non-hold'em events."
The Infamous $50,000 Poker Players' Championship Controversy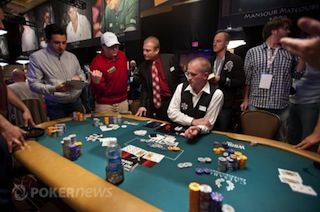 The hand in question took place on Day 2 of the 2012 WSOP $50,000 Poker Players' Championship between Yakovenko, Abe Mosseri, and Shaun Deeb. The hand, which generated confusion among both players and tournament officials, took more than 45 minutes to sort out. The hand is complex, but you can read about it by clicking here.
"When I was incorrectly ruled out of 400,000 in chips in that hand, that was pretty rough," Yakovenko said. "The loss hurt, and especially how it happened, with the head tournament director overruling the director who ruled on the spot, then later admitted to me that he didn't know what had happened, and just 'needed to move the game along.' I had been fourth in chips after almost two days of play going into the hand, and this was by far the biggest tournament that I'd ever entered."
It was a hand that Yakovenko will never forget, but he kept it in perspective thanks to an accident that took place just a few months earlier.
During an alumni rugby game at Columbia, Yakovenko suffered a head-to-head collision with another player. The crash knocked Yakovenko unconscious, and when he awoke on the field he was unable to move the right side of his body. Shortly thereafter, he went into a seizure.
Yakovenko was rushed to the hospital, and the next day he came to with a breathing tube down his throat. Fortunately, Yakovenko regained the ability to move his right side, but it was an accident that affects him to this day.
"Two years, later I'm still affected, but I thank God every day for sparing my life, and for allowing me still do what I love," Yakovenko said. "I built the ABC Open-Face Chinese app, entirely after my injury."
Being Introduced to OFC and Changing the Game
Yakovenko had always been familiar with traditional Chinese poker, but it wasn't until the 2011 PokerStars Caribbean Adventure (PCA) that he saw Deeb and Scott Seiver playing different variants of Chinese poker.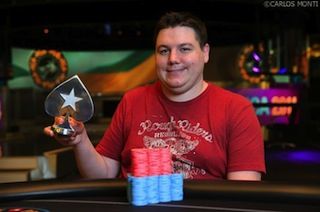 "These variants struck me as hustlers' games, giving a huge advantage to the few who know the strategies, against those not having a basic concept of average winning hands," Yakovenko explained. "So I stayed away."
A year later, Yakovenko saw OFC being played for the first time and became intrigued. He didn't play, but he did write down the rules. That's when the programmer in him took over and he put up a job up on eLance to build a prototype for an OFC app for the iPad.
A month later, Yakovenko suffered his rugby brain injury, and while he was out of commission relearning how to tie his shoelaces, another OFC app hit the market. Even so, he didn't let such setbacks hold him back from pursuing his OFC dreams.
"I did get a prototype of the app built. It wasn't very good, I had to play both sides, and the game didn't score the hands," Yakovenko explained. "I never used the code, but I did play it a bit against myself, and thought I'd have a decent chance against the pros who'd been playing OFC live every day."
Yakovenko took the leap from playing on the app to playing the pros, and not surprisingly he got crushed. "Someone had invented fantasy land, which changed the strategy entirely," Yakovenko laughed.
In December 2012, Yakovenko was living in Washington, D.C. with his girlfriend and had an epiphany — to build the best OFC app on the market. Seven months later, ABC Open-Face came out on the App Store. Not long after, the popular pineapple variant for the ABC app was released. "It's become a fixture of the poker world ever since," Yakovenko said as a smile crossed his face.
Yakovenko the Businessman and Poker Player
The ABC Open-Face app is currently being offered for free, and as such it is still in the red, though Yakovenko has high hopes for its future.
"I've built a few technologies, and have taken concepts other than ABC Open-Face from concept drawings to something that you can use," Yakovenko said. "But so far I've been better at designing and building concepts, putting together a team, and hustling resources as needed, than I have been at making money from my ventures."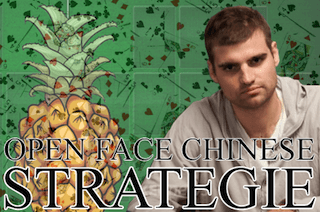 After spending three years at Google and doing well at poker after that, Yakovenko lives comfortably, though he has no plans of slowing down. "I have a day job and long-term brain trauma that requires care, so any day that I have available that I don't spend on improving the app, working on my OFC AI, or in talking to people about the future of OFC, is a day that keeps me further from my goal," said Yakovenko. "Thus, I don't play cards much. But I'll be back."
Despite the injury and his technological aspirations, poker clearly holds a special place in Yakovenko's heart: "I've played with billionaires and with famous athletes. I've played with hedge fund managers, degenerates, a rare book dealer, a treasure hunter, a judge, a pimp, and a nutty psychiatrist (and once, a very kind psychiatrist whose book I still treasure). I've played with gangsters that I was friendly with, but whom I was constantly afraid of."
Yakovenko has recently relocated from Brooklyn, New York and now resides in the San Francisco Bay area. While he doesn't play as much poker these days, the man known as "Googles" said he may make the journey to San Jose to play the World Poker Tour Shooting Star at Bay 101.
"I've lived a blessed life, and if my experiences over the past few years have been nothing but an unorthodox and expensive education, it would have been worth it," Yakovenko concluded. "Not bad for an immigrant son of two nerdy Ukrainians."
Get all the latest PokerNews updates on your social media outlets. Follow us on Twitter and find us on both Facebook and Google+!