My First: Tristan Wade Wins a Gold Bracelet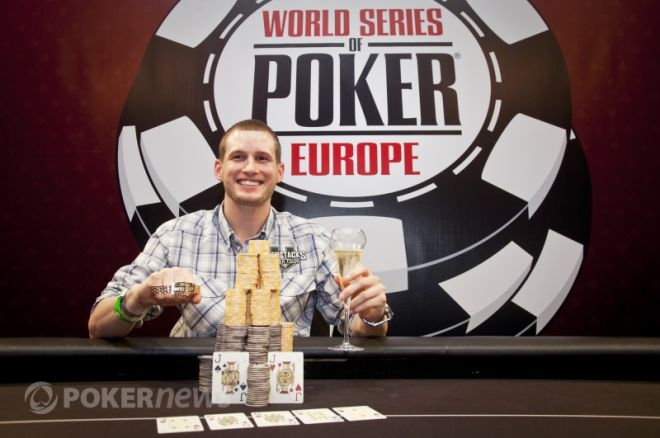 Poker players remember their first big poker milestone — the first time they played online to kick of their career, the first time they won a tournament, the first time they lost a $5,000 pot. In our new series, My First, we catch up with various poker pros and personalities to get the story on a significant "poker" first in their lives. One goal that every serious tournament player has in their sights is winning a World Series of Poker bracelet. In this edition of My First, we talk to Tristan Wade about accomplishing that goal.
This summer at the WSOP, Wade had two close calls, finishing seventh in a $1,500 no-limit hold'em event and fourth in the $10,000 No-Limit Hold'em Six-Handed Championship. He carried the momentum over to Cannes, France, at the World Series of Poker Europe, cashing in a six-handed event, and then finally snagging a gold bracelet in the €3,200 No-Limit Hold'em Shootout.
When did you first consider winning a bracelet as a goal you wanted to accomplish?
It was immediately after watching the WSOP on television my freshman year in college. It was prestigious in my eyes. That was before I really experienced the WSOP and that feeling increased after I was able to take my first trip to Las Vegas to actually play in the series.
When was your first trip to the WSOP?
My first WSOP was in 2006. I failed to cash in a single event [laughs].
You have cashed every year after that and in multiple events. This summer, you made two final tables. Can you tell us what it was like emotionally to come so close? Was it disappointing or encouraging?
It felt great to finally make a final table at the WSOP. To make two was even more incredible. For the first two, I was disappointed, but it didn't bother me emotionally. In both events, I felt like I played my best with minimal mistakes. Even though I didn't win, it was an accomplishment in itself, so I was happy. The things that really helped me this year, I believe, have been my attitude and mentality. You can only control your decision making in poker, and I've come to terms with that.
Had you ever been to the WSOPE before this year?
Nope, this was my first year there.
Coming off the very successful summer, were you feeling confident about your game coming to the WSOPE for the first time?
Yeah, without a doubt. Heading into the WSOP, I had played a lot of online poker. I have always been really comfortable playing live poker. After five years of experience at the WSOP, I felt like I had enough experience to make a few runs with a little luck. That momentum definitely carried over to Europe, although, I couldn't have expected the trip to turn out how it did. I was excited to travel Europe and play my best.
The shootout event you won produced a very tough final table that included Bertrand Grospellier, Mike Watson, Steve O'Dwyer, and Emil Patel. Can you tell me a little bit your game plan coming in, what knowledge you had of your opponents, and how it may have changed over the course of the final table?
Everyone who made the final table was an accomplished poker player in their own right. I knew it was going to be a very tough final table, but I also feel like I have a lot of experience playing sit-and-go shootouts. I did some research on the players I wasn't completely familiar with, one being Max Silver.
He was seated directly to my left. On Day 2 of the tournament, I heard Vanessa Selbst talk about her bust-out hand against him, so he automatically had an aggressive image in my mind. I ultimately decided to get a feel for the table before I decided to do anything creative.
Once I started to get an understanding on how some of the guys were playing, I was able to open up a little more and pick my spots, especially when we lost some players and went shorthanded.
When the last card was dealt, and you realized you had won your first gold bracelet, can you describe the emotional experience? Was it what you would have expected it to be?
The feeling was surreal. It was incredible at the same time. Any MTT poker player loves the rush they get when they outright win a tournament. Now factor in that this tournament was a World Series of Poker event. It is still sinking in a month later. It's an amazing feeling to conquer a goal I have had for years.
Did the fact that it was in Europe have any effect on how you felt about the win?
Although I had some amazing friends watching me throughout the final table, it would have been nice to have some family and other friends there supporting. Luckily, they streamed the table on the Internet, so I had plenty of followers watching and cheering me on.
What's different now? Anything? And what is your next poker goal?
A little weight has been lifted off of my shoulders. I have accomplished one of my poker goals and feel like I know how to play MTTs well. I want to continue to be successful in tournaments and become a better cash-game player. There are plenty of tournament series to play in around the world, so I will be chasing more victories.
I'd just like to thank all of my family, friends, and everyone else who supports me along the way. I am surrounded by incredible people. Hopefully the United States can get online poker legalized, regulated and back operating online as soon as possible. The poker community is filled with intelligent, hard working people. Too bad we have to deal with the politics of it all.
Get all the latest PokerNews updates on your social media outlets. Follow us on Twitter and like us on Facebook today!