PokerStars Dominates Italy's Declining Online Poker Market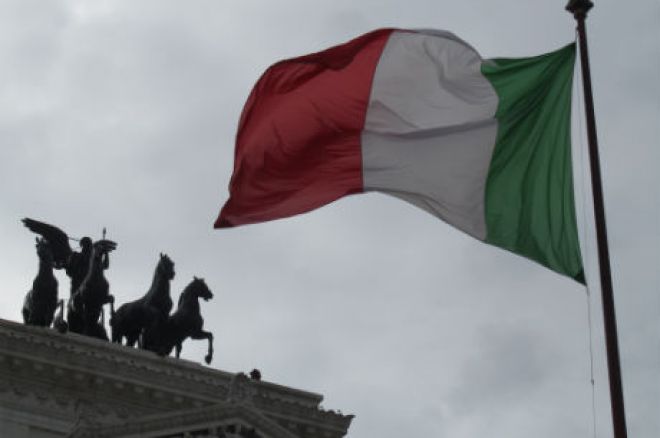 As Italy's economy keeps being one of the most troublesome in the European region, the latest numbers show that the country's online poker industry is still far from recovery.
Right now while the House of Representatives votes for Italy's 63rd government in 68 years, welcoming former major of Florence Matteo Renzi as the country's youngest Prime Minister, industry data from newsagency Ansa / Agimeg show a significant decline both for cash and tournament poker.
During 2014's first month, cash games Gross Gambling Revenue (GGR) generated €12,200,000, showing a 20% decline compared to January 2013, and an even more impressive 50% decline was witnessed when compared to the same month in 2012. The same negative trend is also seen in tournament poker, where the GGR generated by players was €73,000,000, marking a 26% decline compared to the €100,000,000 generated in January 2013.
PokerStars Controls Over 50% of Italian Poker Market Alone
Both cash and tournament poker numbers show also how PokerStars keeps dominating Italy's legalized poker market, as the room accounts for over 50% of the total revenue. As it can be easily seen by the two charts below, PokerStars has managed to confirm itself as the industry leader, bringing home €228,000,000 of the total €455,000,000 generated by Italy's global cash poker revenue in January.
The poker room kept the leading position also in tournament poker, where in January the room controlled over 60% of the market.
Revenue in January 2014
| Cash Poker | | | Tournament Poker | |
| --- | --- | --- | --- | --- |
| Operator | Revenue | | Operator | Revenue |
| PokerStars | €228,500,000 | | PokerStars | €43,900,000 |
| Lottomatica | €46,400,000 | | Lottomatica | €8,000,000 |
| bwin/party | €42,300,000 | | bwin/party | €6,000,000 |
| Microgame | €34,000,000 | | Snai | €3,600,000 |
| Eurobet | €31,300,000 | | Microgame | €3,000,000 |
| Snai | €25,000,000 | | Sisal | €1,300,000 |
| Sisal | €17,600,000 | | Eurobet | €1,100,000 |
| Betclic | €3,900,000 | | Betclic | €400,000 |
| Intralot | €3,800,000 | | Intralot | €400,000 |
| Scommettendo | €1,700,000 | | Scommettendo | €300,000 |
| Merkur | €300,000 | | Merkur | €100,000 |
Europe Not Moving Towards a Common Legislation
As for what comes from the heart of European institutions, Italy will need to work hard and find by itself the solution to its crisis, as these are not going to come from Brussels.
Despite of what many wish to see happening in Europe, Deputy Head of the Online and Postal unit at DG Internal Market and Services at the European Commission Harrie Temmink denied any progress towards the implementation of a common European gambling legislation.
What is often seen as one of the prerequisites for the creation of a real European gambling market and therefore the opening to shared liquidity, is currently not in the agenda of European policy makers, according to Temmink.
When asked to comment on the possibilities of European member states to work together for a homogenization of their gambling legislation, Temmink explained that a similar initiative is "not planned" and "right now there is no agreement to work in that direction."
Temmink's declarations came right at the same time when France's regulator ARJEL introduced to the public its new president Charles Coppolani by mentioning that part of his mission will be to "create the optimal balance between player protection and optimal operator conditions" de facto sending to the archives the possibility of France joining Italy, Spain and the United Kingdom in the pressure group pushing for shared liquidity.
Photo courtesy of CreativeTravelerBlog.
Get all the latest PokerNews updates on your social media outlets. Follow us on Twitter and find us on both Facebook and Google+!