Argentinian Champion Mario Méndez Discusses His Greatest Achievement
Facundo Guastavino

Giovanni Angioni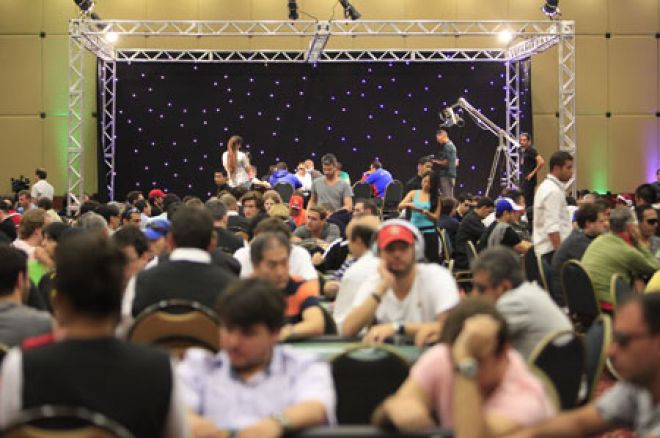 On May 16, the Argentina Poker Tour is going to hit the tables at Casino Victoria in Entre Rios for a four-day festival featuring a $750 Main Event, a $375 Second-Chance tournament, and a $1,250 High Roller.
To get ready for the tournament, PokerNews Spain's Facundo Guastavino reached out to the winner of the Circuito Argentino de Poker (CAP), Argentina's 52-year-old Mario Méndez, to discuss what Méndez admits having been "the best result so far" in his poker career.
Back in April, Méndez took home first place and the $43,900 top prize at the CAP main event held at the Casino del Rio in Las Grutas. Before reaching the title, Méndez survived to a field of 365 players and a tremendous roller coaster of an event.
Guastavino: Let's talk about the tournament you won in Las Grutas. Did you plan your strategy before sitting at the table or not?
Méndez: No, I didn't. As I always do, I tried to study my opponents and look for the best way to adapt to the game at the table.
How did the tournament go?
I won a seat to the tournament playing a qualifier satellite at Casino de Catriel. Then things started well, and I closed Day 1b in the top 10 of the chip counts. I wasn't on top of the chip counts all the time, though. During the Day 3, I was 24th out of 24 players... last in chips.
How did you manage to stay in then?
I had no other choice than to change my strategy and start to be more aggressive. Luckily, that worked quite well for me. I went all in six or seven times, mostly preflop. Sometimes even with the feeling I was going to bust.
Was there a specific moment when you realized that it was going to be "your" tournament?
Yes, when we were three handed, I understood I could really win.
Is there any important hand you still remember from the tournament?
I still remember the hand that got me to the heads-up [match]. I went all in with
and my opponent called with
. The board came
and that helped me to get through and win the tournament. Fun enough,
is also the hand I won the tournament with.
How do you feel about the victory?
This was my biggest result so far. I am very satisfied and very proud of it.
Let's try to get a little more personal now. When did you start playing poker?
My poker journey began when I started playing for fun with some friends. Then I kept going to the casino in Catriel. Today, I play cash games both there in the casino and against my friends in our home games.
When did you decide to start with tournament poker?
I started playing tournaments back 2007, and since then I managed to get to several final tables. As for my first places, I've won tournaments in Catriel, Neuquén, Bariloche and Cipolletti.
If you were asked to name the best and the worst moments in you poker career so far, what would you say?
My best moment so far has been my victory in Bariloche. As for my worst time, I don't think I have one. That's probably because I love poker too much, even when I don't get the results I would like to. [Poker] is a passion that has a very important place in my life, and that's why I have never considered quitting.
What do you think has most influenced your development as a player?
I think it has been mostly the experience I have gained playing tournaments; I can see I have been playing better and better in each one of them, and that also reflects in my results.
My friends are also something that I think had a very important role in making me the player I am today. Having friends is extremely important; it makes everything more fun and it also helps you to become a better player. Discussing about poker strategy with your friends is very important.
How do you consider yourself today; are you a professional, an amateur or an intermediate player?
I still consider myself an amateur.
What do you think are the most important factors a poker player should always take care of?
I think the keys are work ethic and the ability to study your opponents. Then, good bankroll management, the power to control your emotions and some math are important as well.
Also, it is good to have interests outside poker to keep a balanced life, and friends from the poker world you can talk to.
Are you satisfied with the way your 2014 has gone so far?
So far, I am, even if I still want to go for more. I am planning to play some more CAP events. My dream is to win the Grand Final in Rosario.
How do you see yourself in five years from now? Will you still be playing at the table?
I am sure I will. Poker is a passion that I am not planning to quit. I don't live out of poker as hold'em came into my life when I already had a job, but I want to play all the time and I am sure I will keep doing that in the future.
If some years ago you had the chance to give yourself advice based on the experience you have today, what would it be?
It would be to try to be more calm and objective.
Get all the latest PokerNews updates on your social media outlets. Follow us on Twitter and find us on both Facebook and Google+!