Thirteen and Counting: Hellmuth Plans on Winning 11 More WSOP Bracelets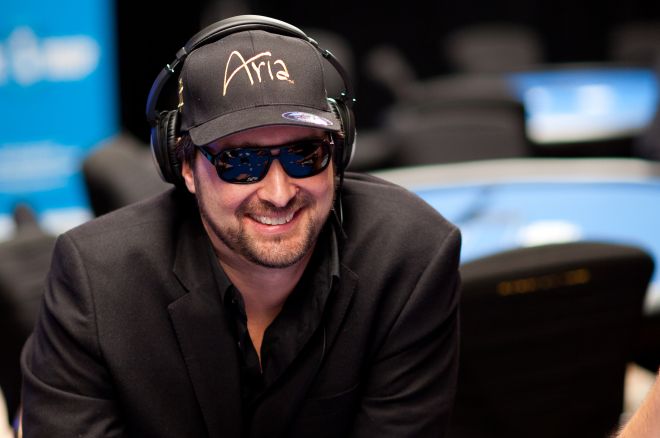 "Twenty-five years… I'm just very thankful — very happy and very thankful to still be around because nothing is guaranteed for anyone." — Phil Hellmuth, Jr.
In 1989, Phil Hellmuth was nothing but a young kid with a dream — a really big dream — based on some introductory poker success. But then, his dream turned into reality when he found himself heads up with one of the greatest poker players in the world, two-time defending champion Johnny Chan in the granddaddy of them all, the World Series of Poker Main Event.
Hellmuth, just 24 years old at the time, topped Chan in the event, along with 176 others. He won $755,000 and a star was born.
Now, 25 years later, Hellmuth is a superstar, with 13 WSOP gold bracelets, two WSOP Main Event titles (one in Europe), nearly $18 million in live tournament winnings, and a membership in the Poker Hall of Fame. He's also one of very few poker players who have been able to transcend the industry and serve as a mainstream celebrity.
Despite his polarizing personality and character, one can't deny that Hellmuth has stood the test of time and proven over and over again that he is one of the best to ever play the game. He tops the list of all-time WSOP cashes with 100 — a hefty 17 more than anyone else — and sits sixth on poker's all-time money list. Did we mention he has 13 WSOP gold bracelets? Oh yeah, we did, but it's worth mentioning again.
This year is the 25th anniversary of Hellmuth's 1989 WSOP Main Event victory and explosion onto the poker scene. Not many people have lasted this long in the game, and no one with the success of Hellmuth. In fact, no one might ever catch him in terms of WSOP statistics if things continue for a few decades more. As one could expect, Hellmuth is extremely excited for the 2014 WSOP during a summer that will also see him celebrate his 50th birthday.
Recently, PokerNews' Rich Ryan sat down with the man often referred to as the "Poker Brat" to discuss his win in 1989, the past 25 years of poker and his life, and much more.
Does it feel like a quarter of a century since you won the biggest tournament in poker?
It does feel like it's been a quarter of a century, it really does (laughs). It was such a different world back then. I mean, you're talking about 1989 — I didn't know my wife, I was 24 years old, and for anybody who's 24 that thinks that they know something about the world, by the time you're 28 you're going to know a lot more. By the time you're 32, you're going to know a lot more. For any 20-year-old that thinks they know a lot, there's a huge difference between being 20 and 24 just in how you're comfortable and what you know about the world.
It was such a long time ago, age 24. I was probably fairly immature. For a 24-year-old, I probably had the maturity of a 19-year-old. So it just seems like so long ago. I always had positivity and belief that I could do great things, and had a positive attitude about what I could accomplish, and that kind of grew from there.
It just seems like it's three or four or five or six iterations ago in poker. I mean, this group of guys I used to play with in the '80s, and then you look at '90 or '95, and it seemed to be like kind of a new group moving in. Then '95 through 2000. Then of course, once you hit the poker explosion, there's been four or five or six or seven iterations of poker since then, so it does seem like a long time ago.
And there were very few constants, but of course you are one of them.
There's no constants — who's around since 1989?
Besides you, Doyle [Brunson]… on a lesser sense maybe somebody like TJ [Cloutier], but even so he's been playing a lot smaller these days.
Billy Baxter — he still plays a lot of hold'em.
The thing about Doyle and TJ — Doyle always had this quote, "You don't stop playing because you get old, you get old because you stop playing." It seems like you aren't the type that wants to be grinding forever, and who would blame you when you're in Palo Alto, it's beautiful, you can play in a home game, you can relax with your wife in beautiful California. It doesn't seem like you're the type of person who's going to be grinding forever.
Well, I think that that's wrong, because I think I will be playing forever. But you're right, I set up my home life so that it's amazing. You know, I've become really good friends with Joe Lacob who owns the [Golden State] Warriors. One of my friends invested $44 million in the team, and I kind of walked him into that meeting and was thinking, "Maybe I'm supposed to make some money from this." I said, "Maybe I'll just take floor seats for life," and he said, "You already had 'em!"
So it's nice. I sit next to Joe at the games. I sit with Jed York, the [San Francisco] 49ers owner, in his box. These guys are both very intense — it's like me at a final table. They like having me around, partly because I understand what they're going through, the intensity of it. And so my world's opened up. I've become a big 49ers fan and a Golden State Warriors fan, and some of the athletes play poker with me.
Yes, is David Lee any good? I've seen you tweet about that.
David Lee's an excellent poker player. [Andrew] Bogut's an excellent poker player — man, Bogut is really, really tough! And Bogut and Lee have introduced the game to some of the other stars on the team, and we did a huge event for them. They've been playing on the plane, much like the San Antonio Spurs play hold'em on the plane, much like a lot of other teams, a lot of baseball teams, a lot of football teams. A lot of them play Bourré still, but hold'em is a game that's been played by a lot of sports teams around the planet. It's competitive people playing a competitive game.
So, 25 years ago. Are there any specific moments of the day --
Go back to the grinder thing for one more thing I want to say about that. I feel like I play infrequently enough that I'm almost always looking forward to playing. I've never lived in Vegas. I've never played 200 days of poker in a year. We'll play once or twice a week in my home game, and then I'll spend a long three weeks to a month really working hard and making sure I am ready for the World Series of Poker — making sure that all of my gears are in good shape — and I think that they are. Anyway, so it's something that I'll always do, I'll always play the World Series of Poker as long as I can see straight, or walk, or as long as I can get to that table.
And not getting burnt out helps you love it more.
Exactly! Exactly! I've been very smart not to burn myself out.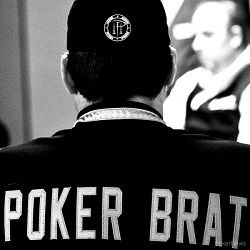 So, 25 years ago. Are there any specific moments from the final day or the tournament itself that you can look back, put yourself in your shoes and experience all over again? Or is it kind of a blur looking back?
The thing that instantly jumps to mind when you ask that question is having my father there. It was the first time my dad had ever watched me play poker. I had other relatives watch me play in '88 and '89, but I always flipped out when I saw them, so I asked them not to be right on the rail.
I just remember he would wake me up every day. He'd come to my room at the Golden Nugget at 11 a.m. with coffee and yogurt and whatever else I requested. I might even be a little bit naggy if it wasn't perfect — "You forgot this or that!" — but pretty much he got it right every day. It was just a very intense time. Half the days we'd walk over [to the tournament] and half the days he'd just meet me over there, at the Horseshoe.
I just remember my hands going up like you see in the video and I look up. It looks like I'm looking at the camera because they were recording it, but I didn't really know that camera was there. I just threw my hands up in the air and you can see within a few seconds that I turn around, because I'm looking for my dad. There's like $1.1 million in cash on the table so no one's coming through, and I turn around and my dad's running up the aisle. I waved him through — "Security! It's my dad! Let him through!" because they didn't want to let anyone through to grab the cash, but they let him through and I gave him a nice hug. That's on the video. To me, that seems to be the big thing — accomplishing a lifetime achievement and having my father there to embrace me right afterwards.
I bought him a new Mercedes Benz after that.
Family has always been a big part of it for you. You flew you son in for bracelet number 12, you've given bracelets to family members. I'm sure that bond and that strength has helped you push forward.
Family has always been number one to me, and I've always recognized that. Now, during the World Series of Poker I am focused on poker, but even then family is number one. If my wife says there's an emergency, I'm going to talk to her, but I think for me family's been number one always. I had my dad at the Series, I had both my mom and dad at many World Series of Pokers, probably at least 20 each by now in 25 years. My wife is with me in town the whole time. My sons are there. My son, Phillip, actually they smuggled him in in '07 and when I won bracelet number 11 — he saw number 10 or 11 in '06 or '07 — and I remember one of the big wigs at the World Series of Poker, who may or may not still be there, walked him right in and he got to see me win that bracelet. I think that was number 11. I think the next time I won one was 12 with him there, too.
For me, I have given away all of my bracelets to family — my mom has one, my dad has one, my three sisters have three, my wife, my sons, seven and eight, and I gave one to Chamath Palihapitiya as the first friend one I gave away, so far. Right now, I'm still holding on to number one and number 12. So yeah, it's been a family-filled journey for me.
Everybody knows about my morals and ethics. I've never cheated on my wife, for 24 years. Everybody knows this. I think I like to do things at a very high ethical and moral way, and then that gives me a lot of strength.
Why are you holding on to number 12 specifically?
I don't know. I mean, I may give it away, I may hold onto it. I haven't decided yet.
This is a little bit of a weird question. All of the banners in the Amazon Room, most of them, if not all of them, are of a person at the table with their chips — Brian "Sailor" Roberts is on a phone — but you're in a meditative state almost with headphones on. Do you remember this photo being taken? It's not of you holding the bracelet or winning, it's of you just thinking and concentrating.
Yeah, is that the one where I've got the blue-striped shirt on? I don't know what the deal is on that photo. I will say that, at that point, in '89, I had already won a bunch of hold'em tournaments, so it was no huge surprise to the poker tour that I won that event. But I was very strategic in the way that I kept changing my gears and adjusted for people. Learning how poker is about the cards is a journey a lot of people take, but learning how poker is about the people and your opponents is another journey. I've always been a very contemplative person. I've always looked inside myself. I'm improving, I'm almost 50 years old, and that's a milestone that's happening July 16. My 25th win and then 50 years old, boom-boom. But I can say to this day that I'm still learning.
My wife and I go into therapy together. She's a therapist, she's a psychiatrist at Stanford, and so she believes in the process. We go in together and I just keep improving as a person. I look at what I'm doing wrong in my primary relationship and how I can get better. I think that — and I hope this doesn't sound too egotistical to the people that are reading this — if you want to be the best in the world at what you do or be perceived as the best in the world, just to be up there win that ranking, it's a lot to deal with.
I seem to get stopped as much now, in 2014, if not more, than I did in 2010, 2009, and so on. It's weird. Poker seems to have turned, but just walking around the casino the other day with Warren [Lush] people just stop all the time. I see it and it's still kind of nice, but it messes with you, too. People come up to you and they say, "Hey, you're my all-time idol. You're what I aspire to be." It's difficult to deal with that stuff, so it messes you up a little bit, but I just keep improving my relationship with my wife. We keep getting better and better, and then it affects all of my other relationships, and I keep growing as a man, as a person, to this day. I'm sure this growth will continue for another couple of years, and so it also translates to poker I think.
You talked about the different sets of players that have come in the '80s, the '90s, the '00s, and not the 2010s. How has the game evolved in your eyes?
Man, poker is like night and day almost. Back then in the '80s, I didn't win every tournament in sight, by no means, because you still had to battle against other players and you still had to battle against yourself. If you have a technique, if you develop a system that's better than everybody else's system, you still have to implement it and adjust to it and make adjustments. Not everything seems to work tournament to tournament, either. So it's amazing to me to watch poker just change and, you know, all of a sudden things change.
It's amazing to me even just how you define your stack, "Oh, I have 30 big blinds." That saves some verbiage. It used to be, "Well, the blinds were 1,000 and 2,000, the ante was this, and I had 60,000." Now it's just like, boom, "I have 30 big blinds."
And there's been a lot of analysis and strategy, and people saying they've solved short-stacked poker and all of this kind of stuff. I've taken a lot of heat saying that I don't understand short-stacked poker. It's been interesting to see that the people have kind of come back to my way of thinking. They mathematically proved that short stacks were supposed to be played this way, but then two years ago Shaun Deeb was already coming back and saying, "Actually Phil, I think you're right and I'm back in this camp with you." Then a lot of people started migrating towards the "PH camp" as far as short-stacked poker goes. And there is a difference between real world and online.
You've accomplished so much with the 13 bracelets, two Main Event wins — the Main Event in Las Vegas and the Main Event in Europe. Is there anything else on the docket that you want to achieve in poker?
Interesting you should ask (laughs). I think, obviously, I want another [WSOP] Main Event and I want 24 bracelets. I've gone on record saying I want 24 bracelets. The other thing is I want a WPT Main Event, and that's kind of way up there on my goal sheet, especially to win the World Poker Tour Championship. Yeah, I could use some other WPT titles, but the one that I really eye, the one that I think is worth the same as a bracelet, is the WPT Championship. That might be worth a little bit more than a bracelet, whereas the rest of the WPTs aren't worth as much as a bracelet, but they're still really nice.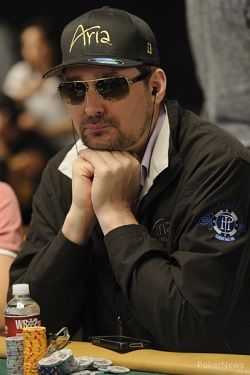 There's a couple changes this year at the WSOP when it comes to late registration. Do you think they've come close to perfecting the formula or are there any changes that you would perhaps institute going forward?
I like the new rule on the late registration. I think it's a great rule because you want to have a great structure, but you want to allow people to sit when they want to sit. Someone like Daniel Negreanu is on record saying that he wants to be there on time. He wants to show up right at noon, and he sees a lot of free money he can pick up before someone like me shows up four hours later, or this year six hours. But then you have people like me who would just rather sleep and would rather wait until the blinds are a little bit higher.
Now, that's why Negreanu can play seven-eight of diamonds because he's always starting with 100-200 big blinds, and that's why some people like me are wary of the seven-eight of diamonds because we're playing 25 big blinds deep.
You talk about the WPT, is there anything else on your schedule this year that sticks out? Are you going to play the One Drop? You obviously cashed last time and made the final table, but do you see yourself playing that event this year?
Yes… it goes like this for me. I will want to play the Big One for One Drop if I've been on the board. I'm a big believer in being deep in some events before, and last year going into the $111,111 One Drop High Roller all I had was one fifth-place finish, and I hadn't had any deep runs in any other events. So I was thinking that I was going to skip that event, but somebody backing me was saying that I was crazy. Begging me to play, my backers were begging me to play in it, but I just said no. It's just because I just wasn't feeling it.
It'll be a shame if I am feeling it and somehow I can't get in, so I'm going to make sure that I talk to four or five of my friends, or 10 of my friends, to make sure that they can put up $200,000 or $100,000 or $300,000, or whatever it is, to make sure that if I'm feeling it I can play. Because if I'm feeling it, it's a great tournament. You have a lot of time to work your chips until the final table, and with the final table live on ESPN, they raise the blinds a little quickly, but we all know what we're getting into.
I just want to eat some crow because I was on record saying that you'd never win a mixed-game bracelet, but you did. I was even covering the event when you defeated Don Zewin. You also made the $50,000 Players' Championship final table and got second. What do you say to the continuous detractors that say that Phil Hellmuth can't play mixed games?
Well, I mean, I'm not sure there's that many detractors anymore (laughs). After 2011, where I had three seconds — a second in stud eight-or-better, a second in a no-limit deuce-to-seven, which I feel sometime in my life I'll win one of those, and a second in the $50K — that bracelet and to amend an earlier question, that $50K could be at the top of my list of things I've yet to accomplish. I mean, I had it, man. I had 17 million when he had 2.1 million, and when you run the math on the all-in pots, there was something like an 84 percent chance I was going to win one of those pots and then win the bracelet. So if anything, I think I'm probably going to win more mixed-game bracelets than no-limit hold'em bracelets — I'm pretty sure of this — in the next 11 bracelets. Because the hold'em bracelets have such huge fields, and it seems like there's enough mixture.
I'm not done winning no-limit hold'em events, but it just feels like I have such a huge edge in the mixed games. It just seems like so many people are playing them poorly that I just have to get down there a bunch more times. I wouldn't be surprised if I won a stud eight-or-better. I wouldn't be surprised if I won two or three razz bracelets. Pot-limit Omaha is a game I've worked hard on, and I've been down there a lot, but I just haven't busted through. So I can do it. Omaha eight-or-better I already have a second, and I think I'm going to win one, but I need a little more practice with that game, and I need a little more practice with seven-card stud.
Is there anything else you'd like to say?
Twenty-five years… I'm just very thankful — very happy and very thankful to still be around because nothing is guaranteed for anyone. If I look at the group of people from 1989 that are still around, there's just not many. If I look at the group of people that are around from 2004, there's not many. How many people are still around? (laughs) So I've been given a nice gift, and I feel really good. I've raised $30 million by emceeing charity poker tournaments, and I try to keep my life very pure, and I'm proud of that.
Get all the latest PokerNews updates on your social media outlets. Follow us on Twitter and find us on both Facebook and Google+!