Romania's Luciana "luckyno75" Manolea Staying One Step Ahead of the Competition
Valentin Serbanut

Giovanni Angioni
After five successful years playing mostly at PokerStars, 26-year old grinder Luciana "luckyno75" Manolea is one of Romania's most accomplished players with online winnings totaling more than $2.3 million.
As her profile at PocketFives.com shows, Manolea already cashed in hundreds of tournaments, earning an online Triple Crown back in September 2012, when she won three major events on PokerStars.fr, 888poker and PokerStars.eu.
On March 29, 2014, Manolea managed to collect the biggest result in her career by winning the PokerStars WCOOP Challenge #03 Event, a Progressive Super Knockout tournament that earned her a massive $105,733 payday. Among her other remarkable results on the felt include a victory in a PokerStars Big $162 and a PokerStars Women's Sunday, along with countless final tables.
PokerNews's own Valentin Serbanut met with Manolea to discuss her recent results, discover more about her adventure in the poker world, and understand the reasons that convinced her to start playing for a living.
Let's begin with your winnings. What's it like to win over two million dollars in online poker?
Unfortunately, I have to say that statistics aren't always completely correct, as to see the actual profit you also have to take buy-ins into consideration. Although you may see a very high number on PocketFives, two million is a long way from now. Even legends like Calvin Anderson don't have two million in actual profits.
Right now I still have to reach my first million. Even my own mother thought I was well over it when she saw one article about the WCOOP – so, let's clarify it immediately: I am not a millionaire.
Does your mother really follow your progresses in poker? Lots of young players usually have some issues with that and with their parents pushing them to 'get a real job.'
My parents gave up on that speech a long time ago, and now they are just happy for me and for the fact I can actually support them with what I do.
Millionaire or not, congratulations on your WCOOP result. What was it like to win the tournament?
I'm very happy that I finally managed to take down a "major" on PokerStars. In the final stages, when there were only a couple of tables left, it all went very fast. I had been short-stacked for a long time, and at some point I even had to recover from having only five big blinds. This allowed me to feel less pressure. I think it would have been different if I had to play with a large stack.
I remember that there were a lot of unknown players, and this was encouraging for me. The progressive knockout structure somehow changed the optimal strategy. It's a new format, and I had to play more aggressive, hunting the big bounties.
This is your biggest success so far. How does it feel to win such a tournament?
Anyone would be very happy, and so am I! I was chasing a big score for a while. Before that, I had seven pretty rough months, but I was confident that the things would turn around. Luck cannot avoid you forever.
The final table closed without any deal being made. How so?
I rarely initiate any deals. Good opponents usually don't want deals, and when you have an advantage it's worth to negotiate only if you get more than a chip-chop.
This time, some of my friends suggested that I should negotiate something but, as I expected, my opponent refused to do so. He was a strong, aggressive player and anyway, the tournament had that special format, so we would have to play for a lot of bounty money. A deal there would almost make no sense.
Let's discover a little more about you: how long have you been playing poker?
I have been playing for more than five years now. I was still in college when it all started.
What motivated you start with the game?
I just heard that there were people that made serious money out of it, so I started to download all sorts of poker platforms, read articles and learn the basics. The game got to me pretty fast. I first started playing sit-and-gos, and then I moved on tournaments.
How did you develop your game?
I started posting on forums and made some friends in the community. I'm grateful for their help; their answers are still helping me when I have difficult hands to interpret.
Also, I took some coaching lessons. I've had several coaches so far and this has been very helpful for me to progress. I think the key to success is to be one step ahead of my competition, and for that I have to constantly improve my game.
Do you believe in luck at the poker table?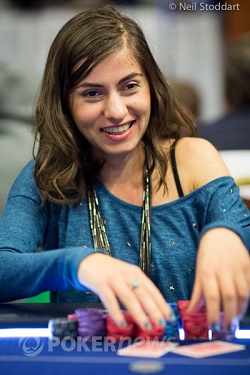 Of course, the luck factor exists. There are good times and bad times; there isn't luck without misfortune.
Sometimes your luck is other players' misfortune, and that can change anytime. It's just that our selective memory tends to rapidly forget about those times we won even if we were dominated. We prefer to remember those other moments, when our rivals won by chance. Yet, in the long run, I think skill beats luck.
How do you get over bad beats?
I played a lot of poker, so this doesn't affect me anymore. For me it's important to be satisfied with my decisions, as that is all I can control in a game.
You are a former IT student. What do your former colleagues and teachers think about your current job?
My former colleagues are thrilled; they congratulate me for my victories and cheer for me. I don't think that my teachers know about me playing poker. Not yet, at least.
Sometimes poker players tend to find it hard to combine their passion and commitment to the game with relationships. Do you have a boyfriend?
Yes, we were in college together. My boyfriend is very understanding and I am very happy about our relationship. Indeed, we don't spend a lot of time together, but we're both independent people.
He is a busy man as well, and we like to guide ourselves on the idea that "less is more," so we appreciate every moment that we spend together.
You have played some European Poker Tour events during the past few years. Who is the hardest opponent you have met at the table?
Team PokerStars Pro Maxim Lykov, he is a very experienced, aggressive and strong player. No wonder he has success both online and live.
If you were asked to give advice to other girls interested in trying poker, what would you tell them?
I would definitely recommend that they watch lots of videos and learn how to turn into aggressive players when at the live table.
Get all the latest PokerNews updates on your social media outlets. Follow us on Twitter and find us on both Facebook and Google+!