2014 WSOP: Memorable Hands and Moments from the First Half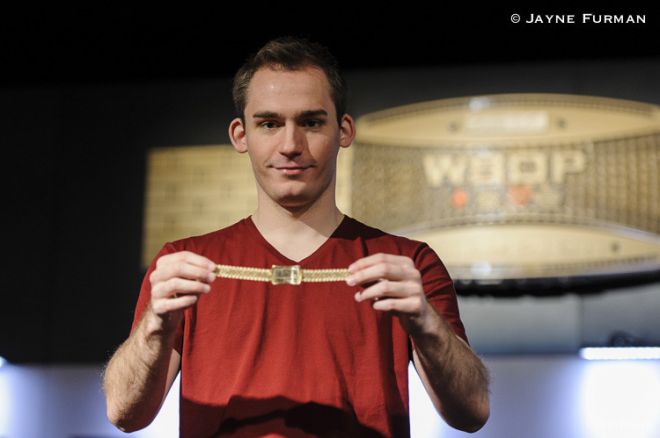 We're more than halfway into the 45th Annual World Series of Poker and there has been no shortage of excitement donning the tournament floor. Whether a stacked final table (and there has been quite a few), a historic win or a bad beat, nothing can top the feeling of being surrounded by poker's best playing the game everyone loves.
We looked over the action from the past few weeks and pulled out a few memorable hands, highlighted some of the stacked final tables, shared a few of the big stories from the first few weeks and provided some trivia. Read on to see what has made the list and feel free to add your input in comments.
Notable Hands
Vanessa Selbst vs. Jason Mo from Event #2: $25,000 Mixed-Max No-Limit Hold'em
This hand comes courtesy of the first marquee event of the summer, Event #2: $25,000 Mixed-Max No-Limit Hold'em. It was heads-up between Vanessa Selbst and Jason Mo, and the players had just returned from break where Selbst admittedly watched some of the live stream to prepare for a comeback. And come back she did: Just a few hands after the break, she doubled up twice. Here is a hand that positioned her to go on and claim victory.
It all began when Selbst raised to 250,000 from the button. Mo answered back with a three-bet to 750,000 and Selbst, known for pushing the action some might say, surprisingly called.
The flop came
.
Mo, who had the betting lead gave it up by checking to Selbst. She took control back by sliding out a bet of 580,000. Mo contemplated his next move by turning his attention to his own stack. After some assessment, he reached for his chips and opted to call the bet.
The
was dealt on the turn.
Mo quickly tapped the table and Selbst checked behind. It's fair to say that there was a lot of speculation from those on the rail as to what each player was holding.
The river came the
.
Mo led out for 1.315 million. After thinking threw her options, Selbst decided to just call.
Mo showed
for a pair of queens and Selbst tabled
for a set of queens.
This hand gave Selbst a 3-to-1 chip lead and the momentum swing to finish the task at hand. In fact, it would take just nine more hands for Selbst to hoist the gold bracelet over her head for the photographer. The rest is history - literally. Selbst went on to win her third bracelet and has now earned over $10 million in live tournament earnings.
You can view this hand and all the others from the heads-up match between Selbst and Mo on the PokerNews Live Tournament Blog for Event #2.
Mike Sowers vs. Niel Mittelman from Event #11: $1,500 Six-Handed No-Limit Hold'em
Mike Sowers started the final table of Event #11 as the chip leader, and while he did lose it for a little while, he was definitely playing table captain throughout the day. In fact, he was the one responsible for many of the early bust outs. Sowers was active and playing to win, not just ladder up.
It was the following hand against Niel Mittelman that saw him grab the chip lead back. One-outers always hurt, but imagine being dealt one on a final table at the World Series of Poker.
It began with Mittelman, who opened for 45,000. Maintaining his aggressive role, Sowers made it 135,000 from the small blind, forcing Justin Bonomo to fold from the big blind. When it got back to Mittelman, he four-bet to 265,000 and Sowers just made the call.
The flop came
.
Sowers checked to Mittelman who bet 175,000. Sowers, applying the pressure he had been doing all evening, moved all in. Mittelman made the call, putting his tournament life on the line.
When the hands were tabled we saw that Mittelman was in good shape to stay alive.
Sowers:

Mittelman:
The turn card was the
, increasing the value of Mittelman's hand by adding a flush draw and taking away one of the two available outs for Sowers. Only the
could eliminate Mittelman, and miraculously for Sowers, it came on the river. It was so shocking that Mittelman literally disappeared into thin air.
In fact, we caught up with David Tuchman, the 2014 WSOP Live Stream Commentator, to get his take on this hand. When asked about Mittelman's empty chair, Tuchman was also surprised by the reaction.
"He spontaneously combusted. I have never seen a guy leave that quick. He was just gone. I have never seen anything like it. I am not 100% sure of the numbers here, but my guess is he lost about $100K in equity in terms of actual money. If he wins that hand, he's probably second in chips; he's a good player and probably finishes top three. Instead, he got knocked out fifth. Poker can be devastating sometimes."
Interested in seeing how the hand played out and want to watch Mittelman spontaneously combust for yourself? Click and watch the replay below, courtesy of WSOP.com.
You can view this hand and all the others from the final table on the PokerNews Live Tournament Blog for event #11.
Four-Way Action from Event #28: $10,000 Pot-Limit Hold'em Championship
Hand #59 of the final table of Event #28: $10,000 Pot-Limit Hold'em Championship saw all four remaining players to the flop and some interesting decisions along the way. We'll let Tuchman tell the story:
"On June 14 we were covering Event #28: $10,000 Pot-Limit Hold'em Championship. It's always a marquee event and there was a couple of very interesting spots where we are like, 'WOW'. Here is an example:
It was four-handed and we saw a flop with all four players. Matt O'Donnell picks up
under the gun and raises. Alexander Venovski calls with
and that brings in Alex Bilokur with
. Of course, at this point, Chino Rheem has to call everything. You could tell he was thinking about squeezing, but he just decided to flat with
. This set up one of the most amazing hands we've ever seen.
The flop comes
.
Rheem has top two pair, O'Donnell has bottom set, Bilokur has the nut flush draw with gut shot to Broadway. Fortunately for Venovski, he has nothing.
The action checked to O'Donnell, who bet 100,000. Venovski folds, Bilokurcalls the 100,000 and Chino Rheem pots it. It's a wet board and he is basically committing himself. He has 860,000 chips and put in 600,000.
I am in the booth with David "ODB" Baker and we saw Matt O'Donnell visibly wince. He's got bottom set and he could be up against the straight already. He's probably thinking that even with a set, he is very vulnerable here. In the end, he has bottom set and he's not going anywhere so he ends up going all in for what was 980,000.
Now, we are thinking Bilokur has to call. We go through the possibilities. At the time, Bilokur was the chip leader by a decent margin. We figured out there were basically three scenarios if he calls:
He wins and knocks out two players.
Rheem wins, O'Donnell is absolutely crippled and Bilokur still has 700,000.
O'Donnell wins, Rheem is out and Bilokur is the short stack, but he still has 30 big blinds.
Bilokur thought about it for a while and we were just shocked that he found the fold. Of course the turn came a spade and Bilokur would have won. O'Donnell ended up winning, knocking out Rheem.
In his defense, Bilokur ended up winning the tournament anyway. He played a unique, unconventional small-ball style that seemed to really confuse O'Donnell. He didn't play bad and Bilokur definitely played [unconventionally], but he probably could have won the tournament a lot earlier."
You can view this hand and all the others from the final table on the PokerNews Live Tournament Blog for event #28.
Stacked Final Tables
With the introduction of the $10K championships in all of the disciplines this year, there was bound to be some big names clashing as they battle it out for victory and the elusive gold bracelet. During our interview with Tuchman, we asked him his favorite final table so far.
In reference to the final table of Event #11: $1,500 Six-Handed No-Limit Hold'em, he said:
"That final table was probably my favorite of the summer. Because of who was at the table, someone came back from 25,000 in chips and how the hands played out. The dynamic of the players and how the cards came, plus all the drama with Justin Bonomo winning his first bracelet really made for a good show. The human emotion on Justin's face - I just loved that.
Bonomo had a 284-to-1 chip advantage. He had [Mike] Sowers all in nine times and doubled him up about six of them. Then suddenly, Sowers had 30 [big blinds]. At one point, Bonomo looked like he was going to cry and then when he won, it was almost like a relief."
The final table of this event included champion Justin Bonomo, Mike Sowers (2nd), Daniel Strelitz (3rd), Lance Harris (4th), Niel Mittelman (5th) and Taylor Paur (6th).
Here are a few other final tables worth mentioning for their star-power alone.
Biggest Stories
A plethora of stories have caught the attention of the players and fans alike during the first weeks of what is often referred to as "summer camp" here at the Rio All-Suite Hotel & Casino. If you asked three different players, you would probably receive three different answers as to what the top three stories are so far. We are going out on a limb and providing our picks:
Vanessa Selbst
The 2014 World Series of Poker made headlines right out of the gate when Vanessa Selbst solidified her reputation as one of the best poker players in the world by winning her third bracelet in Event #2: $25,000 Mixed-Max No-Limit Hold'em. With this win, Selbst eclipsed her tournament winnings to over $10 million and added a third piece of gold hardware to her opulent collection. Selbst now stands with Barbara Enright in the category of women with the most WSOP bracelets. Just another feather in an illustrious cap.
You can read more about Selbst's win in Rapid Reaction: Vanessa Selbst Cements Her Legacy.
Dominik Nitsche
Dominik Nitsche earns a gold bracelet in Event #21: $1,000 No-Limit Hold'em and in doing so, becomes the youngest player to win a third WSOP bracelet at the age of 23. The previous record was held by Phil Ivey, who was 26 when he won his third bracelet in 2002.
Read more about Nitsche's win in Rapid Reaction: Dominik Nitsche Shatters Phil Ivey's WSOP Bracelet Record.
Daniel Negreanu
Daniel Negreanu is one of poker's most successful and popular players. He came into the summer with high expectations for his play, announcing at the start of the summer that he would be winning three bracelets. While a bracelet has eluded him thus far he is getting close, with four deep-runs including a second-place finish in Event #13: $10,000 No-Limit 2-7 Draw Lowball Championship. Coupled with his two 10th place and one 18th place finishes, Negreanu is in position to make it to the winner's circle.
Read more about Negreanu's narrow miss in Rapid Reaction: Daniel Negreanu Just Misses Seventh WSOP Gold Bracelet.
Some Trivia Through Event # 32
Top Cashes
Humberto Brenes and his shark are collecting chips on their way to claiming the top spot on the number of cashes list with eight. The list provides a mix of "old-school players" and "young kids", which indicates poker is still anybody's game. Here are the nine players with the most cashes to date:
| Place | Name | Number of Cashes |
| --- | --- | --- |
| 1 | Humberto Brenes | 8 |
| 2 | Nick Schulman | 7 |
| 3 | Tony Cousineau | 6 |
| 3 | Roland Israelashvili | 6 |
| 3 | Isidro Sifuentes | 6 |
| 3 | Daniel Engels | 6 |
| 3 | Justin Zaki | 6 |
| 3 | Matt Glantz | 6 |
| 3 | Tom Koral | 6 |
Top Earnings
It should not come as any surprise that the winner of the Millionaire Maker, Jonathan Dimmig, is the highest earner at the 2014 WSOP so far. He will not be holding on to that title for long, though, as the Big One for One Drop is on the schedule for June 29. Here are the Top 10 earners through Event #32:
| Place | Name | Earnings |
| --- | --- | --- |
| 1 | Jonathan Dimmig | $1,321,876 |
| 2 | Vanessa Selbst | $876,665 |
| 3 | Jeffrey Coburn | $815,963 |
| 4 | George Danzer | $772,374 |
| 5 | Justin Bonomo | $691,503 |
| 6 | Brian Yoon | $674,047 |
| 7 | Joe Cada | $670,041 |
| 8 | Dan Heimiller | $637,867 |
| 9 | Kevin Eyster | $625,398 |
| 10 | James Duke | $614,368 |
Bracelets by Country
This time last year, players from Canada were dominating the 2013 WSOP. Yet this year, a Canadian has yet to earn a single bracelet. Players from the United States, however, are cleaning up. Here is how the bracelets stack up by country through Event #32:
| Place | Country | Number of Bracelets |
| --- | --- | --- |
| 1 | United States | 30 |
| 2 | Germany | 3 |
| 3 | United Kingdom | 1 |
| 4 | Belgium | 1 |
| 5 | France | 1 |
| 6 | Russia | 1 |
Data courtesy of wsop.com
And there you have it! Our memorable moments - and some random information - from the first three weeks of the WSOP. Now it's your turn. What stories made an impact on you?
Get all the latest PokerNews updates on your social media outlets. Follow us on Twitter and find us on both Facebook and Google+!