Life as a Grinder: Dan Heimiller Drives a Cab While Finding Poker Success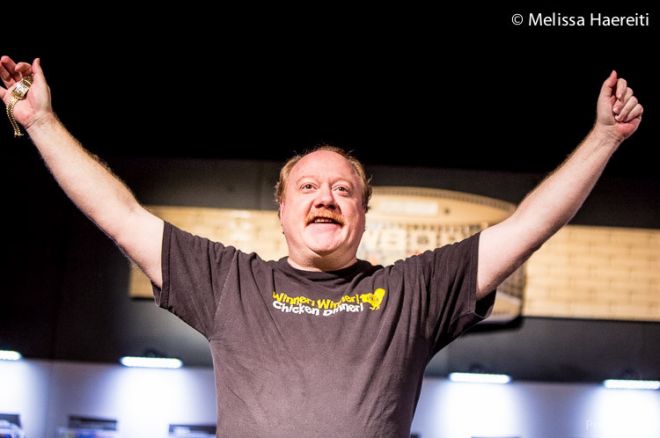 There are plenty of stories about young gamblers who visited Las Vegas with full wallets and high hopes, only to find themselves living a vagabond lifestyle when variance catches up and their bankrolls vanish. The true sin of this city — which appears to passersby as a shimmering oasis looming in the endless distance of the desert — is its ability to deceive the dreamers who drive into town looking for luck. More often than not, the endless stream of rounders, card counters, and other players who perceive themselves to have an edge over the house end up as hostages of their hope, working within Las Vegas's sprawling service industry as waiters, bellhops and bartenders.
For Dan Heimiller, making ends meet after moving to Vegas meant driving a taxicab. Despite his humble beginnings, however, Heimiller eventually left the yellow sedan for the green felt, and today he is regarded as one of the most consistent tournament players of the last two decades. With 53 cashes to his credit at the World Series of Poker, Heimiller has quietly passed poker icons like Scotty Nguyen (46), Johnny Chan (45), and Mike Matusow (43) in that regard, while Phil Ivey (55), and T.J. Cloutier (60) are in his sights.
Heimiller is also known for his commitment to grinding the live tournament circuit throughout the year, and he has racked up an astounding 224 live cashes since getting his first in a $200 buy in Half Hold'em/Half Seven-Card Stud tournament at the Winter Oasis in Las Vegas 22 years ago. That puts Heimiller in rarefied air among the professional poker community, as he currently ranks 22nd on the all-time live tournament cash list, ahead of legends like Erik Seidel (217), Daniel Negreanu (211), and Humberto Brenes (189).
Despite enjoying such a steadily productive career in card rooms all across the country, Heimiller remained relatively anonymous during the Moneymaker Boom and its after effects. While far less decorated peers were being patched up and put on television, Heimiller toiled away out of the spotlight. He won his first WSOP bracelet back in 2002 by taking down the title in, coincidentally, $2,000 Half Hold'em/Half Seven-Card Stud, but another 12 years would pass before Heilmiller hoisted his second.
That accomplishment came this year in Event #17: $1,000 Seniors No-Limit Hold'em Championship, after the longtime pro navigated a massive field of 4,425 predominately amateur players to pocket $627,462 — his biggest payday to date. After waiting more than a decade to snag number two, another deep run — this one coming in Event #50: $1,500 Eight-Game Mix — has put Heimiller in prime position to pick off his second bracelet of the summer. He entered Friday's final day of play as the chip leader with just 14 runners remaining, looking to do what only George Danzer has at the summer series.
A few days after gaining gold and glory in the Seniors Championship, Heimiller sat down with PokerNews to reflect on his career as a professional poker player, the old WSOP versus the new, and the fortuitous path that led him from cabbie to champion.
PokerNews: You've been fairly active on social media of late, even tweeting an offer to give a random follower a 2 percent freeroll on your Main Event action. How did you come up with that idea?
Dan Heimiller: I don't know, I guess I was born with it (laughs). Sometimes I waste a lot of time creating tweets, so I want somebody to read it I guess.
PokerNews: Take us back to your first World Series of Poker experience. How have things changed since then?
I can think of some great things that they did back then that they're not doing now, but then again, it's hard to get a corporation to do them though. Way back when they used to have no juice on the $10,000 event, back at Binion's.
PokerNews: And in what year did you take your first crack at the WSOP?
Uhh… people have been asking me that, so I'm starting to remember. Probably around '86, visiting from Tucson, Arizona. I found out what the cab drivers were making, and they were making better than what a starting engineer would be making. My grades were slipping a little bit, so I said shit, I might as well take a break and drive a taxi in Vegas, make a little cash. And then I just played poker in my spare time.
PokerNews: We're you playing much before that, back in college?
Not so much. Only when I visited Vegas just for fun. I think I won the first time I played — limit hold'em. That was the most common game, and I remember playing a tournament when I first moved to Vegas, at the Gold Coast. Twenty dollars… no, fifteen dollar buy-in I think. And I was playing very, very bad, but I didn't know it. I was playing every other hand and building my chips like crazy, I was chip leader at the table. And there was one lady at the table, David Rabbi's wife Debbie, and I had busted her, and I thought I was playing great.
She got up, and she was shaking she was so mad. She pointed her finger at me and said 'you're the worst poker player I've ever seen!' I was like shocked, and I said to her 'why would you say that? I was winning every pot, I don't understand.' But I was. I was like the worst poker player, because I recall I didn't make it through the second level in that tournament. It was comical… I'll never forget that.
PokerNews: And when did you make it over to Binion's for your first WSOP tournament?
Let's see, 2002 was the bracelet ... in 1998 I think I hit a third place in a limit hold'em tournament for $169,000 (Heimiller's third place score actually came one earlier, in $2,000 Limit Hold'em). Actually, back then we made a deal, we had a deal three-handed so I got $169,000 for third place. That was 1998, so maybe a year or two before that? I really do not remember when my first World Series tournament was. That might've been my first cash at the series, maybe I had cashed before that, but I don't remember.
PokerNews: So you had come prior to '98 and played primarily in the cash games?
When I say cash, I meant I cashed in the tournament.
PokerNews: No, that's understood. Just wondering if you played in the cash games that sprung up every year during the WSOP?
Yeah. I probably played – now, people don't realize it – but I've probably played as much cash games as I have in the tournaments, in terms of hours. I used to at first play a lot more cash to try and pay the rent. At Stardust, they had a $3/6 limit hold'em game… I used to play low limit for years and years, off and on. Fluctuated between $1 to $4 seven-card stud, which was probably the lowest game in town, and $10/20 limit hold'em. Over the years and playing all the tournaments, I learned how to play every game. Actually, no-limit hold'em was a rare tournament game. So I actually have a good idea how to play all these games, and I'm gonna be playing in the $50,000 mixed game that's coming up. Now I got the extra cash, might as well burn a little of it right?
PokerNews: How did you make that fateful decision to become a professional poker player rather than pursue the field in which you earned a college degree?
Well, I was studying industrial engineering, and actually I guess I goofed of for about a year and half, two years, so I let my grades slide. But prior to that I actually had pretty good grades, the first couple years. I worked for IBM and Intel while I was in college, and I had a pretty good college record, good enough to get me my last job. The last job I ever worked was for Ford Motor Company and I worked for the industrial engineering department. I guess I got a little lazy, and then the fact that the starting cab driver was probably making what an engineer with four years experience would at that particular time. Because of the tips and whatnot it was pretty good, I think it was on the order of $35,000, and the starting engineer would be making more like $25,000 back then.
I liked it, I didn't mind it at all. I like to drive around pick up money. It was fun, and it was actually slightly entertaining you know? There's some odd ones… there were some very odd fares. It was economics too, doing it for money. I drove the taxi for a five year span, but I only drove it for three of those years on and off. I had in a girlfriend in Vegas, so I played a little bit of poker in my spare time, and then started to realize that I had a significant edge over the competition. But I did go back and forth; I'd play poker and go broke, then I'd go drive a taxi.
PokerNews: How did you come to the conclusion that you had such an edge?
It was some big tournaments. You nail a tournament… I would say that it was continued tournament success, and then the frequency was much higher than other people. I was nailing $20,000 for first place, $30,000, then it went up to $100,000 and higher and higher.
I used to play games a lot growing up, so that got me… I love all types of games, but obviously poker is more lucrative so I stick with that. But I used to play chess to some extent, although I don't have a very good memory so I decided to give that up. I won the Southeast Michigan Open unrated section, won like $600 for that, but I knew I couldn't compete in chess because I don't have the best memory. So I used to play all kinds of games.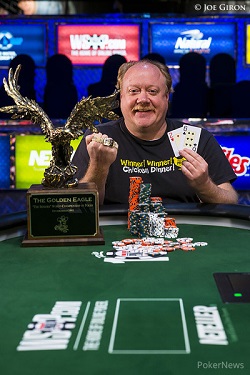 PokerNews: Memorization issues aside, what do you think it is that makes you such a skilled poker player?
I would say my ability to understand the probabilities, and when you win or lose a hand… some people think when they win a hand they were right, always right, and when they lose a hand they were right and they had bad luck. I know when I win a hand sometimes I'm wrong, and when I lose a hand I may or may not have been correct. Whether you're right or not has no bearing on whether you win or lose a hand. So I guess I understand the underlying probabilities, so I can calculate whether I'm a good player or not. It's not a matter of winning or losing. So I guess I'm better at mathematics and instantaneous calculations than other people.
PokerNews: How did it feel to earn your first WSOP bracelet, and one of your largest career cashes at that point, back in 2002?
Well it wasn't a huge amount of money, I think it was a little over $100,000, so… but the bracelet was really nice. I got heads up against one those Hendon Mob guys… Ram [Vaswani]. And they did have some good players at that final table, well known players. I don't think the tournament prize money, or tournament itself, was anything spectacular, but it was wonderful that I won a bracelet.
PokerNews: There's been plenty of close calls between then and now, but did you ever think it would take more than a decade for you to win your next one?
I expected to win a lot more (laughs), and it's been 12 years, which to me is terrible… it shows a little lack of success. Although I have at least a couple seconds, a couple thirds. You might have to check that out, I've forgotten how many thirds I have. [Heimiller has recorded a pair of runner-up finishes in WSOP play — $1,500 Seven Card Stud Hi-Lo Split Eight or Better in 2001, and $1,500 Omaha Hi/Lo 8 in 2010 – while adding two third place finishes in 1997 and 2008].
One of my seconds was brutal a few years ago, against a player named Mike… [Michael Chow] in Omaha Hi-Lo. It was brutal because he had less than one bet left, and he bet it on the end. And I did not call him … I was 100% sure he had me beat so I mucked my hand. He turned over a bluff. If I would've called I him, I would've won the bracelet. Instead he came back from that one hand and beat me, so that was brutal. Whenever I seem him walking around I say 'hey, there's my bracelet.'
So I've always had no expectations of doing really well… but I've done pretty good. I've always thought I've done pretty good in poker, but I think I could do a lot better. I've had some final tables… (Heimiller has made 15 final table appearances at the WSOP).
PokerNews: What memories from the WSOP's past stand out to you as we sit here in a new venue, one with new traditions and everything else? Do things like playing in the Main Event or making the final table still feel the same?
I haven't missed the Main Event since my first time. I got close one year, but that's back when it was a shorter field. I got down to the third table or fourth table in the final event [43rd place in 2002]. Back then it might've been 800 people? So I did get close one year.
What was cool they had a lot of unique things like no juice for the tournament obviously. Before the World Series [Main Event] there were many players that would go to the satellite area and put up $1,000, and since there was a short time before the tournament was about to start, they just draw high card to see who would win ten grand. And they did many of those… I've seen high card, twenty years ago, but usually what they would do is deal everyone a hand, and run the cards out and see who wins. When it was near the start of the Main Event there were always plenty of people who wanted to gamble it up.
PokerNews: Tell me about the experience of winning your second gold bracelet more than a decade after getting on the board? How did the two wins compare, with the Seniors Championship coming here amid the spectacle of the Rio, and your first back in the bygone era of Binion's Horseshoe?
Boy, it was big back then too. Jimmy the Greek was there… you remember Jimmy the Greek, the announcer? He used to do the World Series of Poker on television way back then. So I don't know whether it feels bigger. The fields are obviously gigantic and you run into players you've never seen before, and just because you've never seen them before doesn't mean they're not good. You get some guy from Croatia who's been playing on the internet, he's a great player. The first time you ever play against him and he's playing great. So it's a little bit of a mystery when you run up against new players these days.
Back then, it was a smaller group and you can know who's who. The percentage of good players in no-limit hold'em is much higher now. Instead of in the old days there might've been 10 to 15 percent that were really good players, but nowadays it's about 30 percent that are good players. It doesn't sound like much, but that makes it a lot tougher to win. The fields have gotten probably about four times larger, maybe, so the prize money's there. It's just the fluctuations are a lot bigger; a lot bigger prize money, a lot bigger fluctuations. Poker today has also pulled in people from other disciplines. It's made lawyers decide not to want to be a lawyer instead, like Vanessa Selsbt, so that really makes it a little bit tougher.
PokerNews: Speaking of Selbst, are the any players from those days who she reminds you of now?
Sure… Neil Longston. He's taking it easy at home these days, but Neil Longston was a really tough cash game player and tournament player. Bill Gimple, who was probably the highest paid prop in the world ... he was a great Omaha hi-low player. He has one bracelet. These are not necessarily tournament players, but they had been great players.
I played against Stu Ungar one time. I caught him in a limit hold'em because back then there was very few no-limit games going. It was obvious he was staked by somebody. He had a little old man sitting behind him and it was limit hold'em so it wasn't his cup of tea… $30/$60 limit hold'em at the Bellagio. So I could tell what he was doing — he was bluffing way too often — so the regular limit hold'em players were able to beat him that day. But you could tell he was always thinking, trying to find a way (laughs). His bluffs would've worked if it was no-limit. I wish I would've played against him more often, but it was only that one time.
Most of the old players are still in it to tell you the truth, most of the old ones that I played against are still here because the prize money is so much more. They keep on coming back, and I think that most of these players are still playing because you can play until you're really, really old. I'm shocked that Doyle Brunson keeps on playing, and keeps on playing so well. Even if you look back at the last few years he still has some great tournament successes. He doesn't miss a trick.