He's Back! Kevin Boudreau Returns to the Felt at the WSOP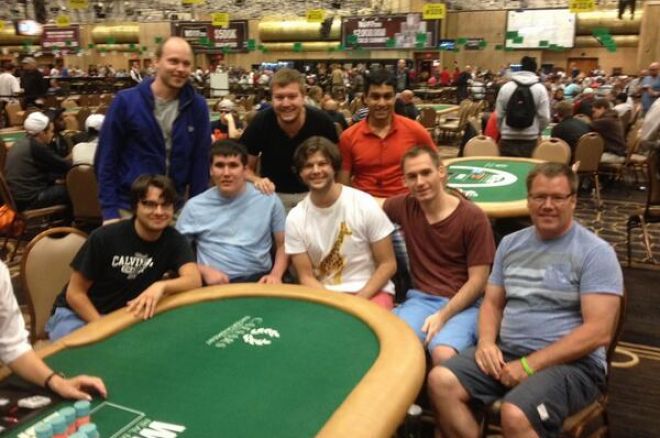 Usually when you hear "he's back" there is some negative connotation involved. That is certainly not the case here. One of the poker community's most beloved players, Kevin "Phwap" Boudreau returned to the felt of the World Series of Poker on Saturday, exactly one year to the day following his shocking collapse.
Last summer, people throughout the halls of the Rio were stunned as the tale of Boudreau spread. Boudreau suffered from cerebral arteriovenous malformation (AVM), which simply put is an abnormal connection between arteries and veins. There is nothing simple about the condition, however, as Boudreau also suffered a stroke and spent significant time in both acute-care and rehabilitation facilities before returning to his family home.
In a PokerNews interview by Chad Holloway earlier this year, Boudreau's father, Jim, alluded that a visit to the World Series of Poker might be on the horizon. Well, that day has come. Today, on the anniversary of that fateful day last summer, hope springs eternal as Boudreau is not only back at the poker tables, but he finished in third in a 10-person satellite, knocking out good friend Peter Jetten who finished fourth.
We were alerted to Boudreau's arrival and eventual third-place finish thanks to Jetten's Twitter feed.
Look whose back playing at the rio, it's @KevinPhwap and he's already won the first pot he played! http://t.co/FSm6y6ewQb

— Peter Jetten (@PeterJetten)
Kevin gets 3rd and his Dad chops heads up! Boudreau poker dominance! http://t.co/RL9ACKdRb3

— Peter Jetten (@PeterJetten)
We caught up with Jim and Kevin Boudreau as they were railing Event #32: $10,000 Six-Handed No-Limit Hold'em Championship. When asked how it feels to be back, Kevin gave us a thumbs-up and a big smile, his excitement evident to everyone who was near.
According to Jim, they booked the trip about a month ago but plans of returning to the WSOP were on their minds ever since last summer. Jim went on to say, "We were just hoping he was going to be healthy enough to come back."
Their trip is a short one by most standards, just three days long. However, it was just enough time for Kevin to see his friends and get in some poker. While Kevin would probably argue three days is not long enough, he knows he has plenty of work to do at home.
Kevin is still undergoing a pretty intensive therapy routine, with 10 professional physical therapy sessions a week. The therapy continues at home with the help of his dad and his girlfriend, Sam. Jim explained, "His right side still has a lot of limitations because of the stroke that he had, but mentally he is fully back. He reads but is not necessarily writing and he only started talking a few months ago but it's coming back."
In Holloway's article, Jim mentioned that Kevin became a huge SportsCenter fan. When SportsCenter was mentioned, the group all started laughing and Jim alluded to the fact that all of the TVs in the house have been taken over.
It's been said before, but it is worth mentioning again, Jim and Kevin are both so appreciative of the support of the poker community and especially his friends that have remained in constant contact. "There has been an incredible amount of support. The entire poker community has been so supportive and we are so thankful."
He went on to say, "I wanted to go see a show tonight but Kevin wanted to go play poker. We ended up doing a sit-and-go with his friends and they are all just very gracious people." Even though Kevin placed third and his dad chopped heads up after that, we don't think gracious means letting anyone win. You can bet the competitive spirit is alive and strong and Kevin demonstrates that every day through his hard work and healing.
When asked if there was time for any more poker before they left, Jim said they were catching a flight first thing in the morning. "Funny thing is Kevin wanted to play a multi-table tournament but I didn't want to be here for four or five hours. So I told him if he won the sit-and-go, I would let him play in a MTT. There was some mixed emotions going on because he came pretty close to winning that sit-and-go."
When asked about a longer trip next year with more poker on the schedule, Kevin's face lit up and a big thumbs up showcased his love of the game and the enormity of this moment, being back at his home away from home. We continue to send our very best wishes to the Boudreau family, especially Kevin, as he continues his journey towards a full recovery. He is an inspiration to us all.
Lead photo courtesy of Peter Jetten.
Get all the latest PokerNews updates on your social media outlets. Follow us on Twitter and find us on both Facebook and Google+!