Rapid Reaction: "Crazy Frenchman" Davidi Kitai Wins Third Bracelet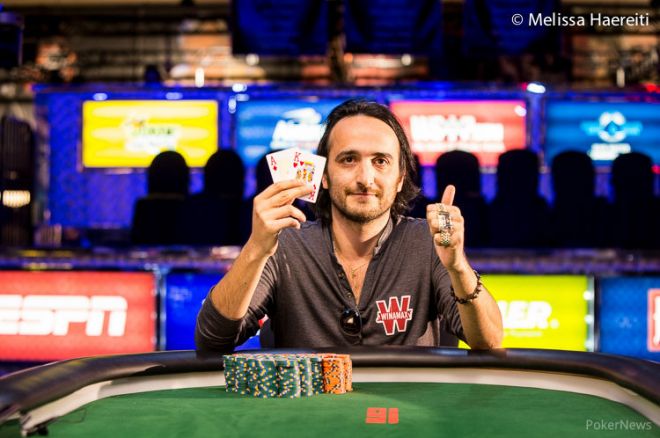 After pausing play during their heads-up match in Event #15: $3,000 Six-Handed No-Limit Hold'em, Davidi Kitai and Gordon Vayo returned on Sunday to decide things once and for all. Vayo had fought back valiantly to even the match up after beginning at a decided disadvantage in terms of chips, but in the end it was Kitai who emerged victorious, earning his third World Series of Poker bracelet and cementing his status as one the game's true talents.
The Belgian born Kitai had already secured poker's Triple Crown, with WPT and EPT titles listed on his impressive résumé of career accomplishments, but grabbing gold for the third time was something special indeed. Along the way Kitai simply dominated the six-handed action, putting on a masterful display of controlled aggression while accumulating chips at a relentless pace.
The King and His Castle: After Day 1 of the tournament was in the books Kitai bagged up a stack of 141,900, putting him in the top five on the leaderboard. By the end of Day 2 Kitai had accumulated 815,000 to find himself second in chips with 14 players remaining, and entering the final table he brought 2.856 million to bear, with none of his five opponents having crossed the 2 million chip threshold. By the time he headed off for a dinner break late on Day 3, Kitai took a moment to talk with PokerNews about his rampage through the tournament, and at that point he had lengthened his lead to a staggering 4.695 million, while none of his four remaining opponents held over a million.
Third Time's a Charm: Kitai's win moved him into an exclusive club of three-time WSOP bracelet winners, adding to his haul from 2008's $2,000 Pot-Limit Hold'em event ($244,546) and last year's win in the $5,000 Pot-Limit Hold'em ($224,560). While winning two bracelets is, of course, quite an accomplishment in its own right, there are 97 players who can claim to wear gold on each wrist. By taking down the third of his career, Kitai joined an elite group of 29 other players, one which includes such poker luminaries as Barry Greenstein, Vanessa Selbst Antonio Esfandiari, Chip Reese, and Sammy Farha.
Geography Lesson for the GOAT: Midway through Day 3 an encounter between Kitai and Phil Hellmuth showed that while the "Poker Brat" may have made millions reading his opponent's souls, he has trouble reading a simple map. Hellmuth continually tangled with Kitai as the tournament dwindled down to the final two tables, becoming quite agitated as his nemesis continued to bully him out of pots that Hellmuth — as he usually does — believed belonged to him.
"Crazy Frenchman is going to cost me my 14th bracelet," Hellmuth said aloud after surrendering yet another pot to Kitiai. "You have no chance to win sir."
When another player at the table turned the needle by facetiously asking the Triple Crown winner if he had ever won a tournament before, Hellmuth immediately interjected and blurted out "Of course he's never won a tournament before."
For his part, Kitai remained impassive and unimpressed by Hellmuth's signature ranting, simply allowing the 13-time bracelet winner to underestimate his skills while he slowly but surely separated him from his stack.
Global Gold: Kitai's win marked the first time this summer that a non-American captured poker's most coveted prize, after the first 14 events all went to Yankees. After last year saw Brits and Canadians dominate the WSOP at an unprecedented level, and international players amass 23 bracelets, the shift from foreign to domestic winners this year was an interesting historical footnote — until Kitai got the global contingent on the board on Sunday.
Extra Innings: Although the tournament was scheduled to span three days, and Vayo entered heads-up play severely outgunned in terms of chips, the young grinder known as "Holla@yoboy" online refused to go down with a fight. Vayo clawed his way back into the match by winning a series of small pots early on, and by the time both players elected to conclude play for the evening he had actually taken the lead. That meant the pair would return on Sunday to continue play, turning a three-day event into a four-day affair.
Hellmuth Freezes Over: Just a week after falling painfully short of winning is record-extending 14th gold bracelet, Hellmuth made yet another deep run in WSOP competition to earn his 102nd cash on poker's premier stage. Unfortunately for the "Poker Brat," history would have to wait once again, as Hellmuth was ousted in eight place at the hands of Vayo.
"Eight flips in a row I've lost," Hellmuth told the world as he made his way from the table, lamenting yet another lost opportunity to extend his lead in the all-time bracelet race.
Get all the latest PokerNews updates on your social media outlets. Follow us on Twitter and find us on both Facebook and Google+!