Seidel, Seed, Matusow Among Big Names To Skip WSOP $50K Poker Players' Championship

Donnie Peters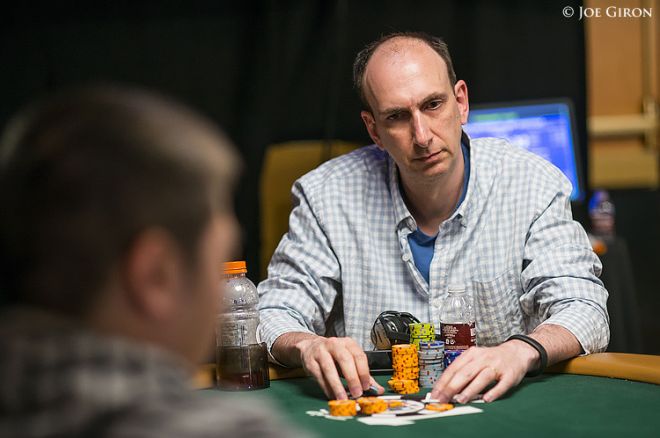 After registration closed on Monday for the $50,000 Poker Players' Championship at the 2014 World Series of Poker, one couldn't help but notice the drop in field size and absence of several regulars from the field. This year's edition of the event that aims to crown the best all-around poker player in the world attracted 102 players — 30 players less than the year before, and the second lowest field size it's ever been.
Now, thirty players less might not seem like a lot, but it is when you think of that number in relation to the field size. When compared to 2013, this year's field size dropped 22.73 percent. At its height, the event attracted 148 players, which came in 2007 and 2008. In the inaugural year, 2006, the event attracted 143 players. Then in 2009, a severe drop off was experienced and the field dipped below the century mark and came in at just 95 players.
Given the field size was no lower than 108 (2012) the past four years with an average of 121 players since that all-time low in 2009, an entrant list only 102 names long isn't really winning over front-page headlines. Instead, it's the drop off in field size and the names that aren't here that are surprising.
The first big name that jumps out is eight-time WSOP bracelet winner Erik Seidel, and he's joined by a handful of other players many would consider "regulars" of the event.
When asked by PokerNews why he didn't participate in the event, Seidel answered, "I don't play triple draw so I thought I would save $48,500 and play this instead," referencing the $1,500 Ante-Only No-Limit Hold'em event that he was playing on Monday. "I do regret it a little bit. I feel like maybe I should have played," he added. "It's a hard one to skip, that's for sure."
Then there's Mike Matusow, Huck Seed, and Barry Greenstein, who all opted to skip this year's $50,000 Poker Players' Championship. Between those three and Seidel, 19 WSOP gold bracelets are represented and $1,888,751 in prize money from the $50,000 Poker Players' Championship alone. Greenstein and Seed are among a select group of nine players to have final tabled the event twice. Greenstein has a sixth-place finish from 2008 and a seventh-place finish from 2007, while Seed has a fifth-place finish from 2009 and a seventh-place finish from 2008.
A few reasons have floated around as to why there are fewer players in the event this year and also as to why some of the past regulars have opted to sit out this year. First, there's the highly-lucrative cash games that are going on in Las Vegas. With everyone in town for the WSOP, high stakes can be found much easier and games seem to be running around the clock. Many top players have simply opted to forgo tournament play and just stick to the live felt, as is the case with Greg Mueller, according to his friend Shawn Buchanan, who did opt to play the event.
Another big reason numbers are down is funding, or lack thereof. Players who used to be able to sell action to this event or get backed by others, just don't have that luxury anymore. This doesn't just go for players backing other players, either. It also has to do with online poker sites no longer throwing their big-time pros into this extremely marquee event because the value isn't the same as it once was.
"It's hard to tell, but I think it has to do with the financial situation of a lot of the players," commented Jason Mercier when asked what he would attribute to the number being down for the event this year. "You know, $50,000 is a lot to put up and it's a tough field, so it's not exactly easy to sell action for. I was expecting it to get somewhere around 100 players. I think last year maybe a lot of guys were just around and in town, pumped up, and that's why they fired it."
Then, there's the lack of having a televised final table, which goes hand in hand with a sponsor looking to back a player in this event. Without the exposure of a televised final table on poker's biggest stage, the value drops.
And speaking of value, one could argue that poker players are reverting back to the pre-2003 era when gold bracelets weren't valued as much. Without large sponsorship deals being given out to the best of the best, how much does winning a bracelet really mean to the players of this event? Not that winning the $50,000 Poker Players' Championship bracelet isn't a massively successful achievement, but if you're making more money in the cash games, why would you take the time to grind through two or three days of a tournament?
Outside of the previous notables mentioned that aren't playing this year, one could wonder where Max Pescatori, Joe Cassidy, Mike Sexton, Ted Forrest, Andrew Brown, Brett Richey, Jean-Robert Bellande, Ali Eslami, Jen Harman, Allen Cunningham, Freddy Deeb, Owais Ahmed, David "Bakes" Baker, Greg Raymer, Michael Chow, Allen Bari, Sebastian Ruthenberg, and Yuval Bronshtein are.
Ahmed, who has played this event every year since 2011 when he placed fourth for $482,058, tweeted that he would be skipping the event for the first time since he made that final table run. He added that although he is content with his decision, the decision extremely saddens him. Sexton tweeted out that he didn't feel he was running well or playing too well to pony up the $50,000 buy-in, so he would take a few days off before returning to the felt on Wednesday. With Bari, we figure he's busy with his post-poker business venture, but even last year he made the trip out to play this event. Bronshtein was one of the live satellite winners, but opted not to play.
Some might also see this year as the changing of the guard in the $50,000 Poker Players' Championship, with several first-timers in the field as the older regulars phase out. Young poker studs like Brock Parker, Dylan Linde, Chun Lei Zhou, Ola Amundsgard, Melissa Burr, Brandon Shack-Harris, and James Obst are all playing the event for the first time ever, and then there's Ofir Mor, Brian Tate, Bryce Yockey, and Eric Wasseron getting their feet wet for the second time. These players are all young, successful, and have plenty of poker skill to adequately carry the torch going forward in this event.
Get all the latest PokerNews updates on your social media outlets. Follow us on Twitter and find us on both Facebook and Google+!