Spanish Poker Pro Tomeu Gomila: "Playing at the WSOP is Like Being in Another World"

Giovanni Angioni
Antonio Martín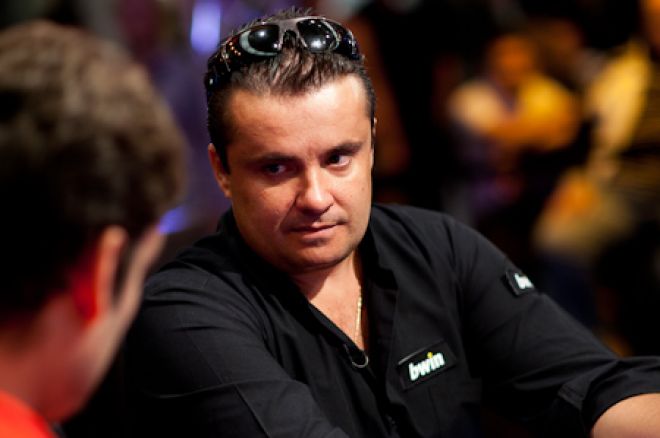 Fear, stress and doubts about their real poker skills. If one was asked to sum up the feelings a poker player has felt when taking a seat at their first live poker tournament, those would be the most common.
PokerNews' Antonio Martìn met with Spanish poker veteran and partypoker pro Tomeu Gomila to relive the emotions of Gomila's World Series of Poker debut and discuss how the game of poker has evolved during the past few years.
Among Gomila's most remarkable results include an eighth-place at the Partouche Poker Tour grand final in Cannes in 2012 for $175,000; a second-place result at the 2011 Full Tilt Poker Series Madrid for $55,000; and a consistent list of in-the-money finished since 2006.
A well-known face on the live poker circuit, Gomila currently sits in seventh on Spain's all-time money list with total live earnings of $880,893. Back at EPT Barcelona in 2012, Gomila battled hard to become Spain's first EPT main event champion, but his deep run ended with a fifth place finish for $266,000 prize.
PokerNews: Considering you have been around for so many years, I wonder: Do you still remember your first live tournament and how you felt once you sat at the table?
Tomeu Gomila: I do. I played my first tournament in 2006 in Peralada during the Spanish Championship of Poker (CEP). I still remember how nervous I was and how much I wanted everything to go in the best possible way. After all, the first time at a poker tournament is not much different from any other 'first time' things in life.
What about your opponents? What was your first impression of all those poker players at the tables?
At that time I had a great respect for those that were known as the sharks. I am talking about players like Óscar 'Púa' Blanco, Óscar Pelayo, and Francisco 'Pakito' López. I still remember how I was trying to listen to everything they were saying so that I could learn from their experience.
What do you think about the game back then? Was it different compared to today?
This is a question that always amuses me. I see many similarities between those days and today, especially as there still is a group of players that are clearly on top of the others both for knowledge and preparation.
Yet, if you compare poker during the old days to today, it is obvious that the game has evolved in a very significant way. Today we play something that is totally different from what we used to in the past.
When did you decide to focus on tournaments?
Poker tournaments fascinate me for different reasons. First, they give you a chance at a big shot. Second, the excitement that comes once you start going deep in a tournament is something really awesome.
Also, in tournaments the level is generally lower than in other games, which means that you need to spend less time to get ready for it. If you combine prizes, emotions, the level – well, then you have a lovely cocktail.
How about you first 'big' event? Which one was it?
My grand debut happened at a European Poker Tour stop in Monte Carlo. Today, when I look at the field in tournaments, I feel like I am a 'medium-level' player. In that first EPT, trust me, I was a complete fish compared to the others at the tables.
I remember how I felt like I was completely lost every time I played a hand. Today, at least, I usually know why I do certain things and I know what I am supposed to do in a specific hand.
How about the World Series of Poker? How was your first time there?
I can tell you that it was one of the greatest experiences I have ever lived in poker. To be in Las Vegas for the first time, to go to see incredible shows and to be together with some really great people was just great. All this, plus some profits I have made at the tables, makes that a really unforgettable experience.
Tournament-wise, I was quite relaxed there, as my first WSOP event came after many EPT ones. But I also still remember the knot I felt in my stomach when I entered that enormous room filled with thousands of players. Really, that's like being in another world.
Is there a remarkable hand you remember from your live tournament experiences?
Like all players, I remember thousands of hands. It's quite amazing to see how hard it was to learn things in school and how easy it is now to remember hands by heart.
Yet, if I had to take one out of all the ones I remember, it would be the hand that cost me a tournament during my first time at the World Series. We were down to 358 out of the thousands that started that event; I went all in pre-flop with
and another player called with
. You should have seen my stupid face when a
came out on the flop.
What's the most unusual moment you have lived through playing tournaments?
To be honest, I have a lot of anecdotes. But the strangest was surely that one time when a player took a bunch of chips out of his bag after he had been eliminated.
I remember that when people asked him what he was doing, he answered: "I saved half of my stack in case someone would eliminate me."
Get all the latest PokerNews updates on your social media outlets. Follow us on Twitter and like us on Facebook now!