My First WSOP: Perry Green Talks About the Camaraderie and Staff from the Old Days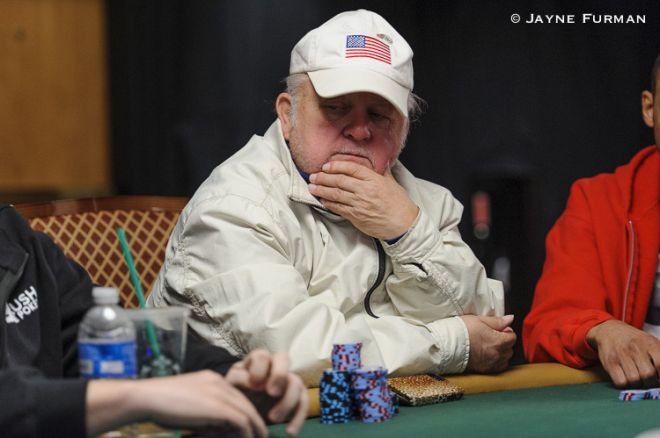 PokerNews introduced the My First series on the European Poker Tour earlier this year, interviewing Joe "Stapes" Stapleton, Jason Mercier and Eugene Katchalov about their debuts on the EPT. The articles were so well-received, we decided to carry the series into the 2014 World Series of Poker.
For this edition of the series, PokerNews spoke with Perry Green, a living legend of the game who has been active in poker for decades.
Known as Alaska's Poker Guru, Perry Green's $1,078,241 in career tournament earnings has him at the top of the state's All-Time Money Winner's list.
The 78-year-old has won three World Series of Poker bracelets and has twice made it to the final table of the WSOP Main Event, including a second-place finish to Stu Ungar in 1981. Strangely enough, this Anchorage fur trader didn't travel to his first World Series of Poker intent on playing poker at all. He just happened to walk in Binion's Horseshoe on a trip to Las Vegas looking for the best odds in town. What he found was akin to some kind of gambler's convention, and Green says the camaraderie he found amongst the players and staff at the event has kept him coming back year in, year out.
PokerNews: You won your first bracelet in 1976 in the $1,000 Ace-to-Five Draw. Was that your first World Series?
Perry Green: Yes, it was. I kind of stumbled in on the place. I had heard they had a pretty good poker game down there, and I went down there and low and behold they were having tournaments and all that. I found a lot of camaraderie there.
The one thing that I remember, that really sticks out in my mind, was the friendliness of Jack Binion and the intense great stories that Benny Binion would talk about. Also, in those days, when most us who would come to the World Series, most of the players brought their wives. Nowadays people just come with their buddies.
Back in the day, the wives would come out and we would go up into the steakhouse and Jack Binion was the ultimate and most gracious host. The spread they put out — food was free for all the poker players and they had a buffet that no buffet in Vegas today even equals. If you wanted to order a steak or you wanted to order two steaks, the Binion's would say have at it and enjoy yourself. Eat as much as you want, play as much as you want, and win some money. The Binions were gamblers themselves and they offered the best odds and that's what brought me down there initially.
PokerNews: That first bracelet you won was in ace-to-five draw, as was your second. Was that your game at the time, and how tough were the fields in a game like that?
I was pretty much a novice. It was the only game I had really played. I had never heard of hold'em, never played stud in my life, and never heard of Omaha or any of these other badugi, badacey, and all the other fancy names. We just played lowball in Alaska, and I figured I could play with anybody because in my home game I was a pretty consistent winner.
The thing about it was that all the players were gentlemen at all times. I had a great time. It was more of a rendezvous. I have spent a lot of time with fur trappers in what they call the Fur Rendezvous, and here in Vegas it seemed like the gamblers would hold that same kind of thing around Binion's Horseshoe. These guys were classy people.
They talk about certain people being gamblers, but the biggest gamblers in the world are in the stock market. They measure their mathematics the same way a card player measures his mathematics and these guys were pretty smart guys. I remember Sailor Roberts, Junior Whitehead, and Crandall Addington. These names are disappearing these days, even Tuna Lund. I didn't even know who Doyle Brunson was at the time.
Shortly thereafter, onto the scene burst Phil Hellmuth. That was in the late eighties, and he came on strong and the game really started transforming at that time.
I know I owe Jack Binion a great deal of gratitude for starting the World Series of Poker, and I think he and his father were true pioneers in this industry. When a poker player came in, he was respected even more than the highest high roller that would walk through their doors.
PokerNews: So what do think has been the biggest change in the game over the years?
A) its information, B) computers, and C) they share things. You used to have to learn things on your own in the old days. You used to have to learn things by hook or crook, any way you could. That's the biggest difference.
Be sure to follow us on Twitter and find us on Facebook and Google+!