My First WSOP: Mike Matusow Reminisces About Stu Ungar, Losing Heads-Up to Scotty Nguyen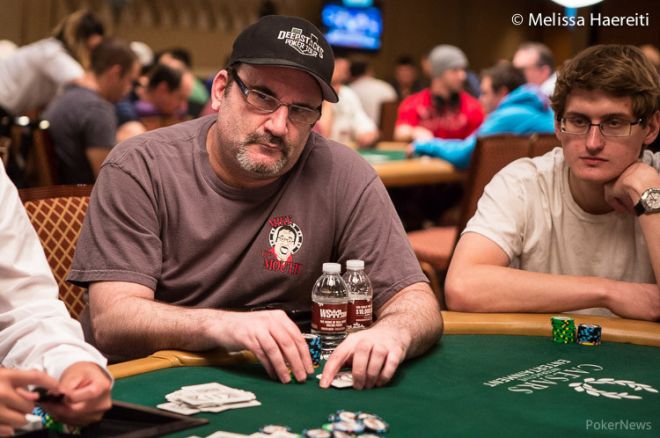 PokerNews introduced the My First series on the European Poker Tour earlier this year, interviewing Joe "Stapes" Stapleton, Jason Mercier and Eugene Katchalov about their debuts on the EPT. The articles were so well-received, we decided to carry the series into the 2014 World Series of Poker.
In our first edition from Las Vegas we caught up with four-time bracelet winner Mike Matusow, who incredibly placed second in the first WSOP event he ever played, a $2,000 Omaha eight-or-better tournament back in 1997. Although he fell short of the bracelet, the runner-up finish helped propel Matusow into one of the game's biggest stars.
PokerNews: Your first WSOP event was an Omaha eight-or-better tournament in 1997 — is that right?
Matusow: That's right. I came in second to Scotty Nguyen.
PokerNews: Were you excited about the second-place finish or were you disappointed not to win?
I was excited because back then bracelets didn't mean anything. I made a deal with an 11-to-1 chip lead. I took all but $15,000 of first-place money, Scotty got an extra $10,000 and Ted Forrest got an extra $5,000.
Then we just played and I was playing every hand. Scotty went on to win 11 straight hands or something but if I was trying to win, I wouldn't have just been gambling. All I cared about was the money. I was a dealer three months earlier and now I had $127,000, which was like $10 million to me.
I just remember that first $100,000 brick [of cash]. We were celebrating in the limo and I was throwing the brick, all wrapped up and sealed, to all my friends. It was a fun time, so when I finished second, I was really happy.
Bracelets didn't mean anything in 1997 and they really didn't mean anything until Moneymaker won in 2003. Then they started promoting the bracelets and they became a bigger deal. I guarantee I would have won this bracelet if I tried. I have had some other seconds and some other close calls.
PokerNews: So the summer started off great for you — did you play any other events?
No. I didn't even play the Main Event because I didn't know how to play no-limit hold'em at the time. I was a limit hold'em player. I remember sitting outside watching Stuey [Ungar] win the '97 event. I watched every hand outside in 120 degree weather.
The WSOP was in April that year and there was a heat wave. I was dying out there but I watched the whole tournament. I watched how Stuey played, how he raised and when he made moves. After that I staked Scotty in 1998 when he won the World Series. I didn't even play my first Main Event until 1999.
PokerNews: What made you decide to enter your first event?
I was a great limit hold'em player. I quit dealing in November of 1996 and I went out and got some backing for some of the big limit games and pretty much crushed it in 1996. When 1997 came around, I had never played Omaha before.
I was just annihilating the limit scene. I knew I needed to learn some other games and I went to my friend Mark Gregorich. He was a really good Omaha eight-or-better player. I still consider him one of the top five in the world. He gave me some pointers of what to do and I went and played an Omaha satellite and I won.
I decided I might as well play the tournament. I sat down with Mark for about a half hour and he gave me some pointers of what to play and how to play it. Then I used my instincts and my aggression and pretty much dominated. Since then, I ended up being one of the better Omaha eight-or-better players in the world.
I think I made seven WSOP Omaha eight-or-better final tables including winning the 2002 $5,000 Omaha Championship, which is one of my greatest accomplishments. I beat Daniel [Negreanu] heads-up; he had close to a 5-1 chip lead and if you read my book it talks about what I went through in that tournament. So I consider that my best accomplishment.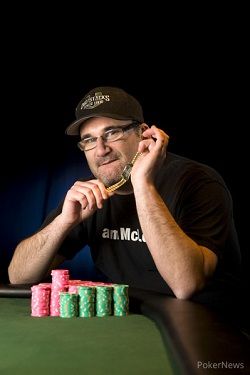 Then I won the stud eight last year. I'm a good eight-or-better player and I worked hard to become a great eight-or-better player. I'm a great no-limit player, too, but so is everybody else.
PokerNews: So is there something you know now that you wish you knew back then?
Yeah! A lot!
I wish I knew egos will break you, cards will make you. Don't be cocky. Don't take your opponents for granted. When you make big scores and big money, don't think it is going to keep coming. Don't think that you are better than everyone else and you are going to just win, win, win.
I've learned that poker is all about money management. It's not about beating the best players in the world; it's about beating the worst players in the world. It's about picking your spots, playing a good game and when the game is no good, getting up and quitting.
I learned all that, plus don't bet sports. I've lost about $6 million betting sports in my life. So yeah, I've learned a lot.
PokerNews: What kind of advice would you give to someone who is at the WSOP for the first time this summer?
Most of them will be 21, so I would say don't go out to the strip clubs drinking and partying and then think you'll come in and win a tournament. They all want to go out because it's what they all do.
If you want to win at the World Series, you have to come here and be prepared mentally. You got to get up two hours before the tournament. You've got to work out and eat right. If you get knocked out, go relax and get yourself mentally focused for the next day. And at the end of the World Series when you win a lot and when it's all done, then you go out and party. That's my best advice.
PokerNews: Was there one special memory from 1997 other than winning all that money?
I won a lot in the cash games. Back then the tournaments were - and they still are - for the suckers that can't play poker. So back then, you played two or three tournaments and then all you played was cash games. The cash games were phenomenal.
Now with the prestige of winning a bracelet and all the hype that goes with it and all the fields as big as they are, there's a lot to winning a tournament. I still play the cash games, but tournaments are a lot better now.
The greatest memory I have is throwing that brick around in the back of the limo. It was pretty exciting. If I tried to win it, I would have won it. I really didn't care about winning it. They gave me first place money. When they give you first place money, who cares about a bracelet? I was just raising without looking at my cards. Then when we got close in chips I thought I better try now. And then Scotty just zipped off six hands in a row. Scotty's like in the top three Omaha eight-or-better players in the world. It was an exciting time.
Get all the latest PokerNews updates on your social media outlets. Follow us on Twitter and find us on both Facebook and Google+!