World Cup Fever Hits the World Series of Poker
As every poker player knows, there's nothing quite like a tournament. Every participant in the field — from the underdogs to the overwhelming favorite — begins play with the same sense of hope and optimism, knowing that few fortuitous plays and a little good fortune can fuel them to a run at the title.
For forty-five years this maxim has been proven true under the searing heat and summer sunshine of Sin City, as the World Series of Poker brings the game's greatest players together to test their mettle in tournament play. And while the WSOP is undoubtedly poker's pinnacle in terms of tournament competition, for the next thirty days a tournament of another sort is set to capture the world's attention.
Thursday marks the opening match of the 2014 FIFA World Cup, with 32 nations sending their beloved soccer squads to Rio de Janeiro, Brazil for the 20th iteration of The Beautiful Game's most prestigious event. To mark the occasion, PokerNews chatted with a pack of poker pros who each hail from nations represented in the World Cup, with the goal being to find out if they will be focused more on the felt or the field.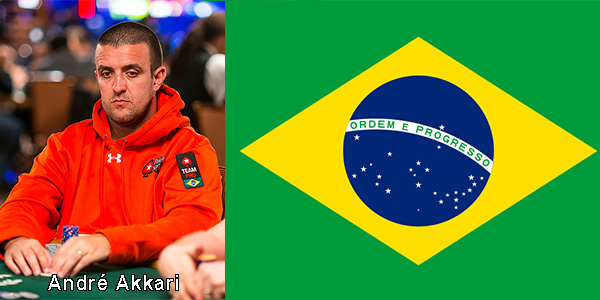 André Akkari: I'm very excited, very excited… soccer is a Brazilian passion, so we are all expecting a great performance from the Brazilian team. It's going to be nice.
(On his choice to come to this Rio and not Rio de Janeiro): It's my job, you know? I have to put some priorities in my life, think about my family and my wife, so I have to be here. The World Series is so important for the Brazilians, because if you win a bracelet, everything changes in Brazil. It's huge, so I have to be here. It's only one time every year, so I cannot lose that. My heart is there though, my heart is there.
(On Brazil's chances of winning a bracelet versus A Seleção's chances of winning the World Cup): It think that's easy: It's the Brazilian team winning the World Cup. I think that we are favored in the competition because we are playing in Brazil, and I think that nobody knows what happens in soccer in Brazil. Everybody has an idea, but nobody knows that the Brazilian stadiums have so much pressure and everything, so I think that we have a great chance to win.
(On the greatest threat to Brazil in the World Cup): I think Argentina and Spain. They are both good teams and they are used to having this kind of pressure. When they play in Latin America, like Argentina plays every time, Argentina plays in Brazil, Brazil plays in Argentina, so they know how to work with this kind of pressure. So Argentina's a good rival, and Spain, they have a great team, an amazing team, but I think England, Italy, Germany, Portugal, they are so good.
(On the U.S. team's chances of advancing): No, no (laughing)… I was trying to bet in the H.O.R.S.E. $10K event with a lot of people, Ivey and Daniel and everybody. I said, "OK guys, I'll give you 15-to-1 that you guys aren't going to reach the second round," but nobody took the bet!
Carlos Mortensen: I'm very excited about the World Cup, it's one of the things I like to watch most. Unlucky for me, it's always at the same time as the World Series, so its just whatever you can see on the TV screens here.
(On his rooting interests as a native Ecuadoran who resides in Spain): Yeah, hopefully Spain does good, and also I'm from Ecuador, and they are both in there so I'm rooting for both, whoever wins really (laughing). I know Spain has the bigger chances, but I will be happy for Ecuador if they do well.
(On his chances of winning a bracelet versus La Furia Roja's chances of winning the World Cup): Well, it's only 32 teams that are playing (laughing), so Spain has a very good chance. But I like my chances too.
(On his memories of Spain's triumph in the 2010 World Cup): Yes, I remember well. I was playing a tournament at the Bellagio that time. Actually, I play heads-up the day before against Marcel Luske. I beat him, and the next day Spain win the Cup. So we both win.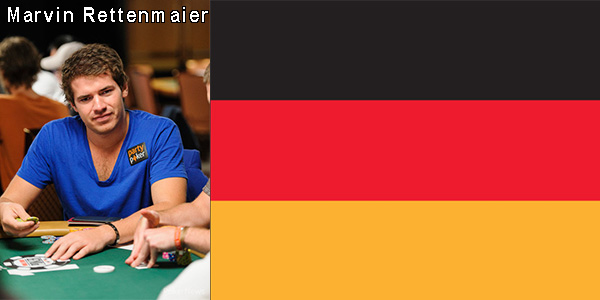 Marvin Rettenmaier: I'm very excited; can't wait to watch all the games at Hofbräuhaus here in Vegas. All the Germans always get together there, and it's always a lot of fun.
(On Der Manschaft's chances): I like our chances. Brazil has to be the favorite on paper… some weird paper (laughing), but in my head, it's definitely Germany. I think we're gonna win it this year. As far as feared opponents, it's not the U.S, has to be Portugal… but not really. I think we should be fine. We should be in the semifinals against Brazil.
(On Side Action): I don't yet, I've got to book it today. Guess I'm going to bet on Germany to win it, but then again, I'm so excited about it no matter what, so I don't even have to put money on it.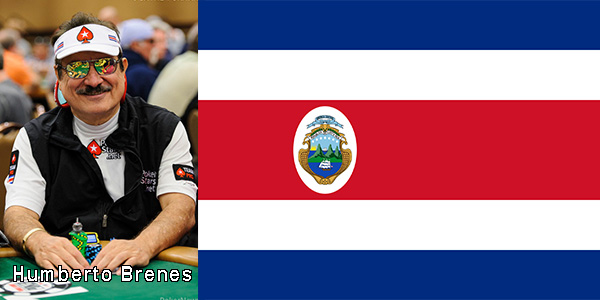 Humberto Brenes: I'm very excited, of course. Next Saturday, Costa Rica plays Uruguay… I'll win this tournament and then I'm going to watch them. Costa Rica plays in the World Cup and I play in the World Series.
(On Los Ticos' chances): I think they have a good chance. The group is very hard, but I think they can do that, get out of the group. It's not easy, but if Costa Rica can make it, I'll have a fun time.
(On his chances of winning a bracelet versus Los Ticos chances of winning the World Cup): Ahh, for Humberto it's very easy to win the bracelet. It's more difficult Costa Rica to make it.
(On side action): No, I bet only in poker, I don't bet casino, I don't bet anything. I only play for me, poker. I don't play roulette, I don't play basketball, nothing. No casino, nothing. Only poker.
(On his favorite player): In Costa Rica, the… how do you say? The portero. The goalie, yes, Keylor Navas, he's playing in Spain and he's a very, very good player. I think he'll take no more than three goals in the World Cup. No more than three goals. Put this in quotes: Maximum three goals for him.
Chris Moorman: I'm really excited; it's obviously something that only comes around every four years. I think England has got a better team than recently. We've got a lot of young, exciting players.
(On veteran Steven Gerard): Obviously it's his last World Cup, so hopefully he sort of gives it his best, he's a world class player.
(On England's chances of getting out of their group): It's a tough group, but it should be fun, and I can't wait to watch it with all my friends.
(On his chances of winning a bracelet versus the Three Lions' chances of winning the World Cup): Probably me winning a bracelet (laughing).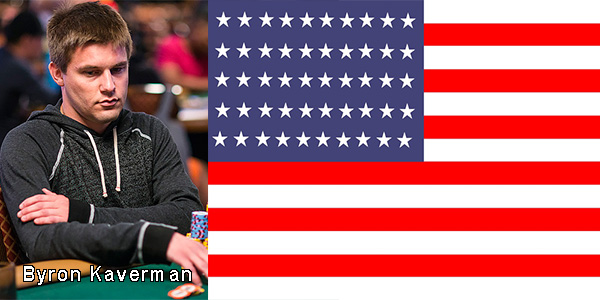 Byron Kaverman: The U.S. plays Ghana to start, and I think it's going to be a really great and exciting tournament. Brazil is probably one of the best, if not the best, location to have it. They love soccer down there and it's going to be a wild time. I think the South American teams are pretty jacked up and they have the advantage of playing down there. A lot of people I've talked to, and I kind of agree, think that it's likely to be a South American team that wins it.
(On The Yanks' chances of getting out of the "group of death"): Yeah, the group's pretty difficult and I think we match up bad against all the teams, but having said that, they seem to show up when it matters. They have a good coach, and players with heart, so I think they can do well against Ghana and hopefully run good in one of the other games and get through.
Follow PokerNews for continuing coverage of the World Series of Poker, and be sure to follow us on Twitter and find us on both Facebook and Google+!