The Nightly Turbo: Gambling Buddhist Monks Punished, PokerStars' 85 Billionth Hand, & More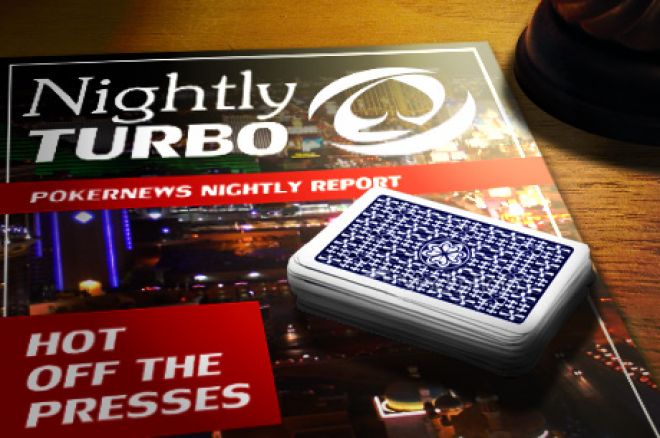 Before you start your weekend, we're bringing you the day's biggest poker stories from around the world. In this edition of the Nightly Turbo, we're covering the latest from the Buddhist monk poker scandal, PokerStars' 85 Billionth Hand promotion, and more.
In Case You Missed It
How was the high-stakes action at the PokerStars tables this week? Read the Online Railbird Report to find out the week's biggest winners and losers.
In 1981, Perry Green finished runner-up to Stu Ungar in the World Series of Poker Main Event. Green recently sat down the Chad Holloway for the latest Where Are They Now piece.
Is your fantasy football draft coming up? The Pigskin Diaries can help you prepare. In the first edition of the 2012-13 season, Rich Ryan takes a look at some quarterbacks to keep an eye on.
Did you miss anything from the past week? Don't worry, we've got you covered. Lynn Gilmartin breaks down all the big stories in the PokerNews Weekly.
Buddhist Monks Fined
Two Buddhist monks have been fined 2 million Korean won ($1,775) each for illegal gambling after video footage of their high-stakes poker game found its way to television stations in May.
Prosecutors launched an investigation after eight monks were caught gambling, smoking and drinking at a luxury hotel in April. The incident took place after a gathering for a fellow monk's memorial service. Video footage of the game found its way to television stations after a fellow Jogye monk named Seongho released it to the media.
Meanwhile, the monk who filmed the game and the engineer who set up the camera were given suspended prison sentences for breaking into the room and damaging property while trying to install the camera.
Gambling is illegal in South Korea outside of licensed casinos and racetracks. The activity is especially frowned on by religious leaders. Six monks resigned from the Jogye order over the scandal.
Here's a look at the video if you missed it the first time around:
The Bangkok Post has more.
Another PokerStars Milestone
PokerStars is about to hit another milestone en route to its "Road to 100 Billion" promotion. On Friday, the world's leading poker site announced that it will be dealing its 85 billionth hand in the near future. To celebrate the momentous occasion, PokerStars will be giving away up to $1 million in prizes!
More than 300 players will cash in on the promotion, with prizes being awarded to players dealt into every one-millionth hand from 84,700,000,000 to 85,000,000,000. The winner of the Mega Milestone hand will collect at least $20,000, so if you're playing in a regular ring game next week make sure that you keep an eye on the lobby for the real-time count on the number of hands dealt.
In May, Spanish player "funex700" was the lucky winner of the 80 Billionth Hand promotion. He made runner-runner two pair after getting all of his chips in with eight other players at a $.25/.50 no-limit hold'em table to collect a $179.88 pot, plus an additional $22,940 for the winning the promotion. Everyone else at the table collected at least $10,000 just for being dealt in.
For more information on the 85 Billionth Hand promotion, check out PokerStars.com.
Honoring the Brits
Organizers of the British Poker Awards have unveiled nominees for their annual awards show next month. The event, sponsored by Genting Poker and the English Poker Open, showcases the U.K.'s biggest poker stars vying for more than a dozen different honors.
Some of the awards up for grabs this year will be Best Cash-Game Player, Best Tournament Player, Best Online Player, and Player of the Year, which will be voted on by a panel of judges. Ten of the honors will be voted on by the public at the organization's website.
Several British players have earned multiple nominations in 2012, including Sam Trickett, Chris Moorman, Chris Brammer, Neil Channing and Vicky Coren. Trickett, Moorman and Coren each won awards in 2011, but Jake Cody collected the most hardware after being honored with the Best Tournament Player and Player of the Year awards.
This year's ceremony will take place on Monday, Sept. 17 at 17:30 BST aboard the H.M.S. President Boat.
To place your vote on each category, visit TheBritishPokerAwards.com.
LAPT Medellin
Day 1b of the PokerStars Latin American Poker Tour Medellin Main Event came to a close on Thursday. When registration ended there were 218 players in the field, and 71 of them advanced to Day 2 to join the 43 who survived Wednesday's Day 1a.
Colombian player Ruben Ospina ended Day 1b as the leader with 171,300 chips. Ospina bagged nearly 50,000 more chips than his next closest competitor and was the overall leader heading into Day 2 on Friday. Among the notables who survived with Ospina on Day 1b were Team PokerStars Pros Humberto Brenes (105,200 chips), Angel Guillen (75,000), Andre Akkari (34,600) and Nacho Barbero (15,200).
Here's a look at the top 10 stacks from Day 1b:
| Place | Player | Chips |
| --- | --- | --- |
| 1 | Rubén Ospina | 171,300 |
| 2 | Steven Escobar | 126,900 |
| 3 | Rafael Moraes | 122,000 |
| 4 | Daniel Hurtado | 119,000 |
| 5 | Humberto Brenes | 105,200 |
| 6 | Carlos Camargo | 103,100 |
| 7 | Raúl Paéz | 91, 000 |
| 8 | Diego Mura | 90,400 |
| 9 | Miguel Cichi | 86,100 |
| 10 | César Quengua | 80,600 |
We'll have a full recap of LAPT Medellin in Monday's edition of the Nightly Turbo. For live reporting from the event, visit the PokerStars Blog.
Help Casey Jones
We were stunned to learn on Friday that Casey Jones, a popular floorperson for the World Series of Poker, fell into a coma last week while traveling through New Mexico. Jones is currently in ICU in Las Cruces and is struggling to survive. Doctors have informed his family that there is little or no hope for any sort of recovery.
A fund has been set up by Casey's family to ensure that he is comfortable in the coming weeks. Additionally, Casey has two young girls that depend on him. While his family prays for his miraculous recovery, they face insurmountable debt.
If you'd like to learn more about Casey or make a donation to his fund, please visit his page at GiveForward.com.