The Nightly Turbo: PokerStars' Crackdown Continues, Belgium's Blacklist Grows, and More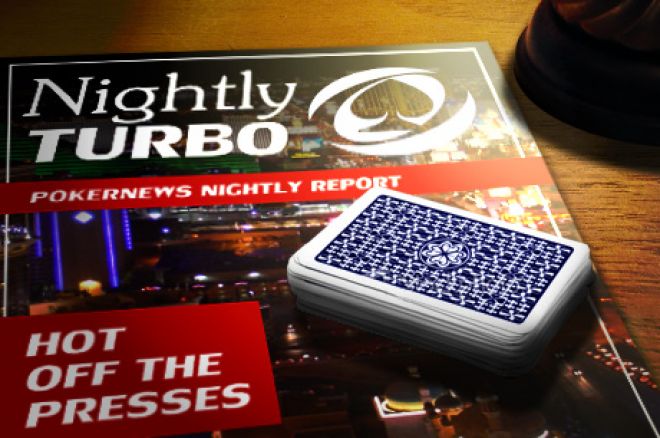 Buddhist monks busted playing high-stakes poker? Yes, that actually happened this week. We've got that story, plus more action taken by PokerStars against third-party tracking sites, in this edition of the Nightly Turbo.
In Case You Missed It
Viktor "Isildur1" Blom was eyeing a third SCOOP title on Thursday. Was he able to lock it up? Find out in the Day 5 SCOOP recap.
How was the high-stakes action at the PokerStars tables this week? Read the Online Railbird Report to find out the week's biggest winners and losers.
Daniel Negreanu released his Weekly Rant on Friday. This week, Kid Poker discussed SCOOP, the World Series of Poker conference call, and more.
@AsianSpa was back with his latest blog on Friday. This week he talks about the new Palms poker room, the Iceman's absence from the Aria cash games, and more.
To honor the return of celebrations at this summer's WSOP, Rich Ryan listed the 10 greatest celebrations ever filmed at the WSOP. Visit The Muck to see the list.
Did you miss anything from the past week? Don't worry, we've got you covered. Kristy Arnett and Sarah Grant break down all the big stories in the PokerNews Weekly.
Don't Mess with PokerStars
PokerStars' crackdown on third-party poker tracking websites continued this week when Sharkscope and Official Poker Rankings (OPR) complied with requests to operate only as an opt-in service for customers.
PokerFuse reports that Sharkscope and OPR have already implemented the new policy after making announcements on their websites. Both popular services have tracked online tournament results for years across a multitude of online poker rooms. PokerStars, however, has determined that the ability for players to extract information about new opponents ultimately creates an unpleasant environment, especially for the novice player. SharkScope and OPR had been using the opt-in method on a trial basis since 2009.
Earlier this year, PokerStars issued a cease and desist notice to data mining site Poker Table Ratings, which removed the profiles and statistics of all players on the site. Poker-Edge, another tracking site, followed suit a short time later.
PokerFuse has more.
European Sites Added to Belgian Blacklist
Internet service providers in Belgium have been ordered to block more online gambling providers from offering services to residents in the country.
The Belgian Gaming Commission has blacklisted Bwin, Betsson, Betfair and William Hill, along with several other operators that offer online poker and other forms of online gambling. Those providers join the likes of 888, TitanPoker, EverestPoker and ChiliPoker in being blocked in Belgium.
Under the new Belgian Gambling Act, players are only allowed to play on licensed sites, and the nation's four largest Internet service providers are in the process of barring unauthorized domains. PartyPoker.com and iPoker, two of the biggest online poker sites in the world, have called the Gambling Act "unenforceable" because it leaves issues of taxation unresolved.
Three sites were granted licenses in February: PokerStars.be, Partouche.be and Casino777.be. PokerStars secured a license after developing a partnership with online casino operator Circus Groupe, allowing the world's leading poker site to operate under the regulation of the Belgian Gaming Commission.
Read more at eGaming Review.
Buddhist Degens
Six monks have resigned from South Korea's largest Buddhist sect after they were discovered drinking, smoking and playing illegal high-stakes poker in a luxury hotel last month.
The incident allegedly happened after a gathering for a fellow monk's memorial service. Video footage of the game found its way to television stations after a fellow Jogye monk named Seongho released it to the media. Seongho told Reuters that the gambling monks played for 13 hours and wagered more than $875,000 during the poker game.
Gambling is illegal in South Korea outside of licensed casinos and racetracks. The activity is especially frowned on by religious leaders.
To our delight, The Micros shined some humor on the scandal: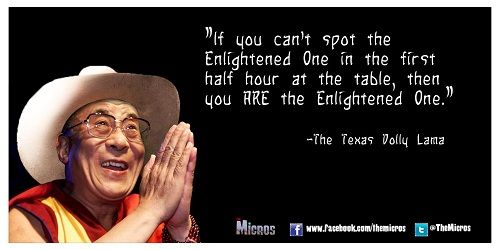 Reuters has more on the story.
Eyewear for the WSOP
The World Series of Poker has extended its deal with Blue Shark Optics through 2015. The partnership allows Blue Shark to resume its role as the "Official Poker Eyewear of the WSOP."
"We are extremely pleased to be able to extend our current sponsorship agreement with the WSOP" said Blue Shark Optics executive director Kerry Karoutsos. "Being able to extend our relationship with the WSOP is a development that our company views as a significant affirmation that we provide a quality product to the poker community."
The Florida company manufactures eyewear designed specifically for poker and even designs sunglasses specifically for poker players. Chris Moneymaker, Hoyt Corkins, Jonathan Little and Humberto Brenes are among the players who endorse the company and its products.
For more information, visit the Blue Shark Optics website.
Isildur's Double Duty
Viktor "Isildur1" Blom's second SCOOP win was uploaded to PokerStars.tv on Friday. Blom collected $160,000 after besting a tough final table that included Clark "snake8484" Hamagami, Iulian-Georgian "Ruxandescu" Ruxandescu and Alexandre "BiatchPeople" Luneau. Here's the recap of the action:
Follow PokerNews on Twitter for up-to-the-minute news.