The Weekly Turbo: Trickett and Cates Sponsored, Hellmuth's Odds to Win #12, and More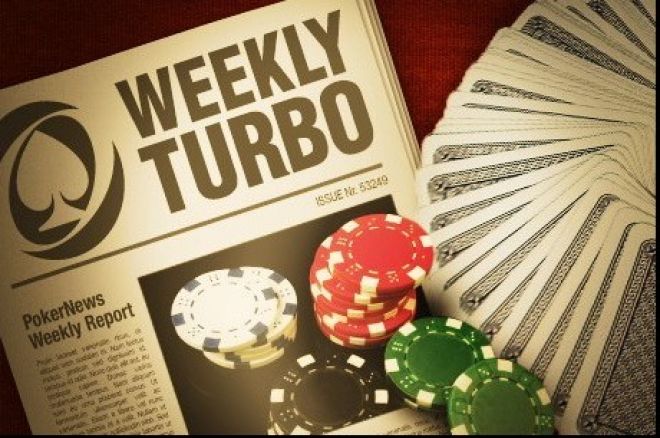 Did you miss any of the top poker news stories this week? Well you've come to the right place to get caught up. We're covering Sam Trickett and Dan "Jungleman" Cates being sponsored for the WSOP, Phil Hellmuth's odds to win his 12th bracelet, and more.
Poker Players
Perfect Match
Matchbook.com doesn't have an online poker room, but the betting company has loaded up with high-profile pros to sponsor during the 2012 World Series of Poker.
The site, which is striving to become the top destination for all poker betting, has put together a team of ten poker pros during the two-month poker festival in Las Vegas. The team is starred by Sam Trickett and Dan "Jungleman" Cates, both of whom are considered among the toughest cash-game players in the world. Trickett also has a striking tournament résumé and will be playing in the $1 million buy-in Big One for One Drop tournament during this summer's WSOP.
"It was an easy choice partnering with Matchbook for the WSOP," Trickett said. "Not only are all the players extremely talented but the majority of the team is also very good friends. It's a unique environment to have as a poker team but provides us all with added support. I'm sure we are all going to have a fun and profitable summer together."
Other members of Team Matchbook are WSOP bracelet winners JP Kelly and Matt Perrins, Roberto Romanello, James Akenhead, Martins Adeniya, Ben Vinon, Jarred Solomon and John Hewitt.
Read more right here at PokerNews.com.
Bet on the Poker Brat
It's been five years since Phil Hellmuth last won a World Series of Poker bracelet. Last year, Hellmuth nearly missed out on his 12th piece of hardware three times.
So, is 2012 his year?
According to PKR.com's World Series of Poker betting market, the "Poker Brat" was an odds-on favorite to win No. 12 at this year's series. Before the WSOP kicked off last week, Hellmuth was listed at 4/5 to win an event as PKR says it expects Hellmuth to "exact revenge this summer."
Other WSOP markets offered by PKR include whether a female will win the Main Event or reach the Main Event final table; age or nationality of Main Event champion and Main Event final table chipleader; Main Event field size; and nation match betting.
If you want to place a bet on the WSOP, you can find all of PKR's betting markets at PKR.com.
Online Poker
Bwin.Party Launches Social Gaming Strategy
Online gambling giant bwin.party has launched strategy that will see the company invest up to $50 million over the next two years in a new social gaming platform.
This week, bwin.party broadened its reach into social gaming by acquiring gaming developers Velasco and Orneon. Bwin.party says that the $23 million purchase for the companies covered several existing business-to-business social gaming contracts and significant software engineering resources.
The investment will include the establishment of a social games studio called Win, which will develop and launch social games, as well as a dedicated social gaming technology platform.
Bwin.party's first social gaming product will be a poker-based product followed by a casino and sportsbook application by the end of the year.
Commenting on Wednesday's announcement, bwin.party co-CEOs Jim Ryan and Norbert Teufelberger said: "We have chosen a 'build and partner' strategy, one that provides us with both the resources and additional management expertise to execute our planned extension into social gaming — an exciting and fast growing area of digital entertainment that is the latest addition to our business strategy."
Read more at bwin.party.com.
PokerStars Aims to Please
After taking player requests into consideration, PokerStars has decided to make a few changes to its VIP system to benefit its valued customers.
PokerStars' Head of Home Games Lee Jones unveiled the changes in a TwoPlusTwo thread on Wednesday. Starting June 1, PokerStars will be releasing VIP bonuses quicker than ever before, all the way from the bronze VIP level to Super Nova Elite.
| VIP Level | USD | FPP | USD/FPP | % Reduction |
| --- | --- | --- | --- | --- |
| Bronze | $10 | 1,000 | 0.01 | 60% |
| Silver | $25 | 2,250 | 0.011 | 50% |
| Gold | $75 | 6,250 | 0.012 | 75% |
| Platinum | $200 | 15,400 | .013 | 69% |
| Supernova | $600 | 40,000 | 0.015 | 60% |
| Supernova | $1600 | 100,000 | 0.016 | 60% |
As you'll notice, under the new VIP system, a Bronze player can cash in 1,000 FPPs for $10. The previous exchange rate for Bronze players was $25 for 2,500 FPPs. The change means players are getting a 60 percent reduction with the new system.
For a closer look at the PokerStars VIP system, visit PokerStars.com.
A Change in Domain
On Wednesday, PokerStars players in the Netherlands were greeted with surprising news when logging into the world's leading online poker site.
PokerNews.nl reports that all players in the Netherlands were transferred from pokerstars.com to the new pokerstars.eu. The software and game selection are virtually identical to the dot-com version, but the purpose of the switch to PokerStars.eu is to address the taxation of gambling winnings in European countries.
The pokerstars.eu site first opened in Sweden and Finland, where players were previously taxed on up to 50 percent of their online gambling winnings earned outside of the European Union. The Netherlands is the latest country to enter the jurisdiction, and other EU nations are expected to follow.
Players on pokerstars.eu still have access to the same games as the dot-com site, and tournament guarantees remain unchanged. Players in the Netherlands who use the PokerStars Mobile app must download the new pokerstars.eu client and delete the old one, according to PokerNews.nl.
For more, read the story by our good friends over at nl.PokerNews.com.
The Revolution is Now
On Thursday, Lock Poker officially exited the Merge Gaming Network and combined with the Cake Poker Network to launch the Revolution Gaming Network. Lock purchased Cake earlier this year to create a new network aimed at "driving technology, marketing, player rewards and implementing a richer tournament schedule."
Lock Poker players had smooth transition to the new network when it opened. The new software was available on May 31, and players' real-money balances and VIP points were left right where they left them in the Lock Cashier.
As expected, the shift to the newly rebranded network had a considerable impact on the traffic at Merge on Thursday. Lock Poker was the largest skin on the Merge Network, accounting for 40 percent of Merge's traffic. At one point on Friday, Revolution had more real-money players than Merge, according to tracking site PokerScout.com.
Poker Legislation
Licensed and Ready to Roll
Online poker in Spain will have a completely new look starting this month. On Friday, we began to see how the new regulated online gambling space is going to take shape.
PokerStars, bwin.party and 888 were among more than a dozen companies awarded operating licenses on Friday. Under the new gambling guidelines, all licensed operators will be permitted offer legal online gambling under a "dot-es" domain. The online poker player pool will segregated initially, meaning players in Spain may only play against other residents of the country.
"We are happy to confirm that PokerStars was today granted a license to operate in Spain and we plan to launch www.PokerStars.es on June 5,"said PokerStars spokesman Eric Hollreiser. "For now, Spanish players can continue to compete on www.PokerStars.com as normal and don't need to take any action.
"As always, PokerStars is committed to providing players with a superior customer service, software and security. You can rest assured that your funds in this transition are totally safe and available. We will provide more details on the transition next week."
The Spanish Gambling Commission has not provided a list of licensed operators, but Ladbrokes, Betfair, Codere, Cirsa, Jaxx, bet365 and Sportingbet are among the companies that have confirmed their license approvals.
For more, read our story here at PokerNews.com.
California Divided on Internet Poker
A new survey conducted by USC Dornsife/Los Angeles Times shows that California voters are nearly split on the prospect of legalized intrastate online poker.
More than 1,000 registered voters were questioned between May 17 and 21 about online poker and other forms of gambling. The poll showed that 47 percent of voters would favor legalization of online poker if the activity could raise money toward education, public safety and other government services for the cash-strapped state.
The Los Angeles Times reports that many of the polled voters were concerned about problem gamblers setting a bad example for young people.
In February, California Sen. Darrell Steinberg (D-Sacramento) and Sen. Roderick Wright (D-Inglewood) introduced a bill that would allow online poker to be played within the state. The Internet Gambling Consumer Protection and Public-Private Partnership Act of 2012, also known as SB 1463, seeks to generate hundreds of millions of dollars for the state in the fiscal year 2012-13.
Read more at the Los Angeles Times.
Aussie Aussie Aussie!
Legalized online poker in Australia is moving closer to realization now that new proposals have been introduced to the 2001 Interactive Gambling Act.
In a report issued this week, Communications Minister Stephen Conroy argued that regulating online gambling could help protect gamblers that are currently wagering about $1 billion per year with illegal offshore operators. The new proposals include self-exclusion from gambling websites, pre-commitment warning, and easily accessible data telling gamblers how much they are winning and losing.
Conroy stressed that the proposals were only in the interim stage and the government had made no decisions, but it is certainly a step in the right direction for Australian poker players.
Online gambling has been illegal in Australia since the mid-1990s, but offshore sites have been able to work around Australian legislation. The government hasn't charged any offshore operators with violating the Interactive Gambling Act since it was introduced more than a decade ago.
The Daily Telegraph has more.