Pigskin Diaries: Fantasy Football Help (Quarterbacks)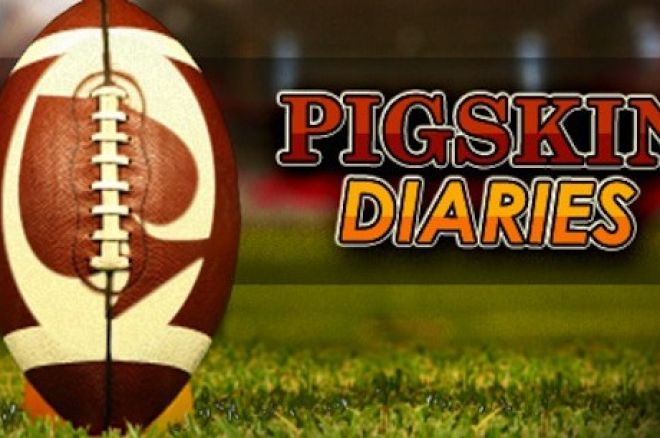 In less than a month, the New York Giants and the Dallas Cowboys will kick off the 2012-2013 National Football League regular season. Why is that relevant? Well, over the next three weeks, countless poker players will be preparing for and attending their fantasy football drafts.
There's no question that sports betting — especially fantasy sports betting — is prevalent in the poker world. Not all leagues are as baller as Daniel Negreanu's $25,000 fantasy poker league during the World Series of Poker, but there are several four- and five-figure leagues that run. In fact, the poker community learned about Erick Lindgren's debts because he hadn't paid his entry for a high-stakes fantasy football league.
Former professional poker player Taylor Caby is perhaps the ultimate example that shows fantasy sports matter in our industry. He is founder and CEO of DraftDay.com, a real-money daily fantasy-sports website. He joined us on the PokerNews Podcast to talk about the site, the link between daily fantasy sports and poker, and the future of fantasy sports.
Still don't believe me? Just troll Twitter on a Sunday afternoon during the NFL season.
Every Friday during football season, we'll be bringing you the Pigskin Diaries right here in The Muck. Every week, I'll make my selections against the spread and give a little fantasy advice. Last year, we finished 129-115-12 ATS in the regular season, and 6-5 in the playoffs.
During September, however, the focus is solely on fantasy football. This week, we'll take a look at the quarterback position and examine who is undervalued (+EV) and who is overvalued (-EV).
+EV
Philip Rivers (Average Draft Position — Yahoo!: 69.8, ESPN: 60, NFL.com: 54.6)
Clearly, the three best quarterbacks in fantasy are Aaron Rodgers, Tom Brady, and Drew Brees. Among that group, Rodgers is number one, thanks to his mobility (he averaged 284 yards rushing and four touchdowns over the last four years), but if either Brady or Brees score more points than Rodgers this season, no one should be surprised.
With that said, if you don't draft one of these three quarterbacks, I suggest you wait. Matthew Stafford (ADP — 17.9, 13.1, 11.9) isn't a terrible selection if he falls to you at the end of the second round, and Michael Vick (ADP — 43.9, 31.6, 36.5) is interesting if he slips to you in the fourth, but more than likely, those players will be drafted earlier than they should be. Rather than waste a second-round pick on Stafford, I'd much rather have either Rob Gronkowski (far and away the best tight end in fantasy football) or a solid starting running back such as Matt Forte or Darren McFadden. Instead of taking Vick in the third, I'm jumping all over absolute workhorses Michael Turner or Steven Jackson.
The reason I use Stafford and Vick as exceptions is because they both have very high ceilings. If you choose to gamble and reach for them, then go ahead, but do so knowing that you're taking a risk. You can make the same argument for Peyton Manning (ADP — 50.7, 42.8, 49.4), who really looked like Peyton Manning in limited action against the Chicago Bears on Thursday night, but his injury risk is exponentially higher than Stafford's or Vick's.
Ultimately, what's the big difference between Philip Rivers and Stafford? Rivers and Vick? Rivers and either Manning? Using ESPN standard scoring, we can see that Stafford outscored Rivers by nearly 100 points last year, but Rivers scored 24 more points than Vick last season while Eli Manning outscored him by just 27 points. Coincidentally, the 2011-2012 season was one of Rivers' worst to date. He threw a career-high 20 interceptions, threw fewer than 28 touchdowns for the first time in four years, and lost a career-high eight games.
This year, Antonio Gates is fully healthy, and Rivers has a few new weapons including Marques Colston, Eddie Royal, Michael Spurlock, and Roscoe Parrish. If last season was Rivers at his worst, then he'll be a great value in the late fifth or sixth round.
Ryan Fitzpatrick (ADP — 124.5, 140.1, 146.4)
Unless you're playing in an insanely deep league, you're not drafting Ryan Fitzpatrick to be your starting quarterback. However, if you take anyone outside the big three, you'll need a backup. If you take Vick, Stafford, Peyton Manning, or Ben Roethlisberger, you'll definitely need a backup. Fitzpatrick flew out of the gates in fall 2011, throwing for 841 yards and nine touchdowns in the first three games. His production leveled out as the season progressed; however, he failed to crack 200 passing yards in six of his last 13 games.
In February, Buffalo Bills wide receiver David Nelson told CBS that Fitzpatrick "actually cracked a couple of ribs" during their Week 8 game against the Washington Redskins. In the three games after suffering this injury, Fitzpatrick completed just over half of his passes, throwing only two touchdowns and seven interceptions. Even with this terrible stretch, Fitzpatrick finished 12th in scoring at quarterback, besting Roethlisberger, Alex Smith, Joe Flacco, Alex Smith, Andy Dalton, and Josh Freeman – all of whom are being drafted ahead of Fitzpatrick.
The list of quarterbacks being taken in front of Fitzpatrick also includes Tim Tebow (a backup), and Andrew Luck (a rookie on a terrible team). Please, unless you're playing in a dynasty/keeper league, I beg you not to take either of these players before the Amish Rifle. He's accurate, he's consistent when healthy, and you can snag him very late in your draft.
-EV
Cam Newton (ADP — 12.8, 17.1, 11.1)
Oh, boy. While we love Killa Cam here at the Pigskin Diaries, drafting him in the first two rounds is a bit crazy. Sure, Newton wowed us as a rookie, throwing for over 400 yards in his first two games and finishing the season with 4,051 passing yards, 706 rushing yards, and 36 touchdowns. Over a third of Newton's touchdowns came on the ground, however, and that's what's concerning.
Newton isn't injury-prone (he's an ox, and the injury card is played far too often for mobile quarterbacks), but rushing quarterbacks tend to have less success in back-to-back seasons. Vick (2002, '05, '10) has rushed for over 500 yards and five touchdowns three times, Daunte Culpepper ('02), Kordell Stewart ('01), Donovan McNabb ('00), Steve McNair ('97), Vince Young ('06), and Randall Cunningham ('92) have all done it once. All seven quarterbacks failed to do it again the next season, and in six of the nine seasons, the quarterback failed to reach both marks.
In Newton's last four games last season, he ran for 188 yards, but only scored one touchdown.
It appears as if Newton will need his legs to be productive, as well. After Week 4, he never crossed the 300-yard passing mark, and in his last three games, he failed to throw for more than 171 yards in a single game. In fact, in the second half of the season, Newton threw for 1,658 yards, 10 touchdowns, and eight interceptions. That's very pedestrian.
Additionally, defensive coordinators have a season's worth of footage on Newton, and the rest of the NFC South has an entire training camp to prepare for the six games they play against the Carolina Panthers.
Killa Cam is extremely talented, but there is a ton of risk in taking him in the first three rounds, let alone in the first or second. I'll pass.
Eli Manning (ADP — 50.8, 31, 60.7)
The number that pops out here is the average draft position in ESPN leagues. In what universe is Eli Manning worth a 31st overall pick? If Manning goes before the fifth round, there's no chance I'll draft him in any league this season.
I think it's easier to discuss Manning's value in an auction-style draft. Let's say you're budgeted $200 for 16 roster spots. If you spend a quarter of your budget for Rodgers, Brady, or Brees, that's fine. They're clearly the best, and you're employing a sound strategy of "Stars and Scrubs." Conversely, Manning is in no-man's-land. He's not great, he's not terrible, he's just a bit above average. When you're in your auctions however, Manning might go for around $20, or 10 percent of your budget. Rivers, who we discussed early as being comparable to Manning, may go for half of that, giving you room to get stars at running back and wide receiver.
We talk about being results-oriented all the time in poker, and it applies in fantasy football, as well. Just because Manning is a two-time Super Bowl MVP, that doesn't mean he's an elite fantasy scorer. In terms of passing yards, Manning had by far the best season of his career last year, throwing for 4,933 yards. Before that season, his season average was 3,600 yards. He also threw for 29 touchdowns, compared to his previous average of 25 touchdowns, and threw a career-high 589 passes.
All of this being said, Manning still scored 112 points less than Rodgers, 107 points less than Brees, 79 points less than Brady, and, again, only 27 points more than Rivers. Not too impressive for an outlier season.
If Manning drops to you in the sixth or seventh round, grab him. But it's not going to happen, and you shouldn't reach for him.
Next week, we'll be discussing running backs. See you then!
Follow PokerNews on Twitter for up-to-the-minute news.