Former Politician Mario Adinolfi Talks Poker, Las Vegas and a Heads-up Battle in Europe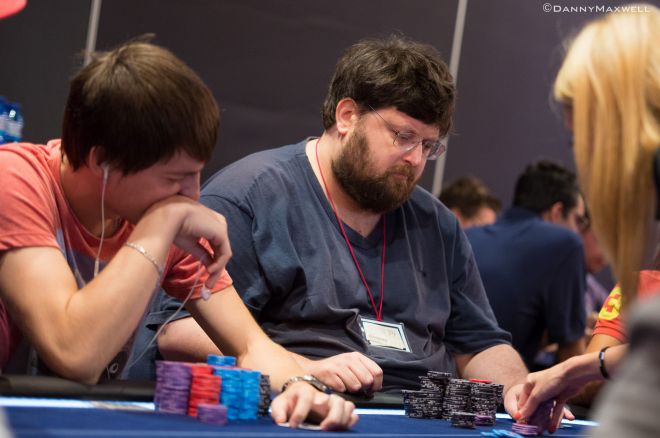 Although he may not fit the stereotype of the loud and fashionable Italian always ready to party, Mario Adinolfi is indeed a great representative of his generation.
A former member of the Italian Parliament, a journalist, and a TV political commentator, the 42-year-old Adinolfi is a very well-known face in the live poker circuit with appearances (and results) in many tournaments across Europe and U.S.
As the first Italian to ever reach a World Poker Tour final table (Venice, 2009), Adinolfi sits comfortably in the top 100 of Italy's all-time money list, with live tournament winnings of approximately $350,000.
In 2012 Adinolfi expressed all of his love for poker in what he claims to be Italy's first ever poker romance, when he defended the game in the Italian Parliament by trying to make the assembly understand the differences between poker and games of chance.
"Mr. President," he said in his speech, "if you and me would get a chance to play poker against each other, I would probably win — as I am not too bad at it. But if we would go to a shop and buy one scratch card each, in that case you may even get luckier than me and win."
Adinolfi has also competed at the World Series of Poker in Las Vegas, making his debut there in 2007. He managed to score the first WSOP cash in his career this year with a 139th-place finish in Event #56: $1,000 No-Limit Hold'em worth $2,272. He also played in the Main Event but busted during the fourth level of Day 1a.
We caught up with Adinolfi during his time at the World Series to discuss about his great love for Las Vegas as well as a heads-up match Adinolfi believes is crucial for Europe's future.
PokerNews: I know you have some special feelings for Las Vegas, and I guess that's also why in 2013 you decided to marry your wife Silvia there. So, I wonder, what is Sin City to you?
Adinolfi: Las Vegas is my Pleasure Island. It is an incredible and very unique place that can't be imagined by those who haven't been there.
What I find truly amazing about it is to see how people managed to create such an impressive tourist destination right in the middle of the desert. To me, Las Vegas is a great example of what mankind can build out of nowhere.
Yet Las Vegas is one of those places that really need to be experienced to be fully understood. Those who don't know it are inclined to think of it as a kitsch and tasteless city, but the truth is that this place is the exaltation of the human, of his creative abilities. This is what makes it absolutely fascinating.
Let's imagine we wanted to give advice to someone who is discovering Vegas for the first time. What would you recommend him to do, when not at the WSOP tables?
To enjoy it, as to me there is no better place than Vegas for some good holidays. And this is also because this city is not only about poker or gambling; even my wife, who does not play poker at all, has everything she likes in here.
Although many people tend not to see it that way, I do consider Las Vegas to be a very women-friendly city. After all, it also offers a one-of-a-kind shopping experience that can't be found anywhere else in the world.
And we haven't mentioned the entertainment side of it yet. How nice is it to be able to choose between seven or eight Cirque du Soleil shows running at the same time? Or, where else would you find three different Gordon Ramsey restaurants to choose from?
The truth is that Las Vegas has so much to offer, that playing poker sometimes becomes nothing more than a detail.
During the past few years, in Europe we often spoke about the opportunity to create "our own" version of Las Vegas. First it should have been Sheldon Adelson's EuroVegas, and now it may be Barcelona World's turn. Do you think that we Europeans will ever be able to recreate something with the same spirit as Sin City?
No, never. Frankly speaking, I really don't think so. From a cultural standpoint, we are very far from what it would take to build that, and perhaps this is not necessarily a bad thing.
Europe is Europe, and the United States are the United States. We also have to say that they had the option to start from a strip of desert, and build a city like Las Vegas on it. In Europe, we probably would not even have room for something like this.
Just think about Italy. In such a small country there are about 8,000 different municipalities. How exactly would you fit a new Las Vegas in there?!
And, please, let's not forget that Las Vegas is also state of mind, a space of freedom that in Europe would be inconceivable. You know, if I think carefully about it, I guess I would not even want anything like Las Vegas in Italy.
I like the idea of going there once a year for the World Series of Poker, and enjoy what the city has to offer. And I am quite sure that this offering is neither exportable nor reproducible.
Now that you have mentioned the World Series, I have to say that talking to you about that, it brings my mind back to an infamous moment in 2007 when the security took you out of the tournament room because you were filming around with your phone. Are you planning on doing anything like that this year as well?
Those were different times. It was the beginning of the World Series of Poker as a pop event. Before that, the Series was something for a small community of players, but that year everything started to change.
I would say that 2007 was a year that has changed a lot for the WSOP — just think that in 2007 I even found myself at a table with Ben Affleck. That was when the WSOP became mainstream.
This is actually one of the things that I always try to explain to those friends who come with me to Vegas, especially those at their WSOP debut. "When we will come back home from Vegas," I usually say, "We will look back on how absurd the moments we lived as if they were absolutely normal."
Walking through the corridors of the Rio and meeting an icon of the game like Doyle Brunson — where else do you think that could ever happen?
Allow me to pose a political question to you, as I would like to hear your opinion on something I have discussed with Tony G in a talk we had right after his election to the European Parliament.
Talking about the future of the European Union, we came to the conclusion that Europe's road to recovery looks a lot like poker game, with super tight players such as Germany and the Nordic countries playing against extremely loose players such as Italy, Spain, and Greece. Who do you think is playing the best game?
If you want to discuss European politics using a poker analogy, I would say that we have reached a very important heads-up.
At one side of the table there is Germany's Angela Merkel, while at the other side there's Italy with its Prime Minister Matteo Renzi. And please, allow me to say that it has been a miracle for us to go this far.
One, Merkel, is a member of a center-right conservative party — a woman who believes that austerity policies are the only way out of the crisis. And this makes her a very tight player. Then we have this new young guy, who in some ways could also correspond to the figure of the grinder who transitions to the live tables from online poker. He has joined the game to challenge the "old guard" and try to change their policies — even if he is doing so with a very small starting stack.
Renzi is a bit more loose than Merkel, but I would not call him an aggressive player. Yet, he always knows when it's the right time to change his strategy and attack his opponent, and I believe this skill could make a difference for the whole Europe.
This heads-up is going to shape the future of the European Union. Should austerity win, things will go in one way. Should the victory go in Renzi's direction, then I believe we would be at the beginning of something very new and very different for the whole Europe.
Yet, this is going to be a long and tiresome heads up, something along the lines of the nine-hour match Antonio Bonanno played at the European Poker Tour in Montecarlo. It will be long and hard, as it's the final act of a game played between two very different ideas of what Europe is supposed to be.
The game is now in the hands of the Italians. Until some time ago, France was in the seat we occupy now, but now it's our time. Now it's up to us to show all of Europe that we have the skills to play this game. And win it.
Get all the latest PokerNews updates on your social media outlets. Follow us on Twitter and like us on Facebook now!