Jonathan Dimmig Discusses $1.3M Score, Returning Home to Niagara Falls for Summer Slam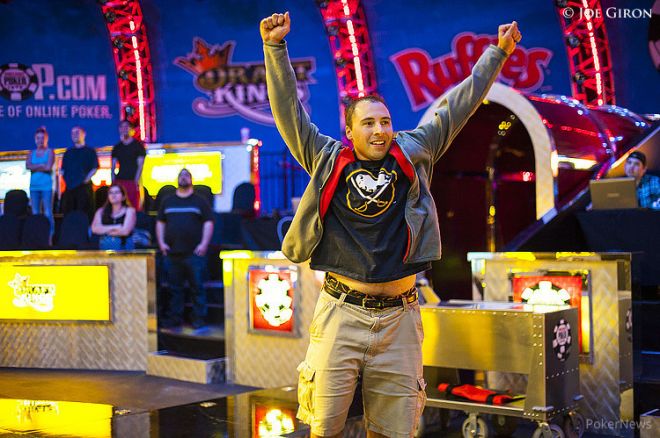 Poker pro Jonathan Dimmig will make a long-awaited return to his home casino in Niagara Falls, NY this week. Needless to say, his life is a bit different now than the last time he stepped foot inside the Seneca Niagara poker room two years ago.
Last month, Dimmig won the $1,500 Millionaire Maker event at the World Series of Poker, outlasting a massive field of 7,977 entries to collect more than $1.3 million. The Buffalo, NY native earned the first seven-figure score of his career in front of a group of close-knit poker players from the Niagara Falls area, all of whom were on his rail throughout the final table.
Dimmig, who moved to Las Vegas in 2012 to pursue poker full time, will surely receive a warm welcome home this week for the annual Summer Slam series. The seven-event festival runs from July 25 through August 3 and is expected to draw many of the Niagara Falls region's most talented players.
We sat down with Dimmig to talk about how he got started playing poker, his connection to the Seneca Niagara poker room, and how his bold decision to turn pro paid off.
First off, can you talk about your development as a poker pro? How and when did you decide to move to Las Vegas to play full time?
I started in the game when I was in college, so maybe around 2004. I saw one of my roommates playing online on partypoker and asked him about it. He gave me a little introduction and I started dabbling in it.
I got involved that way, but then I started playing live. Even though it was really good times on the Internet back then, I was so busy with school and other stuff that I just played a little bit online and sometimes on the weekend I would travel into Buffalo for live games. And then I played part-time mostly at Seneca Niagara after I graduated because I was working full time for about eight years in Buffalo.
Then, almost two years ago, I made the decision to quit my job and give full-time poker a try out here in Vegas. It's something I thought about for a while; it wasn't just a whimsical decision. I had been making decent money part-time for a while so I decided to just give it a shot.
And your wife was on board with this plan?
Yeah, she was. We've been together since back when I was playing online in college and we talked about it for a long time because it's such a big decision to quit a guaranteed, decent-paying job and move away from all of our friends and family who were still in Buffalo. So it was a pretty big decision for us considering we knew nobody out here and we didn't know financially how it would be for poker.
But we didn't have kids, so we figured if there was at a time in our life where we could pick up and do something like that, the time was now. She found a job in Vegas as a dietician and then we made the move.
What was your poker schedule like in Las Vegas? Did you grind cash games or were you playing tournaments around Vegas?
I played a bunch of tournaments, but I wasn't a tournament grinder. I would say I was more of a cash-game grinder and my philosophy was to take a portion of the winnings I had from months as a cash-game player and apply them to any good-value tournaments in Vegas. For example, the Venetian DeepStacks, Wynn's special series every few months, and a handful of tourneys at the WSOP like the Millionaire Maker and the Monster Stack.
As far as tournament results go, I'd never had a huge, huge win before. I think my biggest win was two or three years ago at Turning Stone where I cashed third place for a little under $50K. I had a handful of wins between Turning Stone and Vegas in the $15K to $20K region, but nothing monstrous. I was basically grinding cash games to give myself shots at tournaments.
So then you win the Millionaire Maker this year. Talk me through that experience and what that meant to you.
Oh man, it was crazy. Fortunately I had a good week at the cash games beforehand, so it gave me added confidence and it was easier to buy into the tournament.
Going into it I wasn't buying in expecting to make the final table or even win the event. I was trying to get a good cash under my belt. Previously, I hadn't really had any decent cashes at the WSOP, so my goal was to make it through Day 1, then Day 2, and just try to get a cash. But on Day 2, I had a dream-come-true type of day; I think I ended the day as co-chip leader and that set me up for a really good chance at a deep cash.
I was able to get to the final table on Day 3 and came in with a little under the average stack, but I knew I was already going to get a six-figure payday — bigger than anything I previously had — so my outlook was either way it's a good payday so I might as well go for the win. I may only have one chance at a big tournament like this in my life, so I'm going to go for it.
At the final table, you had a bunch of Niagara Falls guys on your rail. How cool was that, and do you stay close with a lot of them?
Yeah, I definitely do stay close with a lot of them. I've known those guys since my days in Buffalo. I played a lot of tournaments with them and anytime they come out here to Vegas we generally get together and trade strategies and ask how each other is doing. So when they got wind that I was going deep in a tournament, they all wanted to be there at the final table and support a fellow Seneca player.
It was great to have them all there because they were rooting me on and giving me bits of strategy throughout the final table. I definitely had the biggest rail there and they were the loudest for sure — I think that gave me even more motivation to finish well.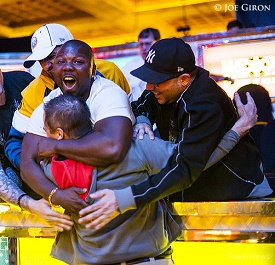 I know Travell Thomas had a little piece because he had a big smile on his face for weeks after that.
Oh yeah, he had a little piece. It was five percent, so he's happy with that.
Obviously you had a big piece of yourself in the tournament. Does it change your life in any way? Traveling more, playing bigger tournaments?
It's definitely changed my life for the future. I think it makes it a lot nicer for me options-wide to pick and choose what types of tournaments and cash games I want to play in. It's not like I immediately jumped up into high stakes — I took some weeks off after the long grind of the summer — but I think I'll be doing more traveling now and try to combine some vacations with good poker tournaments throughout the U.S. and maybe even the world eventually.
You're coming home to Seneca Niagara this week. How often do you come home and play there?
I actually haven't been back since I left. I was back in Buffalo once, but it was just to visit some friends and family for a weekend during the holidays. I'm really looking forward to coming back and playing there because I haven't seen the casino in a few years. I'm looking forward to the tournaments because I used to play in those for several years while I was living in Buffalo, so I know a majority of the people there and they know me.
How many events do you plan on playing there?
Well, I'm only in town for four or five days so I only have time for the Main Event, but it's possible I'll be playing in some of the cash games too because I'd like to reminisce with the people I used to grind the games with there.
Who's the toughest player you've played with at Seneca?
Honestly, Travell is a really good tournament player. Some other people have had success too like D.J. MacKinnon. Both of those guys are friends of mine and really talented tournament players. We trade strategies so we know each other's games pretty well. We're always trying to make each other better because we want people to come out of the Buffalo area and do well.
Be sure to follow our live coverage of the 2014 Summer Slam from the floor of the Seneca Poker Room from July 25 though August 3!