Angel Guillen Discusses Poker in Mexico as Gambling Reform Details Emerge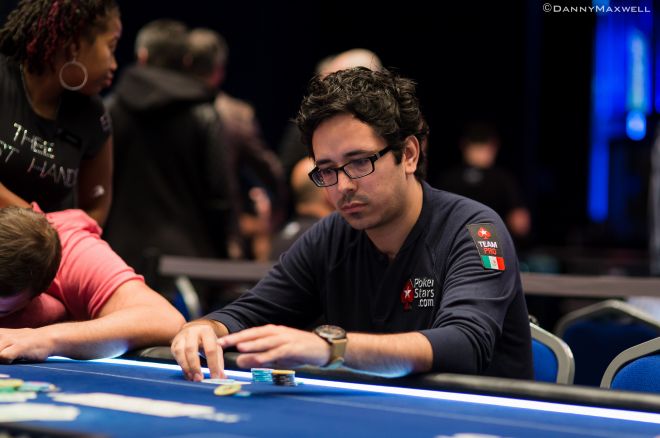 As the debate over Mexico's upcoming gambling reform continues in the national Parliament, former PokerStars Team Pro and WSOP bracelet winner Angel Guillen expressed his hopes that the new legislation will set the ground for a new poker boom.
Interviewed by PokerNews' own Remko Rinkema during the European Poker Tour in Barcelona, Guillen said that "a big event like this one is what we are missing in Mexico. As soon as that happens, poker is just going to go insane."
Although he admitted that Mexican poker players may not have been very active in showing public commitment for the adoption of more poker-favorable norms, Guillen explained that he believes Mexico could become the new Brazil in terms of popularity of the game.
"[Poker] has grown a lot in Brazil since they have started to organize tournaments all over the country," Guillen said. "Now, I am expecting something similar in Mexico as well."
The key, however, is the text that the Mexican national assembly has been working on for months which is supposed to reshape the national gambling industry by making it more open, more efficient and at the same time a lot more transparent than it is today.
"The law is kind of tricky at the moment," Guillen went on to say. "But they are working on it, and hopefully we will have a big tournament in Mexico very soon. September will be the month that is going to show us where Mexico is headed poker-wise."
Until then, however, players will only be left with the option to play online or join one of the underground games that the new gambling reform hopes to reduce and control.
"Mexican regulars play a lot of online poker and we have a lot of underground games," Guillen explained when he was asked to describe the way poker players in Mexico play today.
"Few casinos have electronic tables and there are also a couple of poker rooms that operate in a grey-area. They are not 100 percent legal, but they are not totally illegal either."
Details about the upcoming regulation start to emerge
Guillen's hopes for a game-changing gambling reform are shared also by Mexican member of Team PokerStars Pro Christian "Grillo" de León, who spoke about the issue in an interview with PokerNews Latin America editor Brenda Hinojosa.
"Everything depends on the new reform, as that could soon introduce some important changes in the country," de León said. "There have been many speculations and a lot of talks, but the truth is that we can't say anything until the new laws will be voted."
According to de León, all Mexican players can do right now is to wait. "We have to wait for the new bills to be adopted, so that we will be able to see how things will go from there."
On Aug. 25, however, more details about what Mexico's new gambling law could look like started to emerge in the Mexican press.
During an interview published in Mexico's Octavo Día, President of the Commission of Gaming in the Chamber of Deputies Fernando Zárate Salgado explained that the new law, which should be presented in approximately 10 days, will introduce significant changes to the current one that was approved back in 1947.
According to Zárate Salgado, Mexico's new gambling law is set to raise the minimum age to play in brick-and-mortar casinos to 21 and offer operators a system of 10-year long licenses that will be renewable only once and only for the same amount of time.
Also, the law will create a new Advisory Council, that will be composed of the secretaries of Health, Tourism, Economics and Government, as well as non-governmental organizations, and plans to introduce much stricter controls on the operators interested in becoming part of Mexico's gambling industry.
"The transition will be very rigorous," Zárate Salgado explained. "Those who will apply will have to meet rigorous and exhaustive requirements."
The importance of a more innovative and structured approach to gambling was stressed also by the Mexican Gaming Association (AIEJA), which during recent years has been actively lobbying for the creation of new brick-and-mortar casinos in touristic areas like Cancun or Los Cabos.
According to the AIEJA, several hotel chains have reportedly expressed interest in obtaining one of the new gambling licenses, as they believe that the establishment of new casinos and gaming halls will help them to diversify their offer, attract more tourists and help the overall development of Mexico's tourism industry.
Get all the latest PokerNews updates on your social media outlets. Follow us on Twitter and find us on both Facebook and Google+!