Philippe Ktorza On the Decline of France's Poker Industry: "We Shouldn't Rely On Politicians"
Philippe Baret

Giovanni Angioni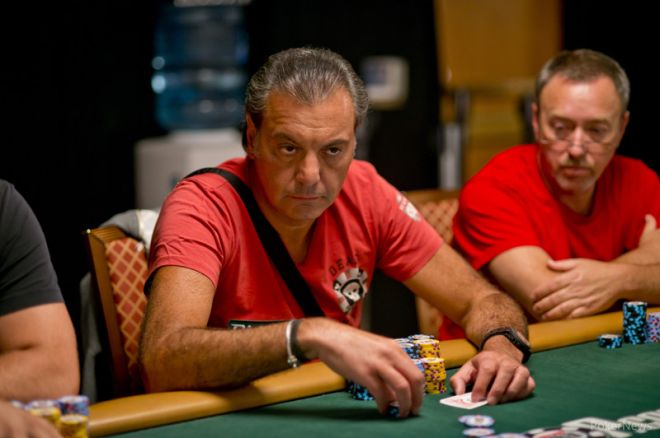 As the debate over the future of France's online poker industry heats up, many local players keep trying to come up with some solutions to help the country's regulator ARJEL stop the decline that started in 2010, right when France decided to regulate the market.
After hearing from online poker pro Julien "JunkyBoy" Ferey on how the creation of an internationally regulated market with shared liquidity could be the quickest solution to all problems, France PokerNews' Philippe Baret met with former PMU Poker sponsored pro Philippe "The Hammer" Ktorza to hear his views on the issue.
Sixteenth on France's all-time money list thanks to live earnings for over $1,500,000, the 49-year-old Ktorza is considered to be among the most respected poker players in his country. Successful at the poker tables and in the business world, Ktorza joined PokerNews from Las Vegas, where he is currently busy chasing the dream of a gold bracelet.
PokerNews: According to ARJEL's President Charles Coppolani, online poker in France has declined because the game "is not that popular anymore." Do you agree with him?
Ktorza: I don't think we should consider the decline of online poker in France as due to something as simple as the game being out of fashion or the market being already mature. The drop in revenue and players is clearly caused by a number of different factors.
The taxes applied to operators, for example, limit their ability to invest in the market; and let's remember that the purpose of a poker site, as of any other company, is to make a profit. Unfortunately, our politicians did not feel the need to make some corrections to the current law on online gambling and fix some obvious flaws. I'm not saying that this is all we need, but some changes to the current legislation would probably limit the decline.
The actions of the tax authority have driven away most of the big players we had, and recreational players don't find it very profitable to play on French sites anymore. The economic crisis is an important factor as well. Today, people prefer to spend their money in something other than poker.
I also think that some sites have their share of responsibility in what is happening, and that's why I believe they should be more ready to innovate and adapt to the way the industry is changing. It may be good for them to rethink tournament payouts or to split long tournaments on different days. After all, not everyone can afford to stay in front of the computer until late at night, especially if this is only for a small win.
All this said, I do not think we should wait for politicians to start changing things. We should all look at the numbers and make some adjustments according to what those show us. To operate within the French market, means to be ready to work all the time. You can't think that a tournament schedule, a VIP program, and a few poker variants are enough to let the machine run by itself.
As for cash games, though, I think the room for maneuver is even more limited. Promotions can have some effects, but those only last for a short time. For ring games, I don't see any change for the long term as the rake is not going to fall and the taxes imposed to operators are not going to be lowered.
In my opinion, the [French] online poker market is in a downward spiral, and it will be extremely hard to get it out from there.
While online ring games keep declining, things seem to be going better for tournaments, both online and live. Why do you think this happens?
I think the live experience is something that many players are looking for. For a professional player, that's a way to find a thrilling competition and measure his skills against other players. Also, live events are a great way to promote their image and find a sponsor. For amateurs, live tournaments are still "the dream." There is a huge difference between playing at home and in a casino. The atmosphere is obviously totally different, as the way of playing poker is.
I think players like the social aspect of live poker, as the interaction between players is a great part of the game. To play poker does not only mean to play cards, but also to have a good time — and in this sense, the online dimension of the game is a too much of solitary activity. Unless they manage to organize an evening with friends and play the big Sunday tournaments together, players usually sit alone in front of their screen. Live, it's completely different.
In addition to these differences, France has one of the world's highest rakes for online cash games, and this matters, too.
According to a report realized by the Observatory of Games (ODJ) and Monitoring Centre for Drugs and Drug Addiction (ODFT), 47 percent of French players are still playing on illegal rooms. What's your opinion on that?
There are certainly a lot of players that are still on "dot-com" poker rooms, and this is a fact. But 47 percent of the total? I honestly don't think this is possible. This number looks a way too big.
I really wonder how those got to that percentage. This figure is also not consistent with the data often published by ARJEL. Some time ago, the regulator said that the illegal offer in France started to become less significant, while now we are told that every other player is on a non-authorized site. I think the data was misinterpreted or the question was posed in the wrong way. Perhaps 47 percent of players have played on illegal sites before the market was regulated in 2010. This would surprise me less.
As for today, I sincerely doubt that 47 percent of French players are still on illegal sites. If this was true, it would mean that the regulation has been a failure and that we should think of doing something for those ones still playing on ARJEL-approved sites.
We would need to make regulated poker rooms more competitive and, among other things, modify the current legislation. If policy makers rely on these figures, then we should do something. And changes will have to be substantial ones, because public awareness campaigns won't be enough for it.
Get all the latest PokerNews updates on your social media outlets. Follow us on Twitter and find us on both Facebook and Google+!