Five Things To Do At This Weekend's MSPT Tropicana Evansville
Season 5 of the Mid-States Poker Tour (MSPT) continues this week at the Tropicana Evansville in Evansville, Indiana. The stop began on Aug. 16 and will include a series of qualifiers before culminating this weekend with a $1,100 buy-in $100,000 Guaranteed Main Event from Aug. 22-24.
"The MSPT is very excited to add the Tropicana Evansville Casino to the Season 5 schedule," MSPT owner and operator Bryan Mileski said of the first-time stop. "The poker market in Evansville and the surrounding area is second to none, and we expect players to turn out in full force to crush the guarantee."
Located at the bottom tip of Indiana near the border of Illinois and Kentucky, the Tropicana Evansville Casino is surrounded by four major cities (St. Louis, Indianapolis, Louisville, and Nashville) all within a three-hour drive. The casino is located on an 841,848 square foot area at Riverfront Park on the Ohio River in downtown Evansville. The $110 million entertainment facility includes a 250-room hotel and a 96-room boutique hotel, an executive conference center, retail shops, restaurants and lounge area.
In preparation for the stop, PokerNews decided to come up with a list of five things you can do when you're in town.
#5- Grab a Bite to Eat
Tropicana Evansville has plenty of dining options, though one of the best is Cavanaugh's, which features great steaks and fresh seafood. The establishment, which recommends reservations, is open from 5-11 p.m. Friday and Saturday, and 5-10 p.m. Sunday through Thursday. In addition, there is the Piano Bar at Cavanaugh's, which offers signature martinis, delicious appetizers and more.

Other restaurants on the property include Diamond Deli, Max & Erma's, Ri Ra Irish Pub, Mama Mia's, Riverview Coffee Company, Temptations Buffet, The Sports Book Bar & Grill, GoYoGo Frozen Yogurt, and the Blush Ultralounge.
"The area on property called 'The District at Tropicana Evansville' is an awesome area," Tropicana Evansville Table Games Director Mike Miller told PokerNews. "It has an Irish Pub called Ri Ra's, a sports bar called The Sports Book Bar & Grill and Boogie Nights which is a very fun 70's & 80's dance club. The District is also home to our boutique hotel Le Merigot and Blush Ultralounge."
#4 – Bring Your Dancing Shoes
Speaking of Boogie Nights, we recommend you boogie down starting at 9 p.m. on both Friday and Saturday. As the website says: "This is the ultimate dance club dedicated to bringing back the magic of the 70's and 80's! Come party with Mr. Boogie, Roller Girl, Hula Hoop Girl, Celebrity Impersonators and all of your favorite 70's and 80's icons! Boogie the night away on our lighted dance floor and around the largest disco ball you've ever seen! Bookmark this page and check back for exciting Boogie Nights news and updates."
#3 – Grind Away All Day Playing Poker
If you're heading all the way to Evansville for the MSPT, poker is no doubt in the forefront of your mind. Hopefully you'll be grinding the tournament all day and night, but if you find yourself with some free time, you can jump right back into action over in the poker room, which currently has a bad beat jackpot of over $227,000!
"Our poker room has been really strong for several years. We currently have 10 tables and we have some very good play throughout the week," Miller explained. "I would say the main game would be no-limit hold'em, but we also have really nice Omaha action and several days a week we have a 'Big O' game that is very strong."
#2 – Mesker Park Zoo & Botanic Garden
You may see some sharks, fish, and donkeys at the poker table, but if you venture out to Evansville's Mesker Park Zoo & Botanic Garden – Indiana's first zoo — you can see over 700 animals from around the world. Located on 45 acres on the northwest side of town, the zoo offers such exhibits as Lake Victoria, Amazonia, Asia, African Panorama, African Rift, North America, and Children's Enchanted Forest.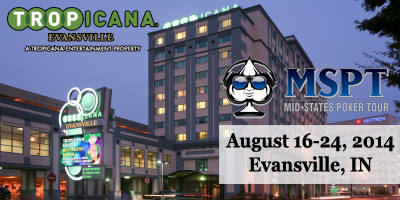 Open from 9 a.m. to 4 p.m. 365 days a year, the zoo is an enjoyable time for people of all ages. Along those lines, tickets are only $8.50 for adults and $7.50 for children age 3-12. Kids younger than that get in free!
#1 – Get Out and Explore Evansville
As the third largest city in Indiana, Evansville is a cultural hub with plenty of things to do about town.
"Evansville offers many attractions for visitors," Miller explains. "The riverfront has a variety of war memorials and museums, including a new Koch Immersive Theater at the Evansville Museum of Arts, History & Science. Beautiful historic homes line Southeast First Street including the Reitz Home Museum. Our downtown Main Street continues to develop with a variety of new restaurants and businesses. The Evansville Iron Street Rod Club presents their annual Frog Follies event on August 22, 23 & 24 at the Vanderburgh County 4-H Center."
Do yourself a favor and get up early Saturday afternoon as explore all that Evansville has to offer!
Listen to Bryan Mileski talk about Season 5 of the MSPT on the latest PokerNews Podcast. Click here to listen.
The Main Event, which PokerNews will be live reporting, will be held over three days beginning Friday evening with Day 1a at 4 p.m. Day 1a will play 14 levels. Saturday's Day 1b will also start at 4 p.m. and play 14 levels. Players who advance from Day 1a are not eligible to play in Day 1b. The remaining players from each flight will combine on Sunday morning at 10 a.m. and play until a champion is crowned. The Main Event final table will be broadcast live (15-minute delay) worldwide using RFID technology allowing all viewers to see the hole cards.
For more information on the MSPT Tropicana Evansville, visit msptpoker.com.
Get all the latest PokerNews updates on your social media outlets. Follow us on Twitter and find us on both Facebook and Google+!