WSOPE Champ Adrian Mateos: "The Barcelona Poker Festival is Going to be an Amazing Event"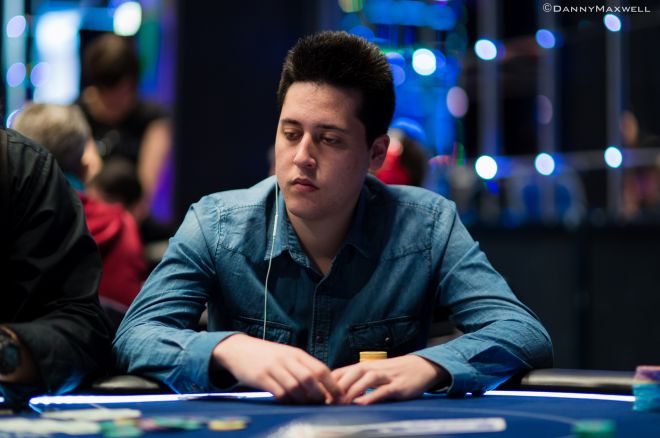 Last October, 19-year old Spanish poker player Adrian Mateos put the World Series of Poker Europe Main Event bracelet around his wrist after he bested France's Fabrice Soulier in a five-hour heads-up match. It was at that moment that the world was formally introduced to one of Europe's most promising young guns.
Truth to be told, though, while Mateos had turned 19 only few months before the WSOPE, he wasn't exactly new to the live poker scene. Earlier in the year he claimed the title of champion at the Estrellas Poker Tour in Madrid, and also grinded over $70,000 in cashes at seven different United Kingdom and Ireland Poker Tour events in London, helping him earn the Rookie of the Year title at the 2013 European Poker Awards.
Now 20, Mateos sits on top of Spain's all-time money list with live tournament winnings for $1,881,671 (according to the Hendon Mob), and leads his country's 2014 national rankings on the Global Poker Index.
Right before Barcelona Poker Festival kicked off this week, Mateos sat down with PokerNews to talk about how the WSOPE win in Paris changed his life and how this could finally be the right time to give Spain its very first EPT winner.
PokerNews: Let's start by going back to Enghien-les-Bains and last year's WSOPE. I was there when you won the Main Event and I remember how happy you were when you got your WSOPE bracelet. When looking back on that moment now, how much do you think it changed your poker career?
Mateos: That victory changed a lot for me. I won a very big prize, and that gave me the opportunity to play at higher levels that I otherwise I may have not been comfortable at. It also helped me to get enough confidence to play against many international top players.
In the end, the prize of the WSOP Europe Main Event gave me the money I needed to sit at higher stakes and feel comfortable during those games.
PokerNews: Is it only about the money you have won, or is there something more to it?
No, it's not only about the money. There is definitely something more than the money, because that result surely helped me to become more confident about my own poker skills. It made me realize that: "yes, I am a good poker player."
The bracelet has been also a very important victory for Spain, as it was the first one of its kind ever being won by a Spanish player. I remember that during those days I received great support from Spanish people. I was really amazed by the way the Spanish poker community has reacted to that result.
PokerNews: Yet, when I look at the market trends and at the numbers about poker in Spain, I don't seem to see a big "Mateos effect" that followed your victory at the WSOPE. What do you think could help the Spanish poker industry to grow more?
I think poker is definitely going to be more popular in Spain during the coming years. But I also think we need some important changes in the laws that regulate the game.
According to the Spanish regulations, poker players are asked to pay too many taxes – and that's why many people, me included, decided to move to other more convenient places like the United Kingdom.
Too many people who want to play at a professional level had to move away from the country because of the laws that Spain has on poker. Playing poker there has become almost impossible.
PokerNews: What about an event like the Barcelona Poker Festival? Can a long festival that combines the national Estrellas Poker Tour and the European Poker Tour be the way to go?
I sure think so. I think the festival in Barcelona is going to be an amazing event. A lot of people will participate and I am sure it will do very good to the Spanish poker community.
PokerNews: And eventually also give the EPT its first Spanish winner too. How come we haven't seen one in the past 99 main events?
That's because poker has a lot of variance. We have many good players in Spain that are able to compete at high levels, but only five or ten of us play at all the EPTs, and that reduces our chances.
In Barcelona, on the other hand, there will be quite a lot of Spanish players at the tables, so I think this year could be the good one to get a Spanish champion. And the EPT number 100 is a good one to get your first champion.
PokerNews: Since you have moved to the UK, you have been quite active there and you became a regular face at the United Kingdom and Ireland Poker Tour. So, I wonder: what are the main differences between the British and the Spanish fields?
It's hard for me to say. I am not very famous in the UK, and when I play there people usually do not know me. On the other hand, when I play in Spain, people usually recognize me and start to play a different game just because they are playing against me.
These two situations are far too different to be compared with each other. People have a totally different approach to the game when they don't know who is sitting next to them.
PokerNews: 2014 will be your last year without the World Series of Poker in Las Vegas. Next year you will finally turn 21 and you will be able to join poker's most acclaimed event. What are your expectations?
Next year I will go there and play the Main Event for sure. I will have my birthday on July 1, so I won't be able to play any tournament before that. Perhaps I will manage to add one more event to my plan, but I am definitely going to play the Main Event hoping that I will have a deep run there.
PokerNews: How about this year? What's your plan after Barcelona?
This year I want to follow the European Poker Tour and play all the different EPT stops. I want to play the super high roller events too, starting from the one in Barcelona. Another tournament I also would like to play is the PokerStars Caribbean Adventure – we will see how it goes.
Get all the latest PokerNews updates on your social media outlets. Follow us on Twitter and find us on both Facebook and Google+!