Jason Zarlenga Reflects on Winning Two MSPT Titles and Becoming All-Time Money Winner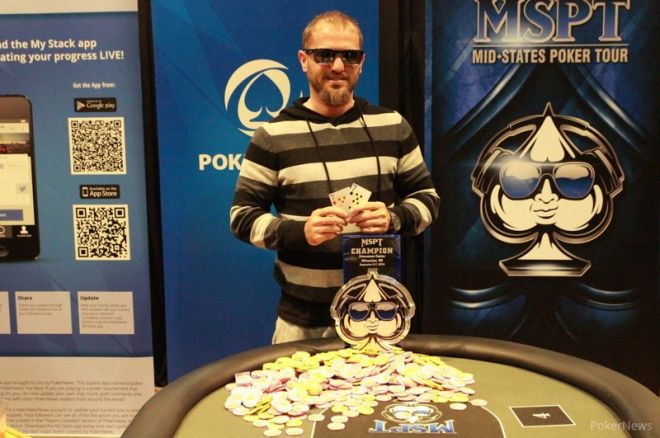 This weekend the Mid-States Poker Tour (MSPT) will be at Running Aces Harness Park just outside the Twin Cities in Minnesota, and then from September 20-28 the tour will head to Wisconsin for the Ho-Chunk Gaming Wisconsin Dells. Less than two weeks ago, the MSPT visited the "Dairy State" for an event at Potawatomi Hotel & Casino, which turned out to be the second-largest event in the tour's history with 487 entries.
Michigan's Jason Zarlenga emerged victorious in that event to capture the $120,164 first-place prize. What's more, it marked the second MSPT title Zarlenga captured in Season 5, joining the likes of Matt Kirby and Dan Sun as the only two-time champions. His previous victory came back in May when he conquered a field of 411 entrants to win the MSPT FireKeepers for $101,482. To top it all off, the latest win established Zarlenga as the MSPT's all-time money leader with $223,970 in winnings and put him firmly in contention for Season 5 Player of the Year honors.
Zarlenga, who grew up in Boardman, Ohio, was one of four children – two older sisters and a younger brother – in a close-knit Italian family. Both of his parents were schoolteachers, so it was only natural that education was a priority for Zarlenga. He attended Kent State University where he earned a bachelors degree in finance, and followed that up by obtaining his JD at Thomas M Cooley Law School. However, instead of entering the field of law, he decided to pursue his dream – poker.
"I learned to play poker when I was roughly 10 years old. My childhood friends and I would scrape together are change and play five-card draw and the winner would go buy Subway," Zarlenga recalls. "Not until the last three years did I start taking poker seriously, and I went through the hard times just like anyone in this profession learning game selection and money management. I went broke more times then I can even count before hitting a good score at the MSPT FireKeepers back in May."
Indeed, it's safe to say that tournament in Michigan changed his life and got the ball rolling on what has been a red-hot 2014.
"I can remember that morning like it was yesterday. I bagged a decent Day 1 stack with around 130,000 which had me at a top 10 stack with 90 remaining," says Zarlenga. "I woke up the morning of Day 2 and I literally had so much confidence I posted some phrase on Facebook stating: 'Been waiting a long time for this moment and I promise you nobody in this field wants it as bad as me because I want this as bad as you can breathe!!' I won the first hand of the day with a nice semi-bluff and never relinquished the chip lead until the final table."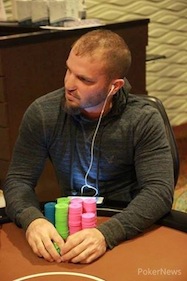 Zarlenga's revelation came true when he defeated Mike Deis, who currently leads the MSPT Season 5 POY race, in heads-up play to capture the title. It couldn't have come at a better time either as the 2014 World Series of Poker was right around the corner.
"Winning right before the series gave me a lot of confidence and the necessary bankroll to be out there all summer," Zarlenga reveals. "The WSOP was an amazing learning experience thus summer. I have been out before for the WSOP but never stayed the whole summer. I played my first WSOP event was the Milly Maker and I actually went really deep busting 389 out of 7,977 cashing for roughly $5,000. I played the Main Event for the first time ever and it was one of the coolest three days of my poker career."
Zarlenga, who is friends with 2013 WSOP Main Event champ Ryan Riess, failed to make it past Day 3 of the Main Event, but his good friend and traveling companion Adam Lamphere, of whom he had a piece, finished in 41st place to get Zarlenga "unstuck for the summer."
Fast forward two months and Zarlenga and Lamphere found themselves on a ferry crossing Lake Michigan. At the last minute they decided to make the trip to Milwaukee for the MSPT's first stop at Potawatomi Hotel & Casino, and it proved a wise decision as both Lamphere and Zarlenga made the final table. Lamphere bowed out in 10th place for $6,109, but he stuck around to cheer his friend to victory.
"The second major was actually more rewarding than the first because it had now given me the confidence that I am just as good if not better than anyone at any table I play with during any tournament," Zarlenga says with a smile.
With two six-figure scores under his belt, Zarlenga put his finance degree to work by investing some of his winnings into the stock market. He paid off some other debts, but other than that he's avoided any big purchases and instead plans to use the rest of the money to travel and pursue his passion.
That includes making his way to the remaining stops on the MSPT Season 5 schedule in an attempt to win Player of the Year. Most of the time two wins would be enough to secure the honor, but consistent deep runs by both Deis and MSPT Team Pro Kou Vang have made the race a heated affair.
"Mike Deis better check his rearview because POY is something that is in sight and I would love to capture it," Zarlenga says before elaborating on why he likes the MSPT. "The MSPT is just ran amazing all the way from the top to bottom. Eric Anderson and Bryan Mileski treat all the players with respect and have put on a great tourney at every stop I've encountered. The structure is perfect which gives any player, amateur or pro, more than enough time to do your thing. The $1,100 buy-in isn't too expensive which is another bonus for all players."
Zarlenga has confirmed to PokerNews that he will be at both this weekend's MSPT Running Aces and the MSPT Ho-Chunk Gaming Wisconsin Dells the week after that. You can follow live updates from both those events in our Live Reporting Section.
For more information on the MSPT Ho-Chunk Gaming Wisconsin Dells, visit msptpoker.com.
Get all the latest PokerNews updates on your social media outlets. Follow us on Twitter and find us on both Facebook and Google+!