Ahead of Season 1 Finale, Tana Karn Forecasts the Future of the RunGood Poker Series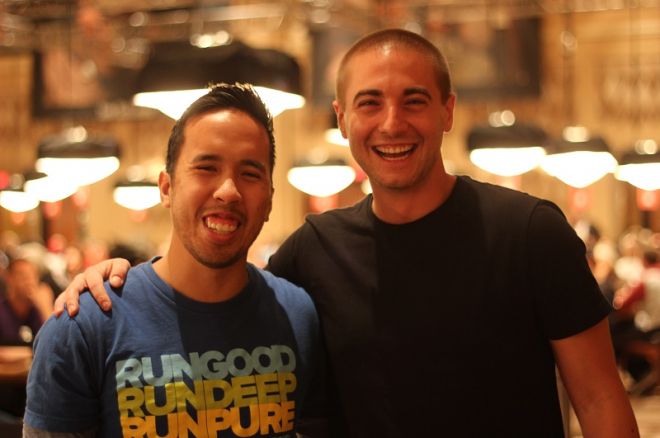 The RunGoodGear.com Poker Series wraps up its first season next week at the Downstream Casino, which is located right outside of Joplin, Missouri. The season finale will feature several events from Oct. 1-5, and PokerNews will be on site to provide live coverage of the $675 Main Event which boasts a $100,000 prize pool.
Downstream Casino hosted the very first RunGood.com Poker Series event back in March. RunGood Pro Bernard Lee took down the Main Event, defeating fellow team member Ross Bybee heads-up for the title. Both of those players, as well as many other members of Team RunGood, are expected to return to Downstream for the finale and participate in not only the Main Event, but also the RunGood Pro Bounty which kicks off the festival on Oct. 1.
This week, we sat down with RunGoodGear President Tana Karn and Downstream Casino Poker Manager Dale Hunter to discuss the final stop of the year. We also asked Karn about the future of the series and what qualities he looks for in selecting his team of RunGood Pros.
Why Should You Play at Downstream
Spend a few minutes with Karn and you'll realize that he serious about bringing the fun back in poker. That's evident when you take a look at the schedule, which includes a bounty tournament (with prizes for knocking out a RunGood Pro), an all-in-or-fold tournament, and happy hour and brunch special events with the RunGood team.
This series is also about value. The most recent stop in Tulsa easily doubled the $100,000 guaranteed prize pool for the Main Event, and the winner also received a $10,000 seat to the 2015 WSOP Main Event. The WSOP seat is added to the prize pool, giving players even more incentive to build a stack and go for the win.
As Hunter explains, the turnout for the first stop at Downstream easily exceeded his expectations thanks to the player-friendly feel at RunGood.
"I knew I needed something different at Downstream," Hunter said. "We had previous tours come in and fade off. A lot of those tours were trying to go bigger with higher buy-ins and getting out of our realm.
"I started talking to Tana and (RunGood Pro) Justin Gardenhire. They're based out of Tulsa so they have a lot of my clientele right now. Everybody was huge on RunGood, so I thought I need to partner up with them, bring in some of their pros, put them up and make them feel special. It's just blossomed from there. I had no idea we'd get close to 350 players in our first Main Event."
Win a Main Event Seat in One Hand
Downstream is introducing a new — and fun — way to satellite into the $675 Main Event next month. The poker room will have a sign-up sheet for $70 "flips" to qualify for a seat to the Main Event. Once 10 players register, they'll take a seat at a table and play one hand — winner takes all.
"If you're grinding cash games and want to hop into one of these flips, just throw $70 down and the winner of the no-limit hold'em hand takes a Main Event seat," said Karn, who told us that Hunter came up with the idea for the flips.
"I'm always thinking of something new and exciting," added Hunter. "This will save players $600 for a Main Event seat, and I don't know any poker player that wouldn't willingly play one hand to save themselves $600."
Play With Team RunGood — Poker Ambassadors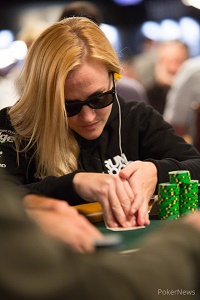 Hunter raves about the class of poker players that Karn has assembled at RunGood. The team, which includes well-known pros like Bernard Lee, Jamie Kerstetter, Joe Serock, Lauren Kling, Amanda Baker and Bryan Campanello, is one of the key reasons why Hunter was eager to bring the series back again in 2015.
Karn explained the selection process and what he looks for in his team.
"When we look at our pros we actually look for something a little different than what most expect," he said. "It's the Daniel Negreanus, the guys at the table who aren't shelled up with their headphones and sunglasses. These guys are outgoing, talkative at the table, they love live reads. Most importantly what we look for is the ability to be on the bubble of the Main Event, have your aces cracked by pocket deuces, stand up, shake the guy's hand and not go on tilt. They always represent the company well and, most importantly, always represent poker well."
The Future of the RunGood Poker Series
"We have some new stops coming in 2015 which we can't announce yet, but this is definitely something that we're going to be doing every year now."
There you have it. Karn says there will be a Season 2 of the RunGood Poker Series, with several new stops added to the current poker rooms at Downstream and the Hard Rock in Tulsa.
Karn isn't sure how big the series can grow, but he has several ideas for the short-term future.
"Honestly I would love to see the series go nationwide. Right now we're just checking out the Midwest. We do have a new stop planned for 2015 and then we're also talking to other stops in the Midwest.
"We don't want to clash with other casinos or tournaments. That's our main goal. We want to coexist and grow the sport bigger and bigger. So what we'd like to do is, sort of like NCAA Football has different divisions in the Northwest, Southeast, ect., is have different series in regions all over the United States culminating into a championship event ... maybe somewhere exotic so I can take a vacation myself (laughs).
"We want to grow the game and have fun doing it."
More RunGood Pros?
With the series' imminent expansion, Karn hinted at increasing the size of his team as well.
"There's actually a couple people on our radar that we've taken a look at and spoken too. We're not looking for the next Phil Ivey or the next Phil Hellmuth, but we do enjoy looking for the next face of the franchise — the guy who's going to understand that RunGood is more than just poker. It's about the social aspect and being able to play with professionals in a game that kind of equalizes everyone at some point.
"We usually like to make an announcement before each World Series of Poker, but it looks like we'll have some announcements before the start of the next RunGood season which I believe is going to be starting in February."
For more information on the final RunGood.com Poker Series stop in Season 1, visit RunGoodGear.com or check out our article with everything you need to know at PokerNews.com.