John Ott Captures PPC Poker Tour Season 2 Player of the Year Title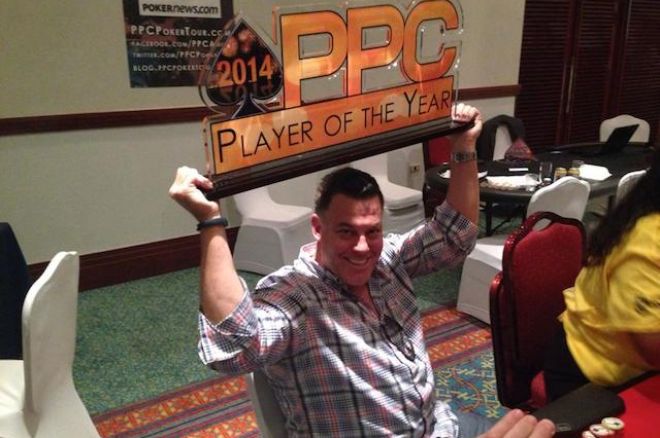 Season 2 of the PPC Poker Tour came to a close last week when Aristoteles Neto topped a field of 138 entrants to win the 2014 PPC Aruba World Championship $2,200 Main Event for $62,764. Not too shabby considering he qualified for the event via a $65 satellite at Foxwoods Casino.
"I played a $65 satellite at Foxwoods into their $450 PPC Aruba qualifier and was able to win a package to come down here," explained Neto, a commercial truck driver from Boston.
Neto wasn't the only player who came out on top in Aruba. John Ott, a regular at Silks Poker Room at Tampa Bay Downs, was in a tight Player of the Year race against Parry Shaw and others, and thanks to an eighth-place finish in the Main Event followed by a runner-up finish in Event #9 $350 Black Chip Bounty he was able to claim the PPC Poker Tour Season 2 Player of the Year honor.
Ott's great year started back in January when he won a $225 No-Limit Hold'em event at the 2014 PPC Tampa Bay Downs Winter Fest for $7,058. Then, in July, he finished runner-up in the $120 No-Limit Hold'em event at the 2014 PPC North America Championship for $1,238. He then took down the 2014 PPC Tampa Downs Fall Classic Main Event for $19,447 to become a two-time PPC champ.
PokerNews recently caught up with Ott to learn a little more about the PPC Poker Tour Season 2 Player of the Year.
PokerNews: Can you tell us a little about yourself?
Ott: I was born and raised in Cincinnati, Ohio. I moved to Columbus to go to — and graduate from — Ohio State. I moved down to Tampa 16 years ago. I am single with no kids but I am fortunate enough to have my sister, niece, nephew, dad, mom and stepdad all living close by in Florida. I am a Business Development Manager for Sysco Foodservice and have been with them for 18 years.
When and how did you learn to play poker?
We grew up playing cards with family and friends, which mostly consisted of poker, 500 and euchre, but I have been playing poker seriously for about 10 years. I started by playing home games with friends and then progressed to the local tracks and casinos. By reading a ton of books, online forums and discussing strategy, I am always trying to grow and get better as a player.
You were in a tight POY race with Parry Shaw. Was winning the POY important to you? Can you tell us a little about the race and what it meant to you?
The POY race was indeed very tight, and with the PPC Aruba series being points eligible and the Main Event weighing so heavily there were a bunch of players still in the mix. Throughout the year I didn't focus on the POY much at all, but with my second PPC win in September I jumped into second place and started to focus on it.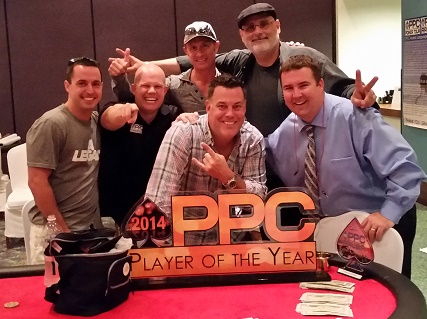 Parry had extended his lead early in Aruba but with my eighth place Main Event finish I jumped into first by the slimmest of margins. With one event remaining — a $340 Black Chip Bounty tournament — Mike Baize, Tim Shortell and Parry were still able to take the title. Mike went out early but the three of us found ourselves at the final table. Parry went out just short of the money and Tim went out fourth securing the POY title for me. We then did an even three-way chop for the tournament.
Your home poker room is the Silks Poker Room at Tampa Bay Downs. Have you returned there since winning POY?
I have had a huge outpouring of congratulations and support through texts and social media. I did play the PPC event at The Silks last Thursday and they all seemed to be very proud to have one of their own bring back the trophy.
What are you going to do with your PPC POY trophy?
After talking with Patrick Murphy, the Silks poker room manager, we decided to keep and display it at The Silks Poker Room at Tampa Bay Downs.
Of all your accomplishments in the PPC Season 2, which one are you most proud of and why?
I am most proud of the hard fought POY win because it confirms and validates the best year of poker I have had thus far. Plus there are a ton of really great players playing on this tour and in these events.
What is it that you like so much about the PPC?
I think Sandy Swartzbaugh and Bryan Oulton have done a fantastic job putting together a tour that really focuses on the players. The growth they've had in a few short years speaks volumes and the Aruba trip is amazing. It's a great place to relax with great people and play some poker.
For winning the POY, you've already won a seat into the 2015 PPC Poker Tour Season 3 World Championship in Aruba. How excited are you about that?
I am incredibly excited to be going back to Aruba in 2015. To a person, everyone that went to Aruba had fantastic time. I can't thank Sandy, Bryan and the entire PPC enough. What a great year!
Here's a look at the final PPC Poker Tour Season 2 Player of the Year leaderboard: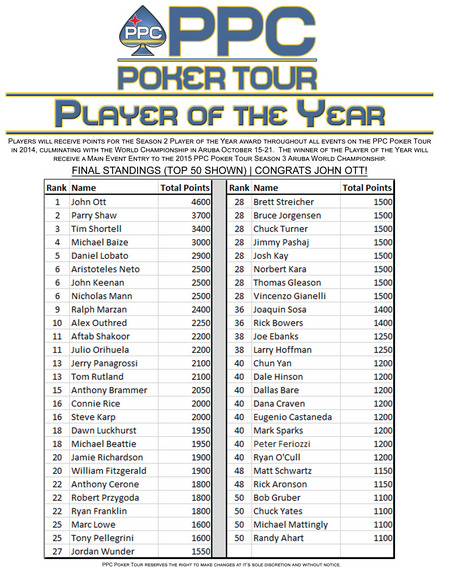 Get all the latest PokerNews updates on your social media outlets. Follow us on Twitter and find us on both Facebook and Google+!