Bruno Kawauti on Poker in Brazil, Bruno Politano's November Nine Appearance, and More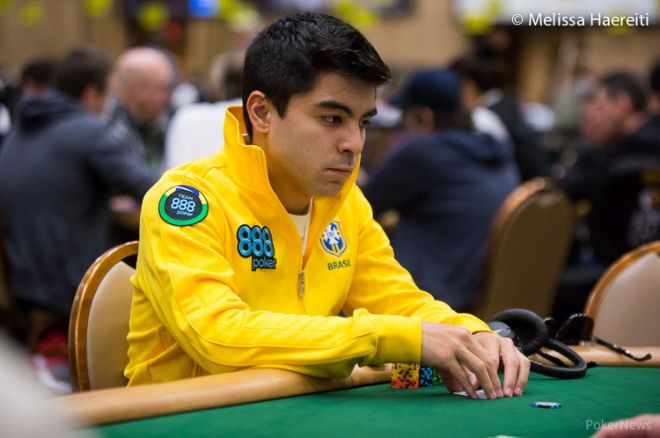 In less than a week, the 2014 World Series of Poker will come to an end as the November Nine play their way down to a champion. Only time will tell who will walk away with the $10 million first-place prize, but one thing is for sure — more than 200 million Brazilians will be pulling for Bruno Politano, who also goes by Bruno Foster.
Politano is the first Brazilian to ever make the November Nine, but did you know a different Bruno almost accomplished it a year before? That is when Bruno Kawauti made a deep run in the Main Event, ultimately finishing in 15th place as the "Last Brazilian Standing." That score earned Kawauti $451,398, a certain level of fame in his home country, and a sponsorship with 888poker.
Kawauti, who has $607,985 in tournament earnings, was recently in Australia with Politano, his fellow 888poker Team Pro, for the World Series of Poker Asia-Pacific. The two have become fast friends, and Kawauti will be in Las Vegas to root on Politano.
"We are as excited as he is," Kawauti said speaking on behalf of all Brazilians. "I'm coming to Vegas because, besides the fact that he is my teammate in 888poker, Foster is a good friend. He has a positive vibe that is rare to find. I'm very happy for him and anxious to get to Vegas."
Kawauti will no doubt be watching from the stands wondering "what if." What if he had made the November Nine the year before? What if his pocket tens hadn't been cracked by Rep Porter's walking sticks? PokerNews had the opportunity to chat with Kawauti to find out more about 2013's "Last Brazilian Standing."
PokerNews: Can you tell us a little about yourself?
Kawauti: I'm 29 years old. I've been addicted to sports and competitions since I was little, my family always supported me in everything. I used to work with trade marketing, but wasn't happy with that, then I discovered poker and now I just play cards.
When and how did you learn to play poker?
I started playing poker in a home game with friends and then micro limits. I quickly fell in love with the game. My best friend taught me some basic strategy, and after a few sessions I was beating our home game. I kept studying, and after a couple of months I decided to play in some higher games. That's how it has been since then.
What led to your decision to play poker as a living?
I decided to quit my job in 2008, after my graduation. The main reason was because I strongly believe that people should do what they love in life. Of course, I was making more money than I was at work, but back then it wasn't a big difference. I believe life is too short to waste time with things that that you don't like.
In the 2013 WSOP Main Event, you placed 15th, which was a great result. Are you happy about that or disappointed that you came so close to making the final table?
I'm happy. I can't complain about a good result, but of course there will be always be that feeling that things could have been better, but I'm happy overall.
What was the reaction of your family and friends back in Brazil on being the "Last Brazilian Standing?"
They were happy, of course. A lot of them didn't even know that poker was so big (laughs). It was good in helping the game grow in Brazil also. Poker is definitely getting big here. I'm pretty sure poker is going to be massive in Brazil. People are really looking into it, and a lot of young guns coming into it.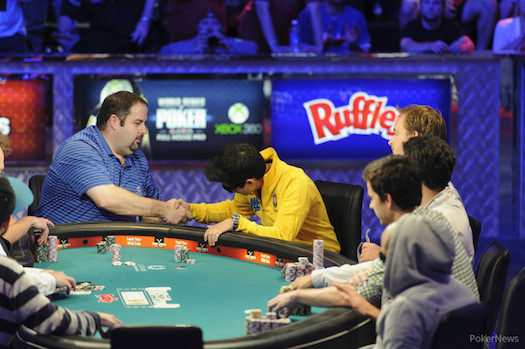 You became an ambassador for 888poker. How did that opportunity come about and how have you been enjoying it?
I was deep in the 2012 Main Event also and 888 had patched me for a couple of days, so when I was deep again in 2013 they came to talk to me, offering the patch deal, and a proposal for a long-term contract. We negotiated, and it has been a great opportunity for me. We are in the second year, and I made some good friends these past 15 months.
Can you tell us about your online poker-playing experience?
Of course. I started in live games playing cash, and I played multi-table tournaments online just on weekends. About an year ago I decided to play more online, but I'm still playing more live than online. I like to play online for fun, but as daily work I would rather play live cash games. My screen name on 888poker is "Bruno Kawauti." The other ones I will keep a secret.
You were recently at the WSOP Asia-Pacific. How did that go for you? How did you enjoy Australia?
The WSOP Asia-Pacific wasn't good for me. I lost there, but it was one of the best experiences ever playing some tough tables against some of the best. Poker is always a learning experience.
What is your proudest poker accomplishment and why?
My life. I mean, I can do what I love for living, and that is awesome for me. I feel blessed for that, and I think this is what moves me.
What's next for you as far as poker is concerned?
I'll keep playing, getting strong mentally and physically. I always strive to improve and to do my best everyday.
Get all the latest PokerNews updates on your social media outlets. Follow us on Twitter and find us on both Facebook and Google+!