How to Play Daily Fantasy Basketball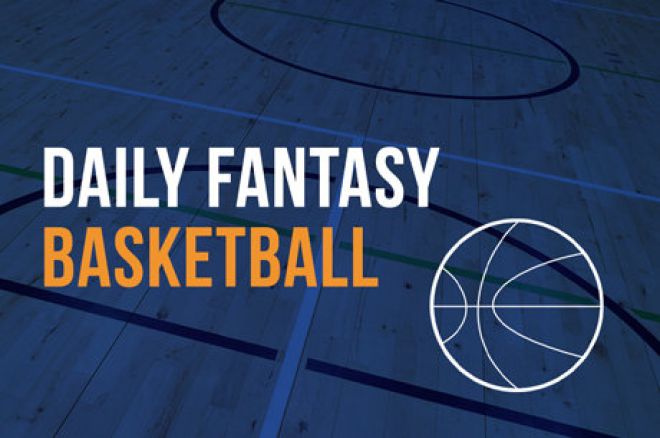 We've gone over the basics of daily fantasy sports (DFS), and now we've gone into a bit of depth about the most popular DFS game, football. Now, we'll go from field goals kicked through a pair of yellow bars to field goals through an orange ring. Fantasy basketball is my personal favorite DFS, one I play on a daily basis.
Choosing a Game
Once you've moseyed on up to your browser's address bar and headed to your daily fantasy sports website of choice, your first decision will be what kind of game you want to play. Generally speaking, most DFS games fall under one of two categories.
The first type and the one most DFS ads trumpet is the guaranteed prize pool (GPP) massive field contest. These tournaments often have thousands, sometimes tens of thousands of entrants, and prize distribution is sometimes very heavily weighted towards first (it allows the sites to advertise things like "winning $5,000 for just a $2 entry!"). A poker equivalent would be a multi-table tournament on a major site pre-Black Friday. Similar to such poker tournaments, winning requires an insane amount of luck and a fair amount of skill, but you can earn substantial chunks of change for some moderate entry fees, such as FanDuel's 250K Friday NBA Slam, which offers $20,000 to first place on a buy in of just $25.
For those looking for a less risky option offering more readily-accessible prizes, there are the contests in which a set percentage of the field takes home a cut of the prize pool. For a poker player, think of these like sit-n-goes. They can range in size from a few thousand players down to just two, known as a head-to-head. Head-to-heads and "50/50s," both of which feature half of the contestants collecting payouts and half coming up empty-handed, are the most commonly played of these variants.
Plenty of varying stakes are available for players with any size bankroll. Even the dead broke among us can get in on the action; DraftKings offers daily freerolls in the NBA giving away tickets to "Step 1" tournaments. These tournaments allow a player to slowly build up through higher buy in "steps," starting at $2. Each step is a league (either 10 or six players), culminating in Step 4, which pays out $200 to the top two. DraftKings also has a number of tournaments for just a quarter that can get the micro grinder rolling. Each site also offers plenty of satellite-type tournaments that will be familiar to poker players as a means of getting into bigger buy-in events for a cost as low as $1 on FanDuel and 25 cents on DraftKings.
Sign up for DraftKings now and compete for massive prizes tonight!
Drafting a Team
Now that you've picked out your game of choice, it's time to get down to the nitty gritty (also the fun part): drafting your team.
Each DFS site gives you a set amount of salary with which to start. It's up to you to decide how to distribute that salary amongst the positions, which will vary slightly depending on which DFS site you are on. FanDuel, for instance, simply asks you to draft two each of traditional NBA positions point guard, shooting guard, small forward, and power forward, with one center. DraftKings, meanwhile, goes with an eight-man roster: one each of the standard five positions plus one generic guard, one generic forward, and a "utility," which can be any player.
Another factor that must be taken into account when deciding which players to buy is your DFS site's scoring system. Unlike DFS football, which is extremely similar across most sites with just slight tweaks, with basketball you are likely to find as many scoring systems as you are sites. FanDuel's offers a very vanilla scoring system in which points translate at a one-to-one ratio, while an assist is worth 1.5, a rebound 1.2, and blocks and steals 2 apiece. Turnovers will be docked one point. DraftKings throws a little more spice in with three-pointers counting for an extra half 0.5, rebounds counting for a smidgen more (1.25), and bonuses thrown in for double-doubles and triple-doubles. DraftDay, meanwhile, gets more elaborate, factoring efficiency into the scoring. In their format, missed field goals and free throws count for -0.25, meaning you have to be careful about drafting conscious-less chuckers like Nick Young or Dion Waiters. DraftDay also features double-double and triple-double bonuses, and both DraftDay and DraftKings only dock 0.5 for turnovers.
Things to Think About
Drafting a team can be a long, involved process that takes hours of poring over research and relevant articles, or it can be a 30-second process that's done in a few short clicks. It's all up to the user and what kind of experience he or she wants to get.
If you're looking to do a bit of due diligence before you draft your first team, here are some things to keep in mind before you start spending that fake dough.
Matchups – Sure, you can usually count on Tyson Chandler to grab a lot of rebounds, but if the opposing center is DeMarcus Cousins it's going to be a little harder for him to rack up the boards than if he's facing Sam Dalembert. Think about the counterparts to the players you are drafting, and how their strengths and weaknesses affect your guy's value.
Pace – More possessions equals more opportunities to run up fantasy point totals. Mike Conley is a great point guard, but the Grizzlies play at a pace that makes most NBA games look like track meets by comparison. The Sixers, meanwhile, played at breakneck speed in 2013-14, inflating stats for everyone.
Injuries – The NBA regular season is a long one, and players frequently need to take games off to allow nagging injuries to heal or just rest their bodies to ensure better health in the long haul. Spurs coach Gregg Popovich is famous for this, and plenty are taking note of San Antonio's success and following suit. Remember that a player sitting out doesn't just have an effect vertically, but laterally as well. For example, if LaMarcus Aldridge sits, not only is backup Meyers Leonard going to have some value, but more scoring opportunities will open up for guys like Wes Matthews. Those 20 or so shots per game have to go to someone else.
Betting Lines – There's a reason the vast, vast majority of sports bettors can't beat the books long term – the lines are pretty damn sharp, especially in a big market like the NBA. Check out spreads, totals and player props for a good clue as to how games are likely to play out and players are likely to perform. If Houston's a 20-point favorite over Philly, expect big minutes for backups who are going to come super cheap.
Public Perception – If you're playing against a large field of opponents, it's important to think about which players they are likely to be buying. When Anthony Davis goes bananas for three straight 60-point games, you can be sure his ownership is going to be sky-high no matter the price.
Similar to poker, DFS is simple enough to grasp and play but has plenty of layers once you dive into it. The intricacies of the game will come as you gain experience, but have fun and draft a few teams in the meantime!