What Are the Pros and Cons of Subscription-Based Online Poker?
"What online poker site do you recommend I play for real money?"
That's a question I'm asked at least once a week, and unless you live in one of the three states that currently regulate online poker (New Jersey, Nevada and Delaware) my answer is always the same – I don't suggest any of them. The fact of the matter is depositing real money on unregulated offshore sites (i.e. Bovada, Cake, etc.) comes with a long list of risks, including abysmal customer service, lack of accountability, and the chance you may never get your money back.
Instead, I recommend checking out a subscription-based site, such as ClubWPT.com.
"Is it worth the monthly fee?"
"Are there any benefits?"
"How does it compare to the real-money sites I used to play on?"
Those are just a few of the follow-up questions I'm usually asked, and the answers to each tend to have a strong influence on whether or not someone tries subscription-based poker. Of course paying a monthly fee to play poker isn't for everyone, because truthfully, it differs from traditional online poker.
If you're a either a full-time grinder or semi-pro looking to supplement your income, then subscription-based poker probably isn't for you. On the other hand, if you're a recreational player looking to practice, play more hands, and get better at poker without risking a fortune, then it's the perfect fit. Likewise, if you just want to play and compete — with a chance to win great prizes I might add – then you just might like it too.
To help determine whether or not a subscription-based poker site is up your alley, consider the following pros and cons.
Pros of Subscription-Based Poker
It's 100% Legal in most of the United States – While states continue to debate whether or not to legalize and regulate online poker, subscription-based outlets are available to players in most states in the U.S. (see the chart of eligible states below). These free-to-play sites aren't considered gambling, but instead offer a sweepstakes-based model (subject to eligibility) that gives members a shot at cash and prizes.
You Only Need to Be 18 to Play – However, if you win a seat into a live tournament in a state that requires you to be 21, you won't be able to play said event.
[*]They're Great for Tournament Players – Subscription-based sites are renowned for their tournaments, which spread often, and you're able to play as many as you'd like without having to worry about buy-ins and rake. This makes them great for players looking to increase their experience by getting more hands under their belt.
There is Actual Competition — Free-to-play social games can be fun, but with nothing on the line players don't tend to take them seriously. With subscription-based sites that offer a sweepstakes, there is always something on the line, which assures a certain level of competition.
Win Your Way into Live Events – There are great prizes to be won on subscription-based poker site, not least of which are seats into live events. ClubWPT.com is a great example, as they give away seats to many of their WPT live events.
Obviously there are pros to subscription-based poker, but of course there are certain cons too.
Cons of Subscription-Based Poker
Limited Functionality – Most subscription-based sites don't have the bells and whistles as a real-money site such as hand histories, multi-tabling opportunities, etc. Aside from that, subscription-based sites hold their own in the online poker realm.
Difficulty Multi-Tabling – Most players like to play multiple tables at once, but this can be difficult, especially with subscription-based sites that operate on an Internet browser.
If You Don't Use It, You Still Pay – Like other subscription-based offerings such as gym memberships or Netflix, if you don't use it you'll still pay to be a member. It's easy to sign up for something and then forget about it. Don't let it happen to you.
Limited Ring Games – Most subscription-based sites utilize two different types of currency. The first are play chips that accompany free games, meaning there is no opportunity to win cash and prizes. These chips are typically used in ring games and play chip only tournaments. The other are tournament points, which are the currency used in the sweepstakes portion of sites. In other words, they're what you use to compete in tournaments for cash, prizes, and seats into live events. That means those looking to play ring games would have to do so with play chips, which doesn't provide the excitement of either a real-money table or a tournament with prizes on the line.
Cashing Out Takes Time – In order to collect a prize on most sites, you'll need to submit a slew of paperwork, including proof of identity, proof of residency, and proof of age. It can be a bit cumbersome and must be done either by email or snail mail.
Not Always Available in Some States – If you live in the states that don't allow sweepstakes (see the chart below) you will be unable to win cash or prizes by playing.
Like I said, subscription-based poker isn't for everyone. The good news is that most sites offer free trial periods, so you can try it for yourself to see if it meets your needs. Keep in mind that such sites do differ from traditional gambling sites, and that there are both pros and cons to that. Use the following chart – which summarizes the pros and cons – to help decide whether or not you want to give it a try: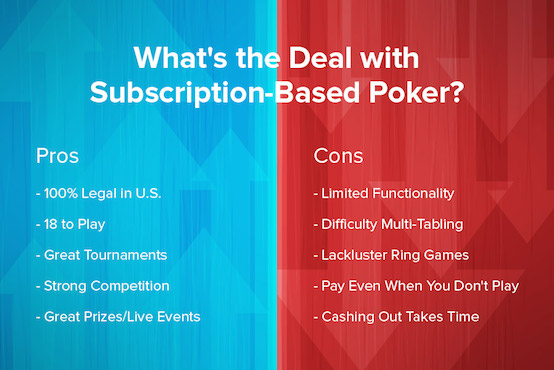 Subscription-based sites are viable online poker options, especially for those residing in sweepstakes-eligible states that don't currently offer legalized and regulated Internet gaming. Again, most sites offer a free trial, so you can experience subscription-based poker at no cost.
ClubWPT: The Gold Standard in the Poker Subscription World
As I said, unregulated sites come with a lot of risk, so for those who have an online poker itch they need to scratch, I recommend checking out a site like ClubWPT.com. In my opinion it's the gold standard of subscription-based poker. Like they say, "Never lose a dime playing poker… Guaranteed!"
For me, ClubWPT.com, the official membership site of the World Poker Tour, is the most reputable poker site utilizing a subscription-based model, and I actually have personal experience playing there.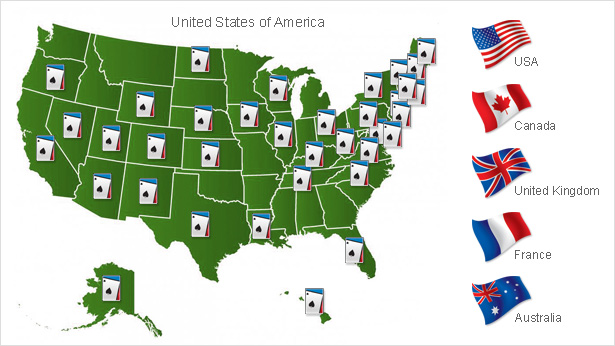 Players in eligible states and territories can join and play for free right now — if you do you'll start with 5,000 play chips and be able to play unlimited poker. Additionally, those seeking a more thorough experience can pay a monthly subscription fee as low as $19.99 (depending on the length of the membership term you select) – currently offered as a 14-day free trial — and become a VIP Member of ClubWPT.com, which not only includes free entry into the sweepstakes but also access to extras such as 200,000 starting chips; 500 tournament points; digital goods such as BLUFF Magazine online and archived episodes of the World Poker Tour; and $100,000 in cash and prizes each month. Of course that includes qualifiers into televised WPT Main Events across the country, which is what inspired me to join the site in the first place.
I distinctly recall watching Andy Whetstone on the Season IX WPT Hollywood Poker Open broadcast on FSN, and I was envious. He qualified for the $10,000 buy-in event for free on ClubWPT.com and soon found himself at the final table alongside of well-known poker pros Ali Eslami, Tom Marchese, William Reynolds, and Erik Seidel. It was a dream come true for any amateur, and I enjoyed watching him turn his free entry into a fifth-place finish for $62,041.
Whetstone is just one of many ClubWPT qualifiers — as they've come to be known on broadcasts — who have found success; in fact, to date these qualifiers have cashed for $316,410 in live WPT events.
| Player | WPT Event | Season | Date | Buy-In | Prize |
| --- | --- | --- | --- | --- | --- |
| Leron Washington | WPT Celebrity Invitational | VIII | Feb. 2010 | Freeroll | $100,000 |
| Craig Edwards | Bellagio Five Diamond Poker Classic | IX | Dec. 2010 | $10,300 | $12,669 |
| Andy Whetstone | Hollywood Poker Open | IX | April 2011 | $10,000 | $62,041 |
| Arturo Rodriguez | WPT Jacksonville | X | Nov. 2011 | $3,700 | $55,077 |
| Bernard Valure | Seminole Hard Rock Showdown | X | April 2012 | $10,000 | $25,056 |
| Efren Abustan | Legends of Poker | XI | August 2012 | $3,700 | $18,100 |
| Phillip Smith | Legends of Poker | XI | August 2012 | $3,700 | $9,500 |
| David Daggett | WPT World Championship | XII | April 2014 | $15,400 | $33,967 |
For those interested in trying their hand at subscription-based poker, I suggest taking advantage of ClubWPT.com's 14-day free trial, which you can read more about by clicking here.
*Lead photo courtesy of WPT Flickr.
Be sure to follow ClubWPT on Twitter and like them on Facebook.