A Year in Review: Executive Director Ty Stewart Reflects on the World Series of Poker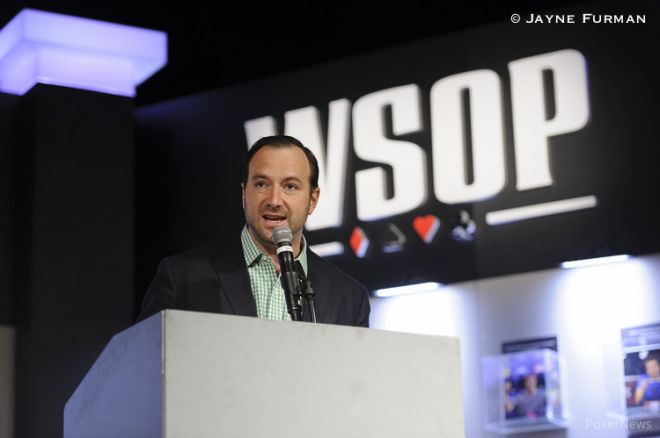 For over four decades, the World Series of Poker (WSOP) has stood as the game's most iconic brand. This year, the 45th annual WSOP awarded 76 bracelets across the globe including 65 in Las Vegas, 10 at the WSOP Asia-Pacific, and one on the New Jersey boardwalk for the National Championship, which was the culmination of the 2013-2014 WSOP Circuit season.
"In my opinion, it was a very good year for WSOP," WSOP Executive Director Ty Stewart told PokerNews. "We recognize less-than-optimal market dynamics, and so we truly celebrate successes and being able to provide some bragging rights for the industry. Most of all, in 2014 we recommitted to our ideals — provide something for everyone; contest all variants of the game, listen to the players, bring poker beyond the casino walls, always go big, and to be that thing that makes people want to play poker. With records in both prize pool and total entrants, another strong year on television, and growth on our digital platforms, 2014 was solid."
Indeed, 2014 was kind to the WSOP as players from 107 different nations traveled to Las Vegas to test their skills on poker's biggest stage. Once again, the WSOP in Las Vegas set records with 82,360 entries over 65 events — a 3.6-percent increase over 2013 — and awarded the largest combined prize pool in WSOP history ($227,712,923). Out of so many events and players, what does Stewart feel were the highlights?
"The Monster Stack stands out as a highlight, given it was the largest live tournament — in terms of unique players — in nearly a decade," said Stewart. "Seeing the Main Event increase again, after consecutive down years, was fulfilling, and watching the Seniors Event break their record yet again was awesome. There were many highlights off the felt, too. We had maybe the most significant consumer promotion in our history as Ruffles gave the mass market 10 million reasons to watch our finale."
In addition to the Ruffles promotion, Stewart was quick to point out the final table broadcast on ESPN, Martin Jacobson winning the Main Event for $10 million and making headlines on outlets like SportsCenter and ESPN.com, and the WSOP social game passing Zynga on iOS. However, for Stewart, one thing stood above all the rest.
"Seeing the WSOP be a fulcrum for $5 million in charitable giving in a single year was definitely the most satisfying," he said. The WSOP helped raise a large portion of that amount when it hosted the second-ever $1,000,000 buy-in Big One for One Drop, a tournament that attracted 42 players and saw Daniel Colman defeat Daniel Negreanu in heads-up play to capture the $15,306,668 first-place prize.
While Stewart was pleased with the WSOP as a whole, he wasn't without disappointment.
"I take personally every event that's down in attendance," admitted Stewart. "Every time I see a line at the cage, I think we could have done more to recognize the need for real value in today's poker economy. I lost some prop bets that a WSOP.com qualifier would win a bracelet, although Tracy Doss came close, and of course my most embarrassing moment was finishing my words in Ryan Riess' banner ceremony and seeing his last name misspelled. But we were able to fix that in a matter of hours, just like we always try to learn from the mistakes we make."
Speaking of mistakes, Stewart was quick to point out two: "We should have staggered the starts for the tent-pole events so people didn't have to wait hours to get in the field. We should have tapped the nerve of why the Monster Stack worked in more ways."
There's no denying the WSOP was a success, but what about other facets of their brand like the WSOP Circuit?
Stewart believed that was one of their biggest success stories, citing the massive tournament of nearly 2,000 entries for the opening event of the recent Harrah's Cherokee stop. For him, the format has been a home run, especially with the National Championship, which completed its fourth year. While Stewart was high on the Circuit, he wasn't as positive when it came to the WSOP Asia-Pacific, which held its second event in Melbourne, Australia, back in October.
"The WSOP APAC needs TLC if it's to get back on the calendar," Stewart said. "The Australian poker community is amazing, and Crown is one of the best venues in the world, but let's face it, the entire continent's population is less than the state of California. We know players are more selective than ever about traveling abroad for tournaments, and it was very unfortunate that even as we went to a one international event per year model and announced our dates way back in 2013, we still had a scheduling conflict in Europe. But [European Poker Tour President] Edgar Stuchly has generously reached out, and we're committed to avoiding that in the future."
Stewart went on to add: "We were proud to be the first-ever poker tournament broadcast live in Australia, and to have another broadcast window even here in the USA. We had some elite fields, and a heck of a Player of the Year race. Listen, 300-plus players in a single-bullet $10,000 [event] is nothing to be embarrassed about, but we're far from satisfied overall. That is guiding a lot of our future movements with the international franchise."
For more on the WSOP in 2014, read about Scott Davies' win in the WSOP Asia-Pacific Main Event by clicking here. You can also read about Dominik Nitsche's WSOP Circuit National Championship win here.
So what other changes can players expect from the WSOP heading into 2015?
"Customers are saying loud and clear they want more value, more games, and more differentiation," said Stewart. "There's one giant concept we're working on, that if it comes together, should be the biggest event in the history of the WSOP. I don't want to be coy, but I can't say anything else yet. We're feeling really good about WSOP Europe in Germany, and 2015 is the year we're committed to finally launching some international extensions of the WSOP Circuit."
Stewart is also excited about the future of online poker and the role WSOP.com will play.
"I'm so excited to see a WSOP with a ready-for-primetime WSOP.com," Stewart said in conclusion. "I think the availability on mobile and tablet is a game-changer. This is my 10th year with Caesars, and I've always jealously dreamt of a day where players can be grinding one event and concurrently trying to satellite in for the next one. With mobile and tablet, that is finally viable in 2015."
Here is a quick statistical overview of the 2014 WSOP in Las Vegas:
Official WSOP Gold Bracelet Events: 65
Total Entries: 82,360
Total Prize Pool: $227,712,923
Total Cashers: 8,730
Main Event Entries: 6,683
Main Event Prize Pool: $62,820,200
Largest 1st Place Prize: $15,306,668
Average 1st Place Prize: $792,507
Average Age: 38.93
Average Age of Casher: 37.66 (excludes Main Event)
Average Age of Final Tablist: 35.32 (excludes Main Event)
Male Participation: 94.72% (78,009 entries)
Female Participation: 5.28% (4,351 entries)
# of Countries Represented: 107
# of U.S. States Represented: 50
# of Canadian Provinces Represented: 10, plus Yukon Territories
Most Entries by Country: 1) United States (78,165) ... 2) Canada (6,045) ... 3) United Kingdom (2,894)
The first WSOP-branded event of 2015 will be the WSOP Circuit Choctaw Durant from Jan. 8-19. Visit WSOP.com for more details.
Get all the latest PokerNews updates on your social media outlets. Follow us on Twitter and find us on both Facebook and Google+!