Five Thoughts: Bad Actors, Zinno Wins Again, Fish Defends His Turf, and More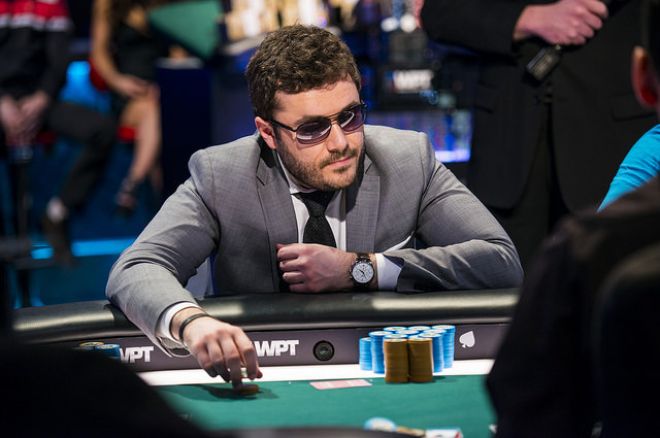 When American regulators in New Jersey and Nevada started the process to legalize and regulate online gaming in the post-Black Friday era, there were several debates regarding "bad actors." In an effort to "protect consumers," some argued that companies that knowingly and willingly broke the law should be barred from operating within their state.
Neither Nevada nor New Jersey fully banned bad actors, but both states created a sort of probation period in order to give U.S. land-based casinos a head start further assess the situation. In Nevada, sites that operated after the Unlawful Internet Gaming Enforcement Act (UIGEA) was passed in 2006 must wait five years before applying for a license. In New Jersey, the Department of Gaming Enforcement (DGE) suspended the review of PokerStars' application for up to two years.
New Jersey has an out — notice how it says "up to" two years — and if they want to reverse their decision after reviewing new material, they can.
Let's get back to the original purpose of targeting bad actors. Consumer protection. One of the main reasons legalizing online gaming in the U.S. is so important is because it allows for proper regulation, thus protecting the consumers. Consumer protection is a very large umbrella, which includes age verification to bar underage players from participating, payment processing to make sure that all accounting practices are held to a high standard, and more. These regulatory checks and balances protect consumers from having to deal with dishonest operators like the old Full Tilt and Ultimate Bet.
Regulation is paramount, even if we're moving at a glacial pace during this state-by-state process.
Another aspect to consumer protection is shutting down unregulated operators. Remember when the U.S. Department of Justice pulled the plug on everyone on April 15, 2011? That was to protect you, America.
But wait. Where is that protection now? Why isn't the DOJ still shutting down unregulated sites?
Several sites continue to operate throughout the country — I refuse to name them because I don't want you to start Googling and deposit, although you may already be doing so using unspecific search terms, if so stop! And yet, nothing is being done to stop them while law-abiding companies are fighting tooth and nail to succeed while following very stringent, and sometimes counterproductive, rules. Even on Twitch there are players openly broadcasting from these unregulated sites.
Where is Preet Bharara on his white horse of justice to save us all from ourselves?
This week, Caesars officially changed their stance on bad actors, and no longer view PokerStars (now owned by Amaya Gaming) as opposition. Thus ends the crusade against "bad actors," while bad actors continue to operate everywhere.
1. Just Kidding, PokerStars
Jan Jones Blackhurst, Executive Vice President of Governmental Relations for Caesars, told Chris Krafcik of GamblingCompliance: "[W]e need to focus on where our opposition really lies, and clearly it's not Amaya and PokerStars. They are a strong ally in the space."
It's fair to assume that the "opposition" is Sheldon Adelson, who continues to bang the drum from the Restoration of America's Wire Act (RAWA) and the prohibition of online gaming in the U.S. — except for when you're staying at the Venetian, please enjoy their mobile offerings.
Rumors started to swirl last week regarding Adelson and New Jersey Governor Chris Christie, who is aiming for the 2016 Republican Presidential Nomination, suggesting that Christie is blocking the PokerStars deal in the Garden State in order to please the party's biggest donor.
"There's no reason that the deal shouldn't have gone through," one source told Business Insider.
Unsurprisingly, the DGE refused comment. Now, back to bad actors.
Caesars' formal announcement was preceded by actions taken by the Rincon Band of Luiseño Indians, the company's land-based partners in California. The Rincon band joined forces with the Pala Band of Mission Indians (Pala Interactive) and the United Auburn Indian Community (bwin.party), writing a letter to show support for assemblyman Reggie Jones-Sawyer and soften their stance on bad actors.
According to Dave Palermo, who has covered American Indian government for more than two decades, the Rincon Band's decision may have adverse effects on the legislation process in California. While they are now aligned with all of the major online operators against language that bars bad actors, there are evidently tribes that feel betrayed.
"The ploy was disingenuous and disrespectful toward most tribes attending today's meeting," said Tribal Chairman Mark Macarro, who is a member of one of eight other tribes in the Rincon region. "Clearly we have a long way to go to resolve the outstanding issues."
There are so many chefs in the kitchen in California — there was a third online poker bill submitted on Thursday — and without any true leadership this process is going to take a very long time. As it stands, I would be very surprised to see legalization and regulation in the Golden State by the end of 2015.
2. Zinno Wins WPT Fallsview Poker Classic; Second WPT Title
Anthony Zinno outlasted 419 players to win the World Poker Tour Fallsview Poker Classic and his second WPT title in as many seasons on Monday. Zinno defeated Mark Bailey heads up to earn C$380,021, which includes a $15,400 seat into the season-ending WPT World Championship at Borgata, and now has nearly $1.9 million in career live tournament earnings.
Final Table Results
| Place | Player | Prize (C$) |
| --- | --- | --- |
| 1 | Anthony Zinno | $380,021 |
| 2 | Mark Bailey | $266,394 |
| 3 | Corey Hochman | $171,294 |
| 4 | David Cloutier | $126,674 |
| 5 | Jeremy Halaska | $95,100 |
| 6 | Erik Cajelais | $76,194 |
Zinno joins 20 other two-time WPT champions, including three-time champions Gus Hansen and Carlos Mortensen, and Darren Elias, who has two victories here in Season XIII. Zinno also took the lead from Elias in the Hublot WPT Player of the Year race, which is sure to heat up heading into the California Swing.
According to Hendon Mob, Zinno's two WPT wins are his only live tournament victories. In the Fall of 2013, he defeated Vanessa Selbst heads up at Borgata, denying her from becoming the first woman to win an open title on the World Poker Tour.
Zinno joined the PokerNews Podcast this week to discuss, among many things, women in poker. The two-time WPT champion urges his cohorts to make everyone feel welcome at the poker table, and explains why he wants to be an ambassador for this intellectual game.
After speaking with Zinno for an extended period of time — or, hopefully, listening to him — he is very easy to support. Zinno understands variance and math, so he is very grounded, and he is fully invested in promoting poker as a smart, intellectual game. That is one of the reasons Zinno chose to wear a suit at the final table of his two WPT victories — he wants to project a positive image on television.
That doesn't mean I'd ever root against a player who wears basketball shorts at a televised final table (the freedoms that poker provides are just as important as the intellectual stimulation), but I'm admittedly selfish. If a player is going to be openly positive about poker, especially at a time where only six percent of the U.S. offers regulated online poker, then I am going to support them.
3. Fish Wins Palm Beach Main Event
Darryll Fish took down the WSOP Circuit Palm Beach Kennel Club Main Event in his home state of Florida, earning $173,189, the gold ring, and a seat into the WSOP National Championship.
Fish's win also led to a tremendous Fish pun from our very own WSOP bracelet winner Chad Holloway, who hit us with a "Fish Hooks WSOP Circuit Palm Beach Kennel Club Title."
After a quick Google search, it looks like other outlets missed a golden opportunity to cheese it up, so here's some sharp cheddar:
Fish and Chips: Darryll Gets Them All in WSOP Circuit Main Event
Fish Fry: Darryll Cooks Competition at Palm Beach Kennel Club
Go Fish: Cards Fall Right for Darryll in Palm Beach
Gone Fishin': Cape Coral Man Wins Big in Palm Beach
Fish Out of Water: Darryll Wins WSOP Circuit Main Event
There are so many more horrific puns to be made — so give me your favorite in the comments below!
A few familiar faces joined Fish at the final table, including Sam Panzica, Maurice Hawkins, and Hans Winzeler. Panzica finished fourth in the Main Event and won the $1,125 prelim at the Palm Beach Kennel Club, earning a total of $99,147. Panzica now has four gold rings.
Final Table Results
| Place | Player | Hometown | Prize |
| --- | --- | --- | --- |
| 1 | Darryll Fish | Cape Coral, FL | $173,189 |
| 2 | Don Icawat | Austin, TX | $107,075 |
| 3 | Nancy Nguyen | Denton, TX | $78,222 |
| 4 | Sam Panzica | Saline, MI | $57,988 |
| 5 | Daren Stabinski | Miami, FL | $43,610 |
| 6 | Aaron Rosenthal | Miami Beach, FL | $33,267 |
| 7 | Maurice Hawkins | West Palm Beach, FL | $25,736 |
| 8 | Hans Winzeler | Miami, FL | $20,194 |
| 9 | Jonathan Gaviao | Gainesville, TX | $16,070 |
Fish, like many American online grinders that were affected by Black Friday, brings back memories of my first summer in Las Vegas with PocketFives. Fish is especially memorable because he cashed seven times during the 2009 WSOP and reached the final table of the $10,000 Pot-Limit Hold'em World Championship. According to P5's, Fish, who has relocated to play online sporadically throughout the year, has nearly $1.9 million in online tournament earnings.
The WSOP Circuit Main Event in Palm Beach was filled with several heroes from Florida, including Jason Mercier, John Dolan, and Corey Burbick, all of whom cashed.
4. New Jersey Online Poker Revenues Climb Again
In December the DGE reported that, following a three-month decline, poker revenues in the state of New Jersey increased from the previous month. The trend continued in January, as online poker revenues grew 12 percent from December. Online gaming revenues grew to $11,567,337 — an eight-percent increase from the $10,736,118 registered in December.
Casino gaming continues to dominate in New Jersey, making up 80.2 percent of total Internet revenue in January. In January of 2014, casino online gaming represented 60.5 percent of total Internet revenue.
Despite the merger between 888 and WSOP, Borgata and partypoker increased its edge in online poker revenue. Caesars accounted for $1,015,680 in online poker revenue, and Borgata/partypoker accounted for $1,283,746. The casino offering on Borgata/partypoker ($2,501,406 in revenue) remains ahead of Caesars ($1,741,580 in revenue) as well, but the Tropicana leads the Garden State with $2,560,262.
December and January are great months for online gaming in New Jersey because of the poor weather and holiday downtime. It's surprising to me to see that casino play continues to outgrow poker, but month after month the trend remains the same. With the continued growth of the online casino offering in New Jersey, I wonder if Nevada will flirt with the possibility of expanding as well.
The Nevada Gaming Commission has no interest in killing live action on the Strip and beyond, but partnering the brick-and-mortar venues with online clients, and potentially mobile clients as well, could be very effective. Obviously the biggest fear is an outsider coming in and dominating the space, crushing the land-based operators in Las Vegas, but if introduced carefully I believe online and mobile gaming could supplement the live offerings rather than destroy them.
The consumers are clearly interested in playing online casino games. Depriving them of that want just feels like a poor business model.
5. Brunson Headed for 12th Operation
According to Pam Brunson, her father Doyle Brunson will undergo surgery on March 2. Doctors have found four "areas of concern" on Doyle's head, and one has been diagnosed as melanoma, the most dangerous form of skin cancer.
According to Doyle, this will be his 12th major operation.
Prior to this update from Pam, Doyle was in the news when TMZ picked up a few of his tweets about Bruce Jenner's alleged wishes to be a woman. While there is no defense for Doyle's opinions, it is equally wrong to openly root against, or wish death upon, a very sick person. It has nothing to do with Texas Dolly either. It doesn't matter how many bracelets he's won or how much influence he has had on the industry. He is a fellow human, and it's just plain wrong to lob death threats at person, no matter how ignorant their words may be.
We'll continue to monitor the situation here at PokerNews, and we wish Doyle all of the best as this surgery approaches.
Photo courtesy of the World Poker Tour.
Get all the latest PokerNews updates on your social media outlets. Follow us on Twitter and find us on both Facebook and Google+!